I was scrolling on Twitter to see what people liked about being Malaysian in view of our National Day yesterday, and the two items that popped up were "good food" and "public holidays". Ah, you can't deny there's a lot of truth there LOL! But speaking of Malaysian food, here's something quite quintessentially Malaysian and very popular among the Chinese community – Bak Kut Teh or lit. Pork Rib Tea.
Tea? Well, soup rather 🙂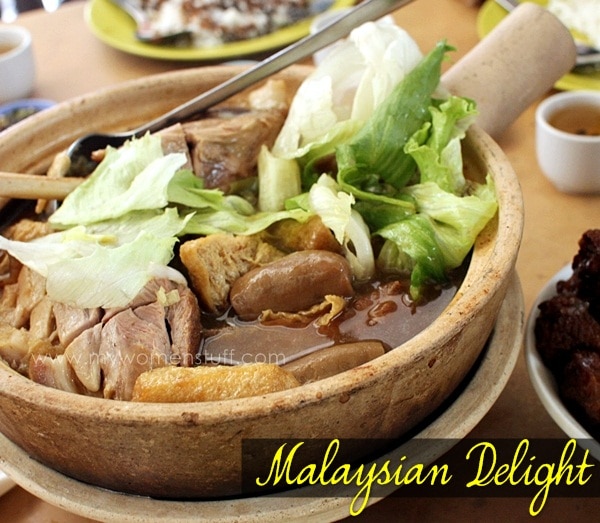 Being a multi-cultural country, this also comes in a more easily accepted chicken version where chicken is substituted for pork.
What this "bak kut teh" is, is a herbal soup base with meat added for flavour. Afficionados will scorn the claypot version you see here, preferring to have their individual bowls of meat and flavoursome soup unadulterated by other flavours.
In a claypot, the soup and your choice of meat and ribs is reheated and then added with soy bean skin, tofu, lettuce and ahem… spare parts 😉 A good bak kut teh soup is robust with a Chinese herb flavour to the soup and it is a commonly accepted fact that the best bak kut teh shops are located in Klang – a town about 30 minutes drive from KL city centre.
Like all food, there are many variations to this dish. Some don't include too much herbs so the taste and flavour of the herbs is more of a hint than a full on explosion of flavours. Others prefer a thicker, meatier, stronger tasting soup.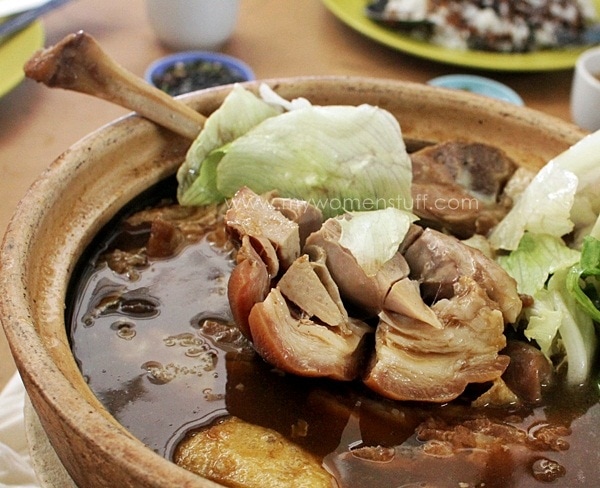 I don't eat this a lot – like everything yummy, its not the healthiest food in the world 😛 – but I do enjoy the occasional indulgence. My personal preference is for the thick robust herbal soups and when I do get the craving, I make the 30 minute drive to Klang to enjoy this. I eat this so rarely, the journey is worth it 😉
You could of course cook this at home. There are many brands of prepacked soup base mixes sold in the supermarkets. As a student, I used to bring some prepacked soup mixes that you could just boil up and add your own ingredients to simulate a taste of home. My friends and I would invariably turn it into a hot pot because we would always go overboard. Perfect on cold winter evenings! 😀 Never quite tastes the same, but it was good enough.
Oh and lest you think this is something available for lunch, its not quite. People here eat this for breakfast (!!) from as early as 7am, paired with rice and chinese tea to wash it all down. Popular shops or stalls will see crowds and queues form from early morning till lunch time, where you hover over tables like a hawk, waiting to swoop in the moment the occupants start to leave. Verily, nothing gets between a Malaysian and their love for food 😛
Do you enjoy eating Bak Kut Teh? If you aren't based in Malaysia, have you ever eaten this dish?
I don't know if restaurants overseas serve this. Many will serve the ubiquitious Malaysian Nasi Lemak or Satay but if you do know of a good restaurant that does this where you are, do share! Also, I usually go to the Teluk Pulai shop just outside Klang town but naturally, if you have a fave bak kut teh stall/shop please share too – I'd love to explore 😉
Paris B
Scrumptious Saturday: One day of the week where I indulge in my other love – Food! It will feature my cooking experiments or eating and travel adventures