Something new cometh from Biotherm – the Skin.Ergetic Eye cream and a brand new looking flagship counter! I'll just tell you quickly about the eye cream and then I'll take you on a quick tour of the counter. Sounds good? 😉
The Skin.Ergetic Eyes is as the name indicates, an eye cream. It complements the rest of the Skin.Ergetic range (serum and moisturiser) and is supposed to address 5 signs of eye fatigue – dark circles, bags, fine lines, slack skin and puffy eye lids. Sounds most promising doesn't it?
The cream is an opaque beige tinted cream that feels light to the touch and seems to absorb quite quickly into my skin based on a quick trial at the counter. The lovely sales assistant told me that she personally found that although her lids were still a little puffy, it had reduced the worst of it and helped reduce the dark circles she had. I'm so bad at using an eye cream that it isn't funny 😛 I should really start incorporating some sort of eye treatment into my skincare regimen – something I've been told time and again 😛
If you head down to Pavilion Kuala Lumpur, you may notice the new flagship Biotherm counter. It looks a little different now from when it did before. A little more sleek and a little more in keeping with the new theme of bringing you beauty from the deep – a reflection of Biotherm's aqua based skincare.
2 LED screens play soothing images from under the sea although I thought it might be better served playing images of the products. It was easy to miss otherwise. The counter is kept a soothing blue of varying tones to reflect the depths of the ocean but what I think was most refreshing was how open the counter is now.
It seems to be a trend isn't it? Skincare and cosmetics brands now adopt an open counter concept so it is easier for customers to browse and see the skincare at one go. New items, like the Skin.Ergetic Eyes is highlighted in pods so your eye is immediately drawn to it.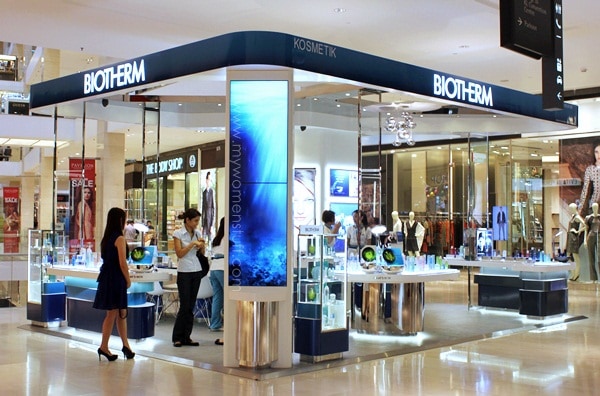 The counter is brighter and it is just easier all round to see everything at one go. If you want a skincare consultation, there is a counter with a selection of skincare close at hand so you don't feel rushed.
Even the men aren't left out, with their own corner and their own consultation counter. Biotherm is supposed to be the world's No. 1 men's skincare brand for years, and I think a lot of it is attributable to their long time spokesman – Takeshi Kaneshiro LOL!
I like how brands are starting to realise that consumers these days have more options and want something more personalised. We don't want to just buy things over the counter, we want to test them, talk about them and browse at leisure. Many brands are starting to break down that over-the-counter concept and I think its a good step forward for us consumers 🙂
Are you a Biotherm skincare user? Have you seen the new counter down at Pavilion KL?
I've learnt that like Clinique, I can't use the most basic range which is the Aquasource range as it breaks me out. But I've had good results with the White Detox range back in the day, and I quite liked Skin Vivo too.
Paris B
Skin.Ergetic Eyes cream Price: RM160/15ml Availability: Biotherm counters. The Flagship Biotherm counter is at Level 3 Pavilion Kuala Lumpur