Last week, I was all moany and groany about taking photos of used products for a review so I decided I'd put my money where my mouth is, and show you a product I'd been wanting to talk about for some time, but which I never got round to because of… you guessed it, photos. I actually have a picture of this item brand new but it was an awful picture. But never mind the photos, theBalm Sexy Mama powder is one I think worth taking a look at because it does what it says 🙂
I can't remember where I picked this up but it wasn't at Sasa where theBalm cosmetics are sold locally. So, I don't know the local price and if anyone can help me out, I'd really appreciate it! 🙂 What Sexy Mama is, is a translucent setting powder. Nothing terribly fancy. Even the packaging is nothing terribly fancy and I'm not sure how this powder makes you look like a Sexy Mama but there you go!
The powder comes in a cardboard case inside a cardboard sleeve. I would suggest you keep it inside that sleeve especially if you plan to tote it around for touch ups. The powder can open up easily otherwise and you might end up with a mess. The packaging is simple and straightforward and the imagery is certainly eye catching too. Besides, how could you really overlook something called Sexy Mama right? 😉
The compact is quite sturdy and there is a large mirror inside for touch ups on the go. The packaging is very compact but that also means you do not get a brush with the product (good : I dislike most brushes included in compacts; bad: its hard to apply on the go unless you carry a brush around with you).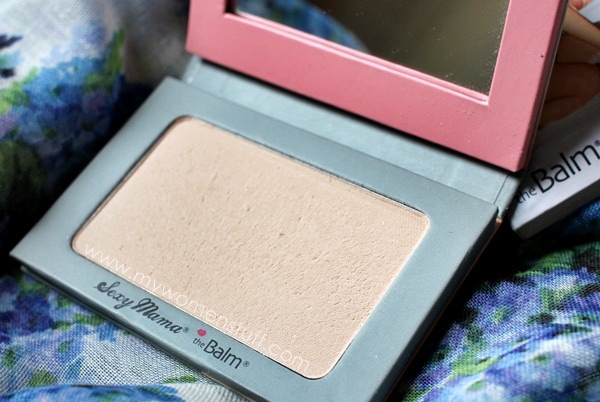 A translucent powder, it comes in just one shade, which is a light, slightly yellow toned powder. Texturewise, I find it a bit chalky and powdery, so when you take your brush to it, it has a tendency to fly everywhere. However, there is no discernible colour when I swatch on my skin hence the lack of swatches.
Transparency or translucency is of course a good thing, because you do not want your setting powder to mess with your makeup. It goes on last, after you are done with your base, or even after you have done your face. The purpose is to help your makeup stay on for longer and Sexy Mama does this by absorbing oil and you only need a thin layer. Remember, this is a setting powder not foundation.
In most circumstances, I'd totally slate this powder but having used it off and on, I find myself quite liking it. The powder claims to have anti-shine properties, and claims to keep skin to a soft matte finish. Now, it must be said that I don't have oily skin. I do however, sometimes end up with a bit of a shine as the day wears on, especially if I happen to go outside in the sun during the day. But I found that if I dusted on a light layer of Sexy Mama, it did help keep my skin shine free for most, if not all of the day. I will note that it does not make my skin look matte – just keeps away that tell tale oil shine.
I usually apply it after I'm done with my base makeup and I find that it helps my blush stay on longer too. As I have said, I don't have oily skin so I honestly do not know how this will work on someone with oily skin but I do believe that it will help to a large degree, to keep your skin looking shine free for longer.
Sometimes, I just use it on its own and although it offers no coverage or colour, it keeps skin looking shine free which is a good thing when you wear certain sunscreens that can get a bit oily as the day wears on.
A word of warning: Use only a thin layer and don't reapply too often. This is a setting or finishing powder and you aren't supposed to use this as a foundation. I like to just use a large fluffy brush, roll it in the powder, tap off excess and dust all over my face and I'm done. The powder is a little powdery as I have noted, but if you do it this way, you get a thin layer on your skin and really, that's all you need.
In a nutshell

The Sexy Mama powder by theBalm is a translucent setting or finishing powder meant to be used after completing your base makeup or after you complete your makeup, to set. All you need is a very thin layer as the powder can be chalky if too much is applied. I find that it helps keep my skin looking shine free all day (I do not have oily skin) and helps my base and blush stay on all day without too much fading.

Pros: Translucent powder does not mess with makeup, Does keep my skin shine free all day, Cute and compact packaging

Cons: Powder is a bit chalky and can fly about

Who will like this: Anyone who has skin that might turn oily throughout the day
Here is the ingredient list for Sexy Mama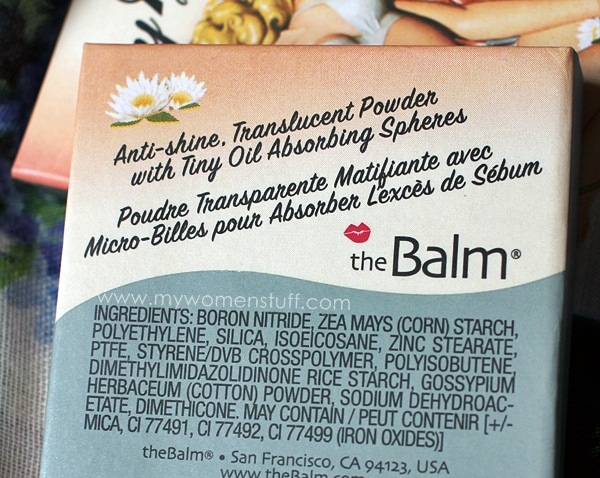 I don't know if the tiny oil absorbing spheres do exist but it seems to work well enough for me. I don't use this one very often and I in fact, had forgotten about it for a while. I rediscovered it recently, and use it especially when I know I have to be running around outside and I was impressed all over again. I love it when this happens 🙂
Have you tried Sexy Mama? Do you like anything else from theBalm?
I quite like some of their products. The blushes aren't bad. I have Hot Mama and Down Boy but I refused to get Frat Boy because I hated the design although I liked the colour 😛 The Shady Lady eye palettes are pretty decent too but I haven't tried much else. Share a rec if you have one!
Paris B
theBalm Sexy Mama translucent powder Price: US$19 Availability: Sasa stores in Malaysia or online at various online stores including thebalm.com