Earlier this week, I showed you one of the Rouge Dior Nude lipsticks in Trench (319). Instead of showing them to you one by one, I thought it best that I group them all so you can see the nuances of colour of each lipstick when placed next to another of its kin, and how they are all "nude" and yet not 🙂
By way of recap, the Rouge Dior Nude is a collection of 10 lip colours of the lighter variety. The texture is lighter and sheerer than that of the normal Rouge Dior lipsticks and these have been described as a "Lip Blush" in that they impart a blush of colour. This is rather different from the conventional notions of a nude lipstick.
Tell anyone you want a nude lipstick and chances are, you'd be handed a beige or light peach shade that blots out your lip colour. When I wear colours like that, I look like I'm a part of the walking dead. Its not a look I like to go for which is why nude lipsticks never caught my fancy.
These however, have turned that notion on its head. The Nude here refers to a transparent texture so you get something that looks natural yet neutral. No real tint of colour, but just a blush. Its one of the best interpretations of nude lips I've come across yet, and one that endears itself to me, mainly because I love Rouge Dior lipsticks 🙂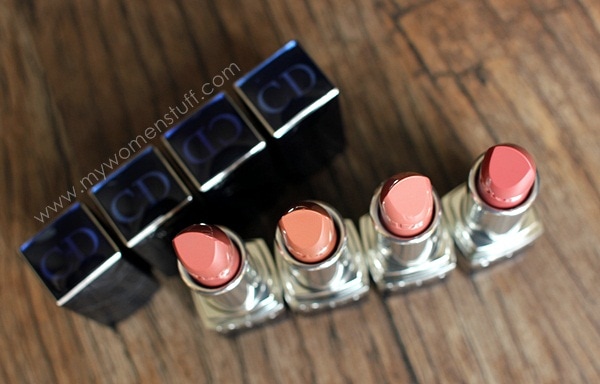 As you can see from the ones featured here, they aren't quite the conventional notion of a nude lipstick. Instead, you get nuances of pink and rose and peach in each shade. On my naturally pigmented lips, the colours don't go on very strong. If you have pale lips, you may see the colour apply more strongly, but I find that the texture is lovely, in that it gives a glow and allows your natural lip colour to come through.
Like the Rouge Dior lipstick, the Nude Lip Blush does not have a scent or taste and it is very firm, unlike the Dior Addict range. There is no balmy texture here, but it isn't drying at all. Texture wise, I find that these aren't very shiny but neither are they matte.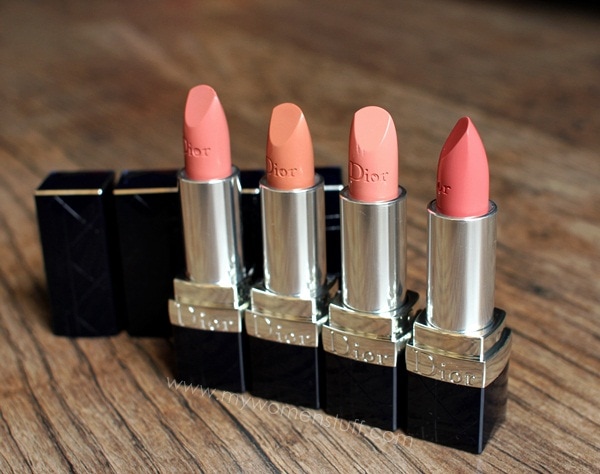 Left-Right: Grege (169), Trench (319), Indiscrete (228), Charnelle (459)
If you were hoping to have something opaque, then these aren't for you. They are rather sheer and even with 2 layers of colour, it is still very light.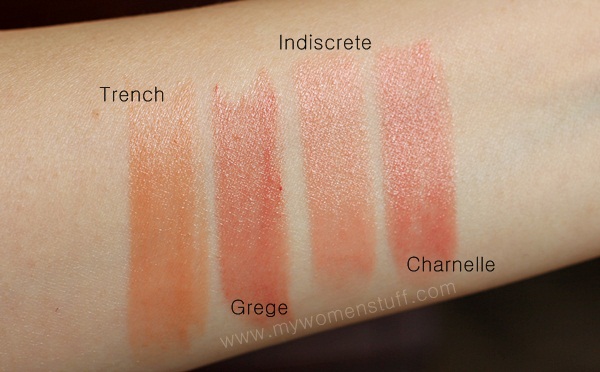 These swatches show them layered twice. There is a glow to the lip colours but there is no shine per se. No shimmer too which is great. Shimmer does get old sometimes.
What I would tell you is that these swatches on my arm look nothing like the swatches of it on my lips. Here are the swatches on lips for comparison.
On my arm, Trench looks orange doesn't it? On my lips, it takes on a beige-peach tone that is pretty nude as nude lipsticks go, without washing me out. On my arm, Grege looks like a browned red but on my lips, takes on a slight rosy hue that is very natural. Indiscrete on my arm is a pale peach but on my lips, is a pale pink! Charnelle on arm is a warm rose while on lips, is a bright rose pink and the brightest colour of the 4.
I must say, I was surprised myself when I saw how different they looked. So the moral of the story is that you shouldn't be buying these lipsticks based on the swatches on the back of your hand. They have a transparent texture, and how the colours show up will depend on your natural lip colour. Based on the swatches alone, I'd never have gone for Trench, but its fast become one of my favourite colours.
So, when you go down to the counter, try to get the SA to test the colour on your lips (they should scrape off the color and use a cotton bud or clean lip brush) to see which colour suits you best. Its hard to tell from swatches on the back of your hand 🙂
In a nutshell

Rouge Dior Nude lipsticks are a new collection of 10 lipsticks to give you a blushing nude lip colour. The texture is very light, and the pigment is sheer and transparent, so how they look on you will depend on your natural lip colour. I find that the swatches on the back of your hand aren't accurate as the colour does react to lip colours. In general however, the colours are light with hues of peach, beige, rose and pink in each shade, so there is a colour to suit most skin tones. I love Rouge Dior lipsticks, and although these are colours I'd usually wear, I do find myself wearing them more often. Its rare to find a nude lipstick that does not wash me out. I'm happy that Dior came up with these!

Pros: Light texture, No scent or taste, Not drying, Glowy texture, Colours do not wash me out

Cons: Pricey, If your lips are too pigmented then the lip colours may not show up

Who will like these: Anyone who is looking for a nude lipstick that will not wash them out
To put these lipsticks in context of a look, here is a picture of Trench that I posted before:-
And a picture showing Charnelle.
Charnelle is a colour I'd most likely have picked up for myself because of the brighter hue. I tend to gravitate towards colours like these more often.
Do you usually wear light or nude coloured lipsticks? Does any one of these 4 Rouge Dior Nude shades catch your fancy?
There are a couple more deeper and redder shades that I've seen, and I'd likely check them out too. If you are afraid of wearing red lipstick, I think you may find that Esquisse may be a nice place to start 😉
Paris B
Dior Rouge Dior Nude Lipsticks come in 10 shades Price: RM98 Availability: Dior counters