I don't usually wear glosses but when I do, I tend to go for strong, pigmented colors. I guess I just can't leave behind the notion that my lips and visage tend to look much better with some good colour on them, instead of just a clear shine 🙂 Earlier this week, I told you about the Giorgio Armani Eyes to Kill Intense shadows. This wasn't intentional, but we have another GA offering again today 🙂
This is the Gloss d'Armani – a pigmented lip gloss by Giorgio Armani and the colour you see here is #400 a strong, true red – was there any doubt that this would be the first colour I'd pick? 😉
Can I just say how much I like the packaging? The tube is a clear plastic at the bottom so the colour shows through, and the cap is black with the distinctive GA logo that sits just between the two halves so the logo overlaps the top and bottom of the tube. Little touches matter! Another thing I should mention is that despite this being a gloss and despite it being plastic, there is a nice heft to the product. It feels lovely and luxurious as befits the brand and image. So how does it perform?
Very well, if I don't say so myself 🙂
The applicator is a doe foot sponge tipped applicator that is slightly longer than normal applicators so there is a little more flex to it. For some reason, it seems to make it easier to apply this product.
Product wise, the gloss glides on very easily, coating lips with colour in just 1 coat. The pigment is good and strong, and there is an almost gel like texture to it on lips. It does not feel sticky or goopy (very important!) and yet, it is thick enough not to run everywhere, and settle into lines. Importantly, I find it does not glue my lips together, nor does it create those awful looking strings when you part your lips – you know what I mean? 😛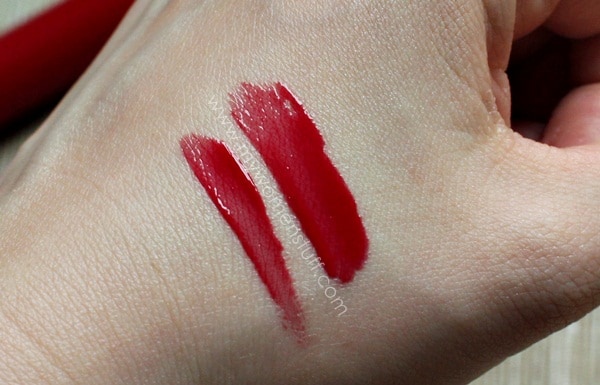 Gloss d'Armani #400 Left: One swipe Right: 2 layers
You can, I hope see what I mean by the gel like texture and the thickness of it that allows it to stay on the skin without spreading everywhere. One swipe gives you good colour which you can sheer out for a translucent finish. If you want something stronger and more opaque, layer it on. It does not feel uncomfortable at all.
#400 is a true red with little to no undertones. There is no shimmer at all, and the texture of the gloss is shiny and glossy but not overly so. I like my lips to have a little shine, but I balk at my lips looking like wet vinyl. Its just a look I don't go for.
#400 applied 1 layer
Coming from a non-gloss wearer, I am quite impressed with the Gloss d'Armani glosses. They fulfill all I look for in a lipgloss and then some! But all is not well in paradise (as it happens).
There is a sweetish scent to the gloss that puts me off a little. Its not something I notice many people complaining about so perhaps its just me being nit picky. But I am sensitive to scents in lip products and I prefer my lip products to have a light scent or better yet, no scent at all. When a product is so near your nose, it can bug you.
The sweetish smell isn't too strong but it is strong enough to be noticeable and I notice it. So if scents in lipglosses are something that bug you, be warned. Otherwise, this is pretty much a perfect lipgloss for me 🙂
In a nutshell

The Gloss d'Armani lipglosses have a lovely sleek packaging and beautiful gloss texture. The packaging has nice heft and I love how the logo hovers between the two halves of the tube. Its a little detail I appreciate. The gloss itself has a thick gel like texture and is very pigmented in colour. It is not sticky or goopy, nor does it travel. I find that it is sticky enough to last a long time without drying out lips, but not so sticky that I find it uncomfortable. #400 is a true red that looks as good with just 1 layer on or with 3 layers to make it a rich opaque colour. As a gloss, it is about as perfect as a lipgloss can be. However, I noticed a sweetish scent in the product that bugs me a little. If this was non scented, it would be perfect.

Pros: Not sticky, Thick texture adheres to lips for long lasting colour and shine without feeling too heavy, Does not travel out of the line, Lovely pigmented colour, Not too artificially shiny

Cons: Pricey, Sweetish scent in product

Who will like this: Anyone who likes a non sticky and pigmented lipgloss and does not mind the slight scent, Anyone who is looking for a pigmented lipgloss
Here is how #400 looks in the context of an overall look. When wearing a lip colour this bright, go light on the rest of your face and keep your base makeup glowy 🙂
I love the colour. It dresses up any look immediately, and because I can wear it sheer or opaque, it makes it easy to manage throughout the day. If I suddenly am sprung with a dinner invitation for the evening, I can just layer on the colour for opaque red lips, to go with a simple look. If I start out the day or don't want to go all out, then I just do a sheer layer of colour. I just really have to get over the scent and then I'm good 😛
I have a note about the price. Its US$28 which translates to a little under RM90 at today's exchange rate. I use Dior and Guerlain glosses for the most part, so I am at this point saying that its actually more affordable than either of the two brands I use most often! Its pricey, I don't doubt it, but if you also use other similar high end brands, you won't feel it as much. Therein lies the theory of relativity 😉 If you are like me however, and buy it outside of the USA then it will come to slightly over RM100 and just enough to make your wallet wince in pain.
Have you tried the Gloss d'Armani lipglosses before? Do you have a favourite colour that I might like?
I know I complained about the scent but really, the texture and colour is so good, I am already thinking about getting another one. The only thing is that since it isn't available here, I am dependant on online swatches and hoping I get it right. A mistake would be terribly costly!
Paris B
Giorgio Armani Gloss d'Armani lipgloss Price: US$28 Availability: Giorgio Armani counters (not available in Malaysia) or also on StrawberryNET.com (aff)