Ever notice how makeup goes through cyclical phases? There was the lipbalm – lipstick phase a while ago which is great, if you ask me because it soon brought many non lipstick lovers over to the dark side 😉 Then there was the cream shadow phase where many brands rode that bandwagon, some with more success than others. This year, we have the liquid foundation and liquid lipstick phase hitting us… right about … now! Its a cycle though – liquid lipstick was the rage quite a few years ago (Dior had one which is now discontinued – excellent texture and I went through at least 3! But I can't recall the name now; and Chanel has also discontinued their Rouge Allure Lacque – same concept)
But, Shiseido is making sure they are right on the ball by launching 2 new permanent items to their makeup range – a new liquid foundation and a new liquid lipstick! Whee!
The first is a liquid lipstick – Lacquer Rouge – which is inspired by Japanese Lacquerware. Have you ever seen the lovely smooth, burnished surfaces of lacquerware with their deep vibrant colours contrasted with black? This is the imagery we are given with Shseido's offering and this is what the new lipstick promises. The texture of this liquid lipstick is supposed to leave your lips smooth, glossy and with intense colour like they've been lacquered. Wow! Wouldn't that be something! 🙂
Here is a blurry swatch I took in terribly dim lighting conditions of 3 colour families of the Lacquer Rouge.
The 3 colour families I chose were (from left to right) RS (Rose), PK (Pink) and RD (Red). The texture is smooth and it applies opaque. A proper review will come in time, not to worry. Dim lighting really sucks for product/swatch photography but I hope you get the idea 😛
The other new and permanent item is the Radiant Lifting Foundation which is a full coverage liquid foundation that feels light on skin and has skin firming and anti-wrinkle properties.
The foundation is supposed to infuse skin with light which emanates a youthful glow to the skin while softly diffusing lines. The coverage is stated as full and the texture is a little lighter than the Perfect Refining foundation which feels creamier.
The colour selection is relatively wide. I was told that the foundation shade may not match what you presently are using in Shiseido foundations which is a little odd. Still, I take I00 (Very Light Ivory) in Perfect Refining so I took the same in this version. My first experience was a little disastrous but I'm experimenting with it a little more to try to get a handle on it. I'll bring my report as soon as I can but you don't have to worry – these are permanent 🙂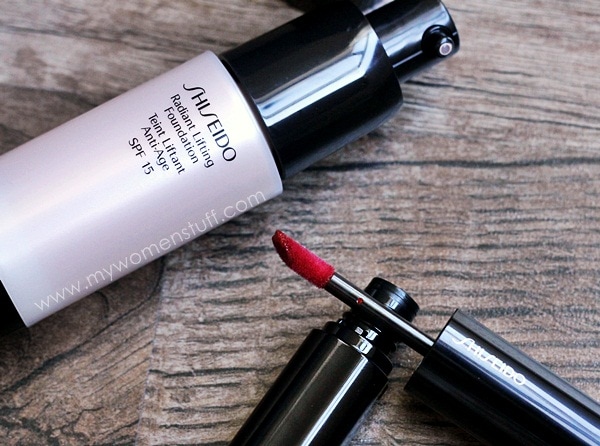 You should see both products popping up at a Shiseido counter near you from now, so you can quite easily check them out for yourselves. I have a new found fascination for liquid foundations (so many to look forward to in the coming months!) and naturally, the liquid lipstick is also calling for my attention (at least one other brand is tugging on my wallet too!) so it looks like an expensive few months for me 😉
Does either product catch your eye? How do you feel about liquid lipstick?
Liquid lipstick isn't quite the same as lipgloss, if you are wondering. It is usually much more pigmented and the colour is brighter and it lasts longer on lips. I will take requests so the item that has the most requests will get top billing for review – let me know which it will be! 😉
Paris B
Shiseido Radiant Lifting Foundation Price: RM150/30ml Shiseido Lacquer Rouge Price: RM95 Availability: Shiseido counters starting from now or September 2012