The Giorgio Armani Eyes to Kill Intense Silk Eyeshadows are some of my favourite products and the one I find hardest to write a review on. For some reason, every time I try to, I fail or I just can't find the words. Well I've had quite a few queries on these by now, so I thought its time I seized the bull by the horns, as it were, and tackle these glorious little pots of eyeshadows.
When I started out a year back, I had 2. Since then, its grown to 9 shades which I've picked up over time. We do not get Giorgio Armani Beauty here in Malaysia as of now (they pulled out a few years back) so getting these have been an expensive affair involving dependancy on online swatches (thank God for beauty blogs!), willingness of friends to pick them up for me when they travel, travelling, and online shopping! 🙂 For readers in Singapore (or those going to Singapore), rejoice! for GA is now available in DFS Galleria at Scotts Road.
The GA ETK as these are affectionately known, look like potted cream shadows but are in fact, powder shadows. It is rather like a hybrid between loose pigments and cream shadow where they have the strong, intense pigment of loose pigments, but apply like a cream and set like powder to last you pretty much all day long. Yes, they do last all day for me but do note that I have little trouble with creasing and fading in general. If you wear these over a base or apply them wet, the colour is much more intense. Worn on their own, it can be applied subtle or intense – your call 🙂 Here are the colours I have and some general thoughts on whether they are worth the hype (yes!) and the price (ouch, but YES!)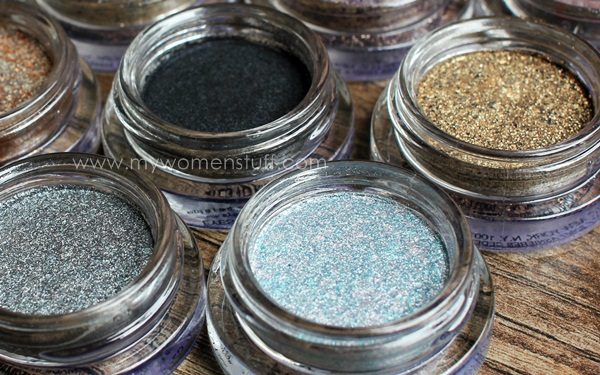 I would say that for the most part, those who dislike shimmer will not like the GA Eyes to Kill shadows. The colours are very shimmery although you can tone them down. I do not find them overly bling, the way some shadows can be, and I personally do not experience fall out either. I have read of people who do, so I would mention it for you to take note.
There are at least 15 permanent shades available and GA has been releasing limited edition colours over the past couple of years. On the bright side, the permanent colours are more than sufficient for you to start your own collection and the colours are unique and interesting enough to suit most people. Some of the limited edition colours that I have been observing online seem to fall short in one way or another. Its the curse of the limited edition tag, I swear.
I find that what makes the ETK special is not just the texture (I know many of you are already thinking about the L'Oreal Infallible shadows that have a similar formula) but the colours. For the most part, each pot of shadow has a complex blend of colours that is very unique and the resultant colour when applied on skin, is sometimes quite different from what you see in the pot. Also, due to the blending of the colours in the pot, you may sometimes get a slightly different hue or tone each time – love it, or hate it. I love it because this means you can quite easily just wear one colour on your lid and look like you actually took the trouble to do up your eyes. Perfect for lazy days, holidays, and when you just don't have the time or energy to make too much effort.
Each pot comes with a little lid that you can use to tamp back any loose powder and to prevent the powder from breaking up if you drop it or when you tote it around. Unlike the L'Oreal Infallible shadows I have, none of my ETK have ever loosened up in the pot, nor have they come lose even when I travel with them. It happens a lot with the Infallibles for me.
Here are the 9 colours I presently own. I will add on, I just know it and if I do, I'll do a follow up post 🙂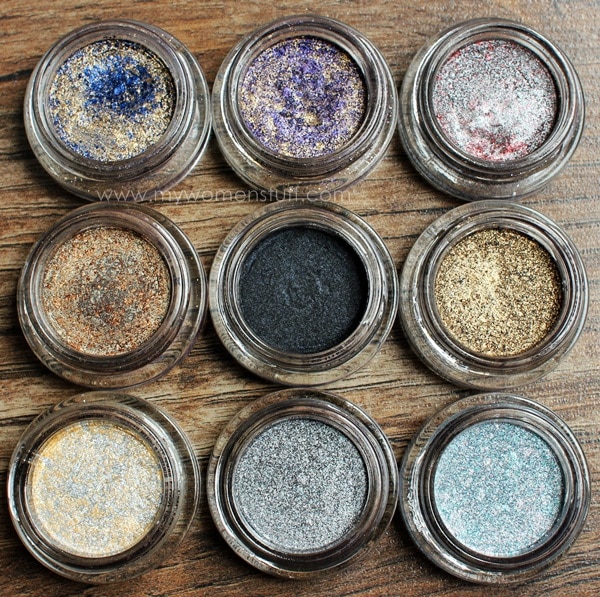 Top Row L-R: #1 Blast of Blue, #3 Purpura, #4 Pulp Fiction
Middle Row L-R: #6 Khaki Pulse, #13 Black, #14 Antique Gold
Bottom Row L-R: #19 Silver Gold, #21 Obsidian Grey, #22 Ecailles
From what I understand, #1, #3, #4, #6 and #13 are permanent colours. #14 was supposed to be limited edition but I picked it up from the GA counter in Hong Kong where it was still on display so I'm uncertain if its limited edition or just limited edition in some countries. #19 was limited edition from Christmas 2011 and #21 and #22 are from the limited edition Bronze collection.
In pot, some of the colors look like tough ones to use and when they are new, I find that the colour is less intense than when you have had a good ol' dig in. You can tell I've been digging in the first 3 shades a lot – I do wear them quite often 🙂
Here are the overall swatches of all 9 colours, with close ups and descriptions below.
Left-Right: #1 Blast of Blue, #3 Purpura, #4 Pulp Fiction #6 Khaki Pulse #13 Black, #14 Antique Gold, #19 Silver Gold #21 Obsidian Gray and #22 Ecailles
You can tell on an overall basis, that barring #13 Black which is matte, the rest of the colours are all shimmer colours. In fact, other than Black, I don't think there are any other matte shades in the collection. I bought Black by mistake actually, but it is such an intense black that I don't regret it one bit. Perfect for lining and does not dry out the way a gel or cream eyeliner will, and so easy to smoke out or blend with other colours!
The shimmer is however, manageable in my view. It isn't chunky glitter nor is it something that shines like a beacon in the dark. It is shimmery, but does a lovely job at enhancing your eyes with just one swipe of colour. You don't even need to think about blending these with other shades – each colour can stand on its own quite perfectly well.
Descriptions of colours are my own, and will be from left to right
#1 Blast of Blue – A deep navy blue shot through with golden shimmer and looks like stars in a night sky. Wear it on its own for best results, more intense closer to your lash line, and gently sheered out into the crease. This is an intense colour on its own.
#3 Purpura – In pot, it is a deep purple with golden shimmer but when swatched, it is a cool purple warmed up by the gold shimmer. The colour can be made deeper if you layer it on and although I don't wear purple shades a lot, this one gets a lot of wear because I find it easy to handle. I don't wear this colour too intensely because I can risk having that "punched in the eye" look if I'm not careful.
#4 Pulp Fiction – In pot, it is a strange combination of red and silver. Once applied on skin, it blends into a warm silvered taupe that is surprisingly wearable. I was afraid of picking up this one sight unseen but was convinced that it was one of the more special colours in the range. I will agree but I will also caution that too much can make you look tired so I tend to wear this as a light wash or blended with black for intensity and to deepen the colour.
#6 Khaki Pulse – In pot, it looks like a warm bronze, gold and black but when applied on skin, it blends into a warm bronze. I find that there is no khaki element in this one (I associate Khaki with brown-olive shades) so I'd put this as just a straight bronze. In terms of application on skin, I find this one the least complex in terms of colour and one of the less shimmery shades.
#13 Black – A straight no nonsense matte black. The colour is very intense and I find this is excellent for use as an eyeliner the way you would use a gel liner. The best part is that this will not dry out and you can double task it for use as a shadow too! A mistaken purchase that I ended up liking a lot.
#14 Antique Gold – This one seems to be a mystery colour to me. I saw that it was limited edition but I picked it up with no problem at a counter in Hong Kong. In pot, the colour is bronzed gold and black and when applied, it is a lovely cool toned antique gold shade that is very easy to wear and flattering. I had problems wearing antique gold before because it tends to run warm but this shade has a slight cool tone. The black mixed in deepens the shade and makes it much more flattering than you expect and is perfect worn alone.
#19 Silver Gold – This was limited edition from Christmas 2011. In the pot it is literally a mix of gold and silver colours. In the swatch, it is an interesting warmed silver color that can be worn alone but also makes a lovely highlight shade. True to the metallic nature of the name, I find this colour a little more metallic. I don't know if you can still get this but to be honest, its not a must have.
#21 Obsidian Gray – This is limited edition from the Bronze collection. In pot, it looks like a silvered gray and in the swatch, that is how it turns out. A medium toned silvered gray with blue tones and a metallic shine. I like wearing gray on my eyes so I liked this shade which I picked up online. You can easily wear this alone, or even paired with #19 or #22 for something interesting.
#22 Ecailles – This is also limited edition from the Bronze collection. In the pot, it looks like a blend of teal, silver and lilac colours. On skin, it is a silvered light blue with a metallic edge. I haven't worn both #21 and #22 as I've just received them so I don't have thoughts on how they wear just yet.
To apply these, you can use a brush or fingers. I tend to use my fingers but if you plan to use a brush, use a natural hair brush. Remember that the ETK are not cream shadows and synthetic bristles can't pick up the powder colours very well. So, use a natural bristle brush. With a brush, I find that the colour applies a little less intense if that suits your look. I tend to use my fingers because its quick and because I get good intense colour right from the get go, which is how I like it.
Based on my personal preference, I chose to pick up the more intense and more interesting colours in the range. There are some light shades too which I am not keen on and a very interesting shade #2 Lust Red which is a blackened red toned shadow that many people love but which I just can't bring myself to experiment with.
Are these a must have? Well, if you have the funds, then try just one and see how you like it 🙂 They are incredibly easy to use, have beautifully intense colours and are very long lasting. However, if funds are a problem (these babies are pricey) then no, these aren't a must have – nothing really is – but it is a "nice to have" 🙂
In a nutshell

The Giorgio Armani Eyes to Kill Intense Silk Eyeshadows are an interesting pressed pigment powder shadow that look and apply like a cream but are in fact powder so there is no fear of it drying out. The formula is really very good and although most of the colours have shimmer they are all very wearable. For me, it lasts practically all day without fading or creasing (few formulas crease on me) and I experience no fall out. The product is easiest to apply with fingers and the best part is that many of the colours can be used alone because they are just complex enough. If you have the budget then yes, it is worth trying at least one and I will pick either #1, #3, #4 or #14 for your first because they are the more complex shades to me. I love these but then I guess you already knew that 🙂

Pros: Intense and complex colours, Can be easily worn alone, Excellent formula, Does not fade crease or fall out on me

Cons: Pricey, Not easily available if you don't have a GA counter

Who will like these: Almost anyone, Anyone who likes intense eyeshadow colour with shimmer
Here's just one picture of #3 Purpura worn on my lid to show you that the colour is a) wearable and b) not too intense or shimmery for the day. I applied this with my fingers.
I just wore Purpura as a wash over my lid for the day, sheered out at the edges, and with liner and mascara. It looks a wee bit more intense in person but it pretty much stays this way all day. It doesn't look that purple nor as shimmery right? Looks like a greyed purple, in fact and that is the beauty of these shadows – they just look different all the time! If you want it more intense especially for the evening, pack on the colour and the shimmer intensifies. One of the easiest shadows I have ever used.
Have you tried any Eyes to Kill Intense shadows? Is this something you might like?
If you think I might have missed a good colour, do holler at me 🙂 The only thing I have noticed is that there is a glaring lack of green shades in the GA ETK collection. I think a lovely emerald shot through with gold shimmer would be quite perfect for this formula! If you want to see any one particular colour in action or in its own review please let me know and I'll try to oblige 🙂
Paris B
Giorgio Armani Eyes to Kill Intense Silk Eyeshadow Price: US$32/HKD220 Availability: Giorgio Armani counters (unavailable in Malaysia) with selected shades available online at StrawberryNET.com (aff)