Many years ago, when Kanebo Impress was first launched, I tried some products from the range. I declared myself Impressed! Well I was, truly. But I also realised later that some of the products were breaking me out a little, particularly the Impress Emulsion. I picked it up in II which was too rich and I had a full sized bottle that I eventually gave to a friend who naturally loves me for life haha… 😛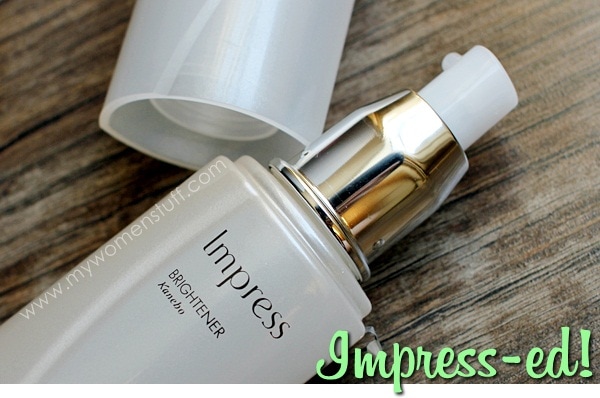 The Kanebo Impress Brightener is one of the later introductions into the Impress skincare range, launched a couple of years down the road. I was using the Kanebo Sensai Quick Radiance before, but when I used up the last drop (yes I actually do finish skincare 😛 ) I was told it was discontinued and replaced with this one – Kanebo Impress Brightener.
When I did my review on the Diorsnow Wipe Off Gel Exfoliator, I mentioned that I was using a Japanese product that performed a similar exfoliating function. Well, this is it 🙂
The Kanebo Impress Brightener is a gentle skin exfoliator that performs the same function that the Sensai Quick Radiance does (if you are familiar with that one). You use it after cleansing and before you put any other skincare, as its purpose is to help gently exfoliate the surface skin cells and soften skin, so skincare absorbs better.
The gel lotion comes in an opaque glass bottle which is fitted incongrously with a plastic cover. Its not even a nice stiff plastic, but a slightly translucent plastic. I honestly expected more from them, because its such solid packaging otherwise! Marks deducted, because the cover doesn't fit very well and I'm picky like that 😛
The product is dispensed through a pump which has a solid smooth feel to it so maybe part of the packaging is redeemed. Incidentally, it may be interesting to note that this bottle was sitting in a paper bag which was dropped from waist level onto a road (its a complicated story) but it survived the fall with just a tiny chip in the base of the glass bottle. Its sturdy. But I don't recommend you roadtesting it the way I did 😛
Product wise, I like it. Despite being an exfoliator, it is surprisingly gentle on my skin and I can use it everyday (and I do) without my skin feeling dry or dehydrated or uncomfortable. The product is a gel that feels a little cool on the skin.
I pump about 2 pumps of product into a piece of cotton pad, apply to my skin and then gently rub in circular motions all over. Some days, I see that there is some residue lifted off my skin so the cotton pad looks dirty after I do this. Other days, there is no residue so maybe I just cleaned my skin better.
The immediate effect that I feel is markedly softer skin. Any product I apply thereafter absorbs very quickly into my skin and I personally believe that the exfoliation helps in clearing the congested spots on my face.
I actually had this for a while, but stopped using it. I came back to it when I had more or less cleared my skin of breakouts, but there were some lingering clusters and some dry flaky bits of skin on my face. I saw this bottle in a far corner of my tray, and decided to give it a go. After a few days, I noticed that my skin was decongesting, flakies were disappearing and importantly, I was having more supple, brighter, clearer looking skin.
I use this every evening now, and I personally believe it does help my skin. There are some things that I think the Japanese are ahead on, and this area is one of them. Many Japanese products have a "skin softener" and this performs that function too. Its something I haven't seen any Western skincare adopt or adopt successfully. So here we have a daily skin exfoliator that does not dry my skin out and helps it look better and brighter and helps my skincare products absorb better. I'm truly Impress-ed! 🙂
In a nutshell

The Kanebo Impress Brightener is a daily skin exfoliator that helps to lift away skin cells and helps to make skin look brighter and feel more supple, clearer and smoother. I find that my skincare absorbs better whenusing this product and it helps keep skin congestion at bay as well as removes flaky dry patches of skin when I do have them. The product is a gel that feels a little cool on my skin and does not dry out my skin even with daily use. I personally love this and I think its a worthy successor to the Sensai Quick Radiance that has been discontinued.

Pros: Not drying on skin despite daily use, My skin feels more supple and smoother with daily use, and looks brighter and clearer, Skincare absorbs more quickly, Skin is less congested and dry flaky skin is kept at bay

Cons: Pricey, Plastic cover is incongruous with the heavy glass bottle

Who will like this: Anyone who is looking for a daily exfoliator and skin softener product
I lent this to a friend to see if it might help her with her then congested skin. She did eventually return it to me (whew! 😉 ) but she also did tell me that she believed that it did help her clear up her skin. I hope it did because I did see a marked improvement! 🙂
I do not have the ingredient list – box has gone missing, and its in Japanese. But like most Japanese skincare, it should contain alcohol and a whole bunch of other chemicals so if you are chemical and alcohol averse then this will not be for you. However, if you are familiar with how Japanese skincare work, and your skin can tolerate it, then I believe it is worth looking into.
I am quite generous with my use of this product but it doesn't finish up that quickly. 3 months is a good bet as with all skincare so whilst its pricey, I'm sticking to it because you know, when you find a product that works for your skin, just stick with it. Your skin will thank you for it!
Have you tried the Kanebo Impress Brightener or similar product? I was first introduced to it during my regular facials at their salon so that's how I learned about this and I'm happy I did! 😀 Its not cheap, but boy, is it good! 😀
Paris B
Kanebo Impress Brightener Price: RM228/100ml Availability: Kanebo counters and salons