Alright ladies, you're probably going to hate me for showing you a blush palette you may never see again for sale, but I actually received an email from Kay asking if I might have reviewed it. I don't know if there's a little black market where you can buy something as limited edition as this was, but I promised Kay I'd do a short review so she'd have an idea what the RMK 15th Anniversary Cheek Palette in 01 Pink Coral looks like on skin.
RMK celebrates their 15th Anniversary this year, 2012, and sometime in March-April 2012, they launched the limited edition 15th Anniversary Cheek Palette in 2 shades. The delicate fairy and the exquisite detail in the powder captured all our hearts and really, who could bring themselves to destroy this piece of art?!
Well, I did 😛 So after oohing and aahing at how beautiful it looks, here's how it looks after one takes a makeup brush to it. Och! It pains my heart it does!
Once you take a brush to it, you immediately lose the detail in the fairy's head. What you get under that pretty brown bobbed hair and pert turned up nose is a white highlighter shade. You also lose the pearls she wears around her neck.
What is great (and the attention to detail that sets a brand like RMK apart from many other luxury makeup brands) is the attention to detail. The folks at RMK knew we'd all lament the loss of the pretty design. So they made sure we'd still have the outline of the fairy – which is printed on the plastic insert. Lay it over the powder and voila! Fairy is back in all her glory!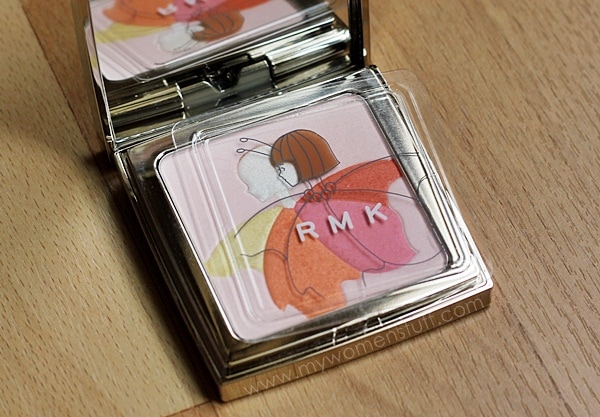 I couldn't swatch each individual colour, because they did not show up well, and let's be honest. This is best used with all the powder colours swirled together What you get then is a pretty, slightly shimmery, pinky coral shade that can be as light or as intense as you want it.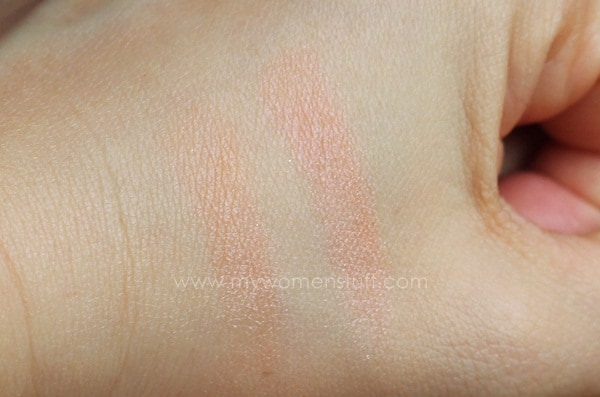 15th Anniversary Cheek Palette 01 Pink Coral Left: light swipe of colour Right: heavy swipe of colour
The powder itself is sheer but pigmented, so I will suggest a light hand and build it up from there. Depending on where you concentrate your brush, it can apply more pink or more orange but the sheer texture means that it does not overwhelm the skin.
Here's an idea of how it looks on my skin. As you can see, the coral tones are quite strong so I prefer using a light fluffy brush so the colour does not go on with a splotch on cheeks.
I'm going to eschew the regular pros and cons because I honestly do not know where you can get this palette anymore. If you can find it, I'd say its a good buy if you are a collector of pretty palettes, or you like sheer coral pink blushes.
But this also teaches me a lesson to be less tardy so watch up for these other 15th Anniversary Eye and Lip palettes coming up soon. I hope I don't miss the boat this time – give me a yell if I do 😛
Did you manage to get your hands on the RMK 15th Anniversary Cheek palette? Could you bring yourself to actually use it or are you still staring at it? 🙂
Paris B
RMK 15th Anniversary Cheek Palette comes in 2 shades Price: RM150 Availability: RMK Counters (Facebook) Limited Edition: Yes early 2012