I don't know about the majority of you, but I'm actually intimidated by cosmetics counters. Less so now than before, but when I walk up to a counter, and see a BA (beauty advisor) standing behind it, my guard goes up. I look at the array of products on offer and my spidey senses tingle at the BA standing just at the edge of my vision, waiting to pounce.
As you can imagine, buying products, for me, has been a bit of a stealth action. I hone up my information on what I want, go to the counter, rattle off the items I want, wait for it to be picked up, resist small talk and run off to pay for it at the counter, escaping with a sigh of relief.
Now tell me I'm not alone.
Well I'm glad that some brands are starting to realize how intimidating a whole bank of counters is to the consumer. We sometimes want to browse, but when we see the whole table of stuff, unlabelled as to what they're for, we blank out. When we get a pushy BA who sticks to us like glue, and pushes A skincare and B serum and C lipstick if you just so much as glance at it, we run away.
Estee Lauder must have read my mind, because their new counter design at Isetan KLCC is done up to make consumers feel a little more welcomed. The dated deep blue and gold is now kept to a minimum, and the counter is done up to look and feel like a boutique where anyone can go and browse and be beautiful. Let me take you on a little tour of this new layout and tell you of some complimentary services available. Yes, complimentary = free! 😉
Instead of a long table with skincare on one end and makeup on the other, the new Estee Lauder counter now keeps them separate. So, if you are there to check out the makeup, feel free to browse and try the testers at the colour play station.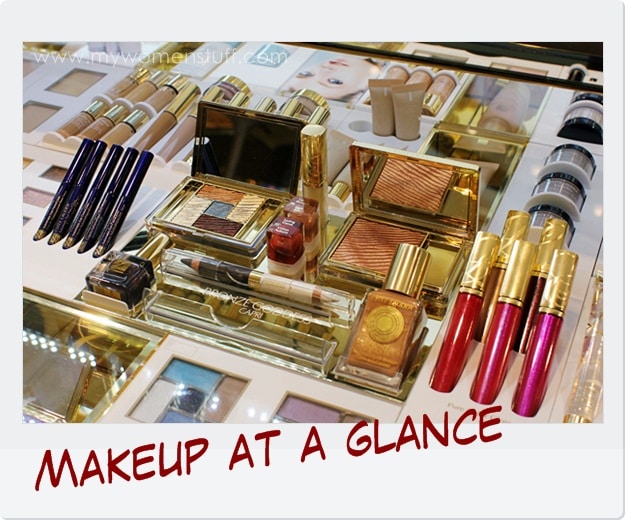 Latest collections are placed amongst the classic favourites and this time, everything is on display. I hate it when I go to a counter and want to see a particular item in a particular collection, and then have the BA take it out from a drawer somewhere and then tell me I can't touch it, because its not a tester. Erm… yeah how do we buy anything without first testing, right?
If you aren't sure of your foundation shade, one of the complimentary services offered is colour matching of foundation. There is a chart they use, and I was colour matched to 2.0 Light. I was a little sceptical. 2.0 looks dark! But the BA then tested it on my skin, showed me how it blends into my skin and then showed me some pointers on how to achieve a flawless foundation. You can get it too, just ask 🙂
Another complimentary service is the 5 Step 5 minute makeover. The BA will show you a basic skincare routine and then do a quick makeup touch up for you. This is a good time for you to start asking questions like : How to do a smokey eye or to test if purple eyeshadow is something you can wear easily.
I asked to try a purple shadow, because purples and I don't get along very well, and I was very pleasantly surprised to see that one of the Estee Lauder palettes (Violets or something… I forget 😛 ) was actually quite pretty on! It was a palette I'd have passed over with a dismissive "Oh, purple!"
The skincare bar is easy to browse and products are clearly labelled according to the concerns they address. You can just tell the BA you're just browsing, or you can seek their assistance to do a quick complimentary skincare consultation and find the products best suited for you.
I usually prefer to browse by myself until I need help working out which item does what. It was helpful having the BA there to help me when I saw that other than my staple of the Advanced Night Repair serum, there was another smaller bottle of Advanced Night Recovery Concentrate. It turns out the latter is an intensive treatment that you only use for 21 nights once every 3-4 months. I also learned that the ANR serum can also be used in the day. No, your face won't explode as I thought it might 😛 But because it contains retinol, I'd recommend using a good sunscreen as well.
The bestselling ANR is the highlight of this period, which is a great for me, because I just ran out! I've decided to keep this as a staple in my skincare routine, so I will use it in conjunction with other serums (maybe) but I'm not planning on switching it out 🙂
If fragrance is your thing, then the fragrance bank and complimentary fragrance finder service is a good place to start. I've used a number of Estee Lauder fragrances in my time – Beautiful, Intuition and Dazzling Gold were repurchases. Yeah, I actually used to finish up stuff. Those were the days…. 😉 This time, I was very surprised to be matched to Sensuous and Sensuous Nude the new Estee Lauder fragrances. I'm not familiar with them, but I decided I preferred Sensuous, because it was stronger and spicier. Zing! 😉
I was also told that there is a Re-Nutriv hand massage too for those wanting to experience the Re-Nutriv skincare range. This is done in a lovely alcove done up in soothing dove grey tones where you are slightly cocooned against the noise outside, befitting the luxury image of Re-Nutriv. That's the more luxurious, more exclusive range that I'm told is even better than the regular ranges. Hmm… at those prices, I would certainly hope so! 😛
If you happen to be at Isetan KLCC at any time soon or during the weekend, step into the Estee Lauder "boutique" counter and have a nose around and try any one of the new Estee Lauder Signature services. The counter is now very bright and modern and products are easily accessible to see, smell and try. I highly recommend the 5 minute makeover service. It is a fun way to brighten up your afternoon, get a makeover, and maybe even discover something new – I'm planning to go back and pick up one of their new blushes and maybe even a fuchsia lipgloss. I didn't even know they were new!
Do you share my sentiments about most cosmetics counters? I don't deny that some BAs are super friendly but sometimes they only are, because they are familiar with you. The rigid traditional counters that separate BAs from customers don't help this image either. So I'm glad that brands like Clinique with their SAYLI counters and Estee Lauder with their new counter, are taking this step to break down the barrier. Consumers are getting more savvy, and we don't like being hounded or badgered, so this fluid open concept is great! I hope more brands go this way. It might actually make cosmetics shopping more fun and less intimidating 🙂
Paris B
Estee Lauder New Signature Services as described here are available only at the new Estee Lauder counter at Isetan KLCC and are complimentary. Other Signature Services (see link) are also complimentary and available at all Estee Lauder counters.