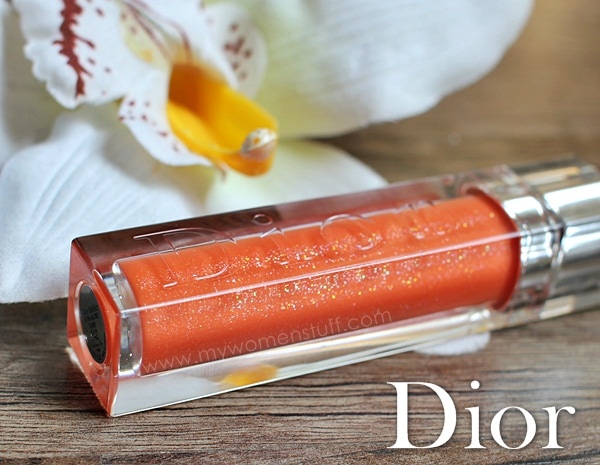 I was reminded of the Dior Summer Mix collection at the end of last week when I took a short stroll through the mall. The Dior counter was so bright, I could not miss it and it is a good reminder that "Hello! Its still Summer, people. Fall is a nice collection too, but lets live for now, shall we?".
The Summer Mix collection is a collection of matching nails and lipgloss in translucent, jelly textures. I've already shown you all the nail colours here and here and you have to admit that they are beautiful and bright and perfect for the summer. One good thing about living here in the tropics is that these bright colours will never be out of place all year round! Yay! 😀
For myself, when I first got wind of the summer stuff earlier this year, I made a beeline down to the Dior counter to pick up my very first orange lipgloss in Orange Pareo (542). I must say though, I wasn't disappointed one bit. I am a huge huge fan of Dior lipglosses. Next to Guerlain glosses, they're the only ones I use because they are not sticky, not tacky and have good colour.
But you're here to see what an orange lipgloss looks like and whether you need one right? 😀
Erm… yes you do! 😀
Here are the swatches on the back of my hand, swatched once and then multiple layers. The beauty about the Dior Addict Ultra Gloss is that even if you layer it on, you don't feel like your lips are thick or too sticky. All you get is better colour.
Swatches Left: One layer Right: 2 layers
The formula for this one is Flash, which is the sparkly one. To refresh our memories, Dior Addict lipglosses come in 3 formula – Flash (sparkly), Glow (no sparkles) and Pearl (iridescent shine). So expect some eye catching sparkle and shine to this lipgloss 😀
Here's a close up of the tube to show you the pretty sparkles in their glory!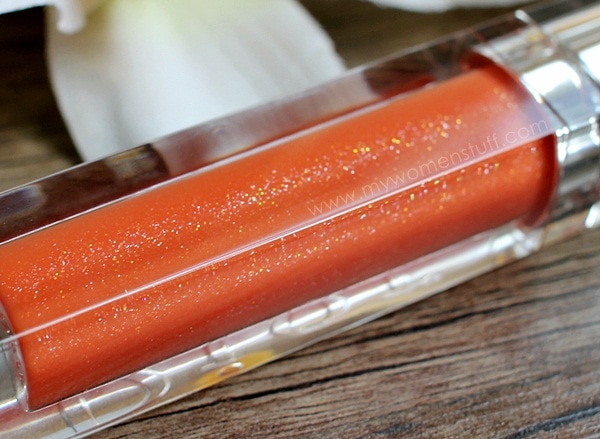 Pretty right? 🙂
What I liked is that it is pigmented enough to wear on its own (really, orange lipgloss isn't as scary as you might imagine!) but it adds a pretty sparkle when topped over lipstick!
Left: Dior Orange Pareo alone Right: Dior Orange Pareo over Dior Addict Extreme Riviera lipstick
Its pretty pigmented on its own to be interesting while adding a warmth and sparkle to a red lipstick.
Also featuring: Diorskin Nude Tan Healthy Glow Aurora bronzer and Acapulco and Calypso on nails
For completeness, here's how it looks on the face. See, I told you that orange liploss isn't scary at all! It adds some colour and on my pigmented lips, seems to have a slight pink note so it doesn't look pure orange. The shine is also pretty and it isn't overdone so its not like you applied some cheap glitter all over your lips.
I forgot to mention that the applicator is a brush which I happen to LOVE! Brushes give better control over exact application and distribution of colour and not many lipglosses come with a brush applicator so when I do find one that comes in a formula I like, I am all gaga 😀
In a nutshell

Dior Addict Ultra Gloss lipglosses are only one of 2 brands of lipglosses that I will voluntarily purchase. The texture is not sticky or tacky but it lasts long enough for me and the colours are pigmented. I maybe a lipstick girl but I make an exception for these glosses. Its a long time fave of mine over the years. Orange Pareo is a lovely sparkly orange lipgloss that can be worn on its own or over lipstick. It warms up the tone of lipsticks and adds lovely sparkles without making it look tacky or over done. Its unique enough to purchase and I did. So should you 😀

Pros: Not sticky, Not thick, Not tacky, Lovely sparkles that aren't too glittery, Pigmented enough to be worn alone, Warms up lip colours when layered over lipstick, Applicator is a brush

Cons: Pricey but if you exclude the price, then none

Who will like this: Anyone who is looking for a pretty orange lipgloss, Anyone who dislikes tacky sticky goopy lipglosses, Anyone who likes a lipgloss with a brush applicator
And here we have one of the many kawaii poses available to Asians that I saw used last week by a busload of Asian tourists. I don't know. Is this supposed to be Pose No. 7? Or is it an L? 😛
In this one, I layered Orange Pareo over Dior Addict Extreme in Riviera. Riviera on its own is already a gorgeous coral shade tending to a red on my lips. When layered, it took on a warmer more coral-orange note and was infused with lovely sparkle. I loved it! I also tried layering it over other red lipsticks and the effect is just as pretty. Part of the fun is in seeing how the orange gloss changes the colour of a lipstick and the other part of the fun is in seeing lips look all lovely and pouty with shine and sparkle.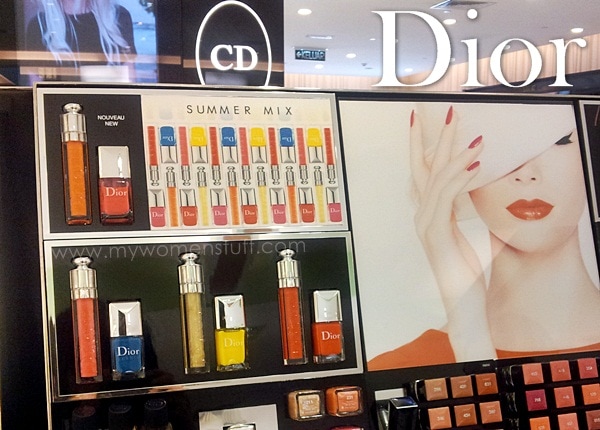 Here's the rest of the collection as sneaked from the counter last week. I actually do like the bright colours of both lips and nails. I might show you a couple more of the lipglosses if you're keen – just say the word 🙂
Did you pick up any of the Dior Summer Mix lipglosses or nail polishes? Orange lipgloss – what say you?
xx Paris B
Dior Orange Pareo Lipgloss in #542 Price: RM90 Availability: Dior counters Limited Edition: Yes, Summer Mix collection 2012