It was just last year that Dior introduced their Dior Addict To Life fragrance in the purple bottle. Did anyone go and take an ol' sniff at it? I checked it out at the airports when I was passing by (Duty Free is the BEST place to sniff around at perfumes because there are so many choices and you are rarely bugged … very much) It was a heavier, sweeter slightly muskier scent than Addict 2 which is one of the bestsellers in the Dior fragrance ranges, I'm told.
Me? I'm a Miss Dior Cherie and J'Adore girl 😀 I love the fresh young scent of Miss Dior Cherie and the heavier, more sensual scent of J'Adore. In fact, I wear J'Adore so often now, because the bottle is too tall to fit into my cabinet and so its the one I reach for just as I exit the room. Maybe that's what they had in mind when they designed the bottle LOL!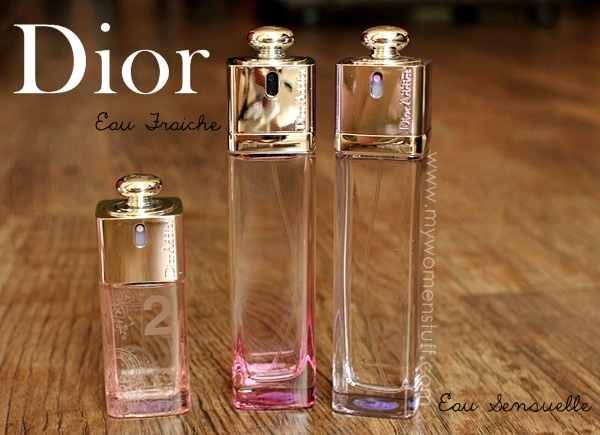 But today, I'm here to tell you that if you are a fan of the Dior Addict fragrances, you may notice 2 new ones popping up – Dior Addict Eau Fraiche and Dior Addict Eau Sensuelle. Don't worry about emptying your pockets yet – there's a little catch to it 😉 Also, check out the commercial for these fragrances. If there's one thing I enjoy about fragrances, its the commercials that go with it. Even if I don't like how it smells, I always enjoy a good perfume commercial! The only comment I have is this – How come I didn't have as much fun as the girl did on the beach this weekend? 😛
Coming back to Eau Fraiche and Eau Sensuelle, they're actually the renaming of Dior Addict 2 (Eau Fraiche) and Dior Addict To Life (Eau Sensuelle)! Here, look at the label on the Addict Eau Fraiche fragrance I have – it reads Dior Addict 2.
If you noticed this too, don't panic. You didn't get a fake item 🙂 I guess Dior just didn't have time to make new labels before the products rolled out 😀
One good thing to come out of the renaming is that the names are now descriptive of the scents. Eau Fraiche (Dior Addict 2) is a fresh fragrance that opens up with a slightly fizzy citrus note and then mellows down to a fresh slightly woody scent that isn't overwhelming. Its a nice scent for hot days. I like that almost fizzy note that hits my nose the first time I spritz it on.
Eau Sensuelle (Dior Addict To Life) starts out with a significantly stronger floral note and then mellows down to a warmer floral scent that easily takes you to an evening rendezvous. Eau Sensuelle doesn't sit on my skin as well as Eau Fraiche does though so I prefer the former with its zesty zing!
But I promised you a fun video didn't I? Here is it 🙂
Incidentally, I was out on the beach this weekend. Unfortunately, I did not have as much fun as the girl did, nor was I in St. Tropez. I should have taken Eau Fraiche out with me shouldn't I?! 😉
Any fans of Addict 2 (Eau Fraiche) or Addict To Life (Eau Sensuelle) out there?
Paris B