It seems like having blogged about 2 concealers within a short time (Dior then Clinique) has allowed many of you to compare them and the most asked question in the Clinique Even Better Concealer review is – how does it compare to the Diorskin Nude one? I'm terribly behind on replying to comments so I thought I'd do you a quick comparison post instead (plus I still have holiday brains so I haven't been able to properly write anything!) 😀 Love ya guys for the ideas doncha know? 😉
I'll compare them on 3 grounds – packaging, texture and effectiveness. I think that should cover it <- cover it geddit? 😛 Before I get even punnier, lets get going.
Packaging
Clinique Even Better concealer comes in a tub while the Diorskin Nude Hydrating Concealer comes in a tube. The tub is a bit small at the opening so you do need a brush to use the product. With a tube, you just squeeze. Germophobes will be leery of the tub. I personally am not fussed but I will note that products in tub packaging tend to harden over time, be hard to get to once you use up about half the product and are hard to travel with because you need a separate brush. With a tube, you may end up squeezing more than you need, and have trouble squeezing out the product once you start using it up more. But I'm handing it to the tube for the packaging.
Winner : Diorskin Nude Hydrating Concealer
Texture
The Clinique Even Better Concealer has a slightly harder texture while the Diorskin Nude Hydrating Concealer has a more liquid texture. However, I find that both products are creamy on the skin, easy to blend and blend in nicely into my skintone. Neither product cakes up during the day and they aren't drying on my skin. I'm calling it a tie between the two because texture wise, they are equally good.
Winner: Tie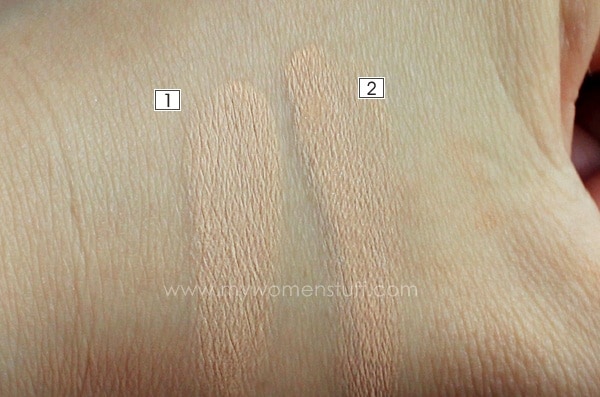 Swatches: (1) Clinique Even Better Concealer Fairly Light (2) Diorskin Nude Hydrating Concealer Ivory
Effectiveness
The swatches above were applied heavily. Colour wise, they are close in shade without noticeably pink or yellow tones. That suits my skin very well. I'm not too certain how the darker shades will fare. Once blended out, both products melt right into my skin so you can't quite tell that I'm using concealer. Both products cover up minor blemishes and pigmentation marks relatively well although I do think the Dior one does a better job at concealing with less. I find I have to layer on the Clinique one a little more to achieve the desired result, while I only need a thin layer of the Dior concealer to achieve medium coverage. However both products are easy to layer and do not look heavy or obvious once you blend them in. Both products have slightly brightening effects so use around the eye area helps brighten the eye area (provided you don't have chronic dark circles). I'd have to say that both products are very effective at what they do i.e. conceal but you do not get 100% coverage with either. I will however allow the Dior one a tiny advantage because I seem to need less.
Winner: Diorskin Nude Hydrating Concealer by a hair's breadth

Conclusion
I'd say both the Clinique Even Better concealer and the Diorskin Nude Hydrating Concealer are good products. They both conceal well, are a good colour match (for my skintone), aren't drying or cakey and have a very subtle brightening effect. The problem with the Dior one is that you are prone to wastage. I always squeeze out the product on the back of my hand, spread it out, dab it on and then tissue off the excess. With the Clinique, there isn't this wastage. Just dab on with a brush and blend.
Notice I didn't match prices. That's because the price differential isn't much for products of this category so it wouldn't be a consideration at all. The Clinique one may look pricier at a glance, but it is a solid item vs a liquid in the Dior so product wastage has to be considered.
So ultimately, I'd say it comes down to which packaging you prefer (tub vs tube) and which texture you prefer (harder vs creamier). That will be a choice only you can make 🙂 The full review of each concealer is available here and here.
If you have tried either or both and want to share your views please do so – it will be most helpful! Otherwise, for those on the fence, I hope this helped…. or if it didn't, I hope at least it didn't confuse you further 🙂
Paris B
Clinique Even Better Concealer Price: RM80/3g Availability: Clinique counters Diorskin Nude Hydrating Concealer Price: RM95/10ml Availability: Dior counters