I don't pay a lot of attention to Celine bags, but I happen to have a soft spot for the Boogie bag. Sure, its open at the top, its only hand held and its by all notions a bit of a bother to juggle sometimes. But I love it, and want one in a lovely supple calf leather in a bright colour. Unfortunately, I don't see it on the website anymore. I hope it isn't discontinued 😛
The Celine Boogie bag is quite a classic, I'd say. There is nothing bright or garish about it and the lines are clean and simple and the design is straight forward. I walk around in Petaling St. and I don't see a lot of fakes, if any. A sure sign the bag isn't all that popular locally (the open top does make people balk) which makes me covet it more. I'd put it as a classic 🙂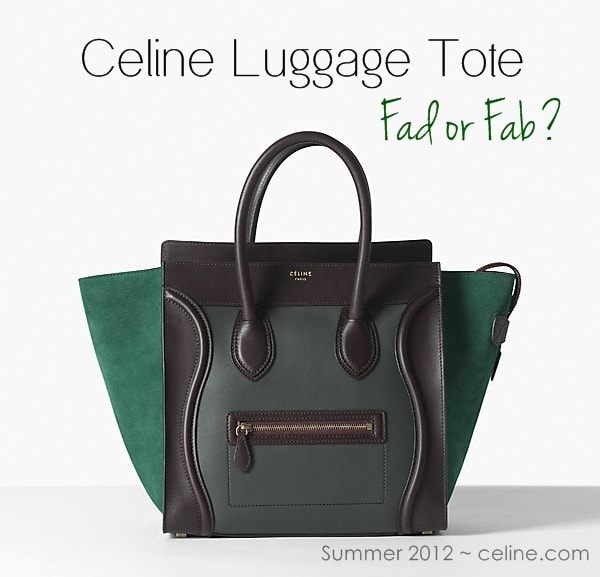 But the latest IT bag to come out of the Celine stable is the Luggage Tote. I was pointed in the direction of this by my bag fiend partner in crime ("BFPiC") some time last year. Then, I said to her quite honestly, "Meh. I don't like how it looks" Well, that was before said BFPiC said she wanted it. Oops! 😛
I put it out of my mind for the past 6 months but recently, I've seen the Celine Luggage Tote grab the world by storm. I see it in magazines, in blogs, on celebrities… everywhere! Everyone who is anyone is touting it as the next Birkin, as a classic, as a "must-have", and everyone's swooning over it.
Did it make me want it then?
Uh… no.
Incidentally, I saw the real deal just over the week. I think it belonged to a magazine editor and in real life, that bag is HUGE. I could easily use it for a weekender or stuff a baby into it. Seriously, its gigantic. The leather however, is absolutely lovely. It does come in a few sizes, I read, so perhaps a smaller one might look better for a daily bag than a gigantic weekender.
Practicality aside, I guess I'm just not sold on the design. Sure, one woman's bag is another's baggage, so I don't mind if you disagree 🙂 I seem to after all, be the sole voice of dissent in the case of the Celine Luggage Tote. Almost everyone is swooning over it so maybe I have bad taste LOL!
My beef with it may be to do with the structure and design. I find it stiff and masculine in design in the middle with too many lines and too much going on. The bits that stick out (I call them the ears 😛 ) look soft and floppy. That contrast just doesn't do it for me, because the ears look like an afterthought. Its like "Oh look! We have some excess leather, darn! Maybe we can make it stick out the sides and people will buy it anyway". Besides, it looks heavy, and I have enough experience with heavy bags to know that I won't even go near there anymore.
Due to the size and shape, I have no doubt that this is one of the most practical IT bags out there. You can fit a ton in there, it zips up, you can carry it hand held, over arm or on shoulder if it fits. It comes in a variety of colours and material and is eye catching and different. However, I don't feel anything tugging at my heart strings or on my wallet yet. Guess I'm safe 🙂
I am going to buck the trend and call the Celine Luggage Tote a fad. I'm not sure if BFPiC still wants it though. Sorry girl, if you're reading this! 😛
What say you? Celine Luggage Tote: Fad or fab? 🙂
Paris B
Celine Luggage Tote : Local prices unknown. In the USA, it starts from US$2,000