Bright! Sunny! Yellow!
Ooh my eyes! Let me put on my sunnies 🙂
Those were my reactions when I took the Dior Vernis in Acapulco out of its box. Seriously, that bottle could almost glow in the dark. It doesn't, but wouldn't it be cool if it did? 😀
Acapulco is one of 4 Dior Vernis shades in the Summer Mix nail and lip collection. I just had to try this on for size because I've never worn yellow on my nails before.
I found Acapulco quite interesting. Under yellow lighting, or in the shade, Acapulco actually looks a light yellow which I found quite comfortable to my eyes. I applied it at night, under yellow lighting so I thought "Hmm… this doesn't look half bad!"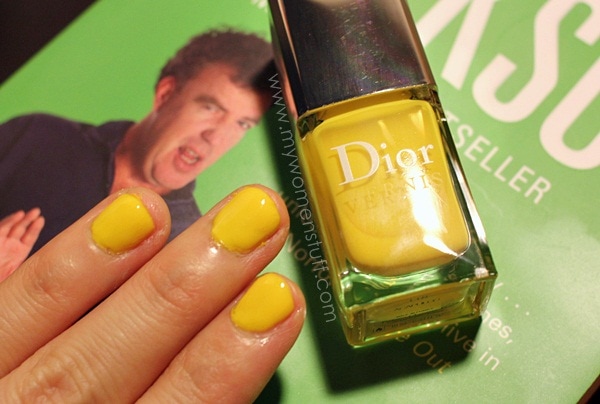 Evidently Jeremy Clarkson doesn't agree. Actually, that face pretty much sums up by reaction to this colour 😀
When I woke up the next morning and looked at my nails, it was now a deep bright yellow.
It is the shade of eye-catching yellow synonymous with our Kings and royalty and the star on our Malaysian flag. It was, as my colleague noted, the shade of yellow used by "Bersih" demonstrators (local politics for international readers – gah! Not going there!) 😛
There is no way that your nails will go unnoticed because the colour just screams for attention! When typing on the keyboard, is when its most noticeable so if you work in a conservative environment then better reserve this colour for your toes.
I found the texture of Acapulco a little thick. I'm not sure if its just me. Perhaps due to the colour or the texture, 1 coat wasn't quite sufficient to give an opaque coverage but when I try 2 coats, it looks thick. I also prefer it applied on bare nails without a base although I know that's not something to encourage. The thick texture does add somewhat to the opaqueness of the colour though so I'm not too fussed about it, but considering I'm not good with using nail polish, I'd say that this one frustrates me easily and if you have the same problem I do with applying polishes well, then it might frustrate you too.
In a nutshell

The Dior Acapulco Vernis nail polish is part of the 4 piece Summer Mix collection of bright nail colours. Acapulco is a bright deep almost neon yellow that is very eye catching on nails and quite perfect for the Summer. I found the texture a bit thick yet applies a little sheer so you will need more layers to get a proper opaque finish to ensure this colour is shown off at its best. If well done, its eye catching. On yellow or sallow skintones, I'd suggest you avoid it.

Pros: Bright eye catching yellow shade, Brush is easy to handle

Cons: Formula is thick but isn't opaque with one layer

Who will like this: Anyone who is in the market for a very bright yellow nail colour
How are you for yellow nail polish? Dior describes Acapulco as "Acid Yellow" I will have to agree wholeheartedly! I've had curious stares at my nails all week LOL! TGIF eh? 😉
Paris B
Dior Acapulco is part of the Summer Mix collection Price: RM72 Availability: Dior counters Limited Edition: Yes, part of the Summer Mix 2012 collection