I have a little secret. I haven't been using a face scrub for quite a while now. Or rather, I haven't been using a physical exfoliator – you know those creamy scrubs with bits in them to clean your face? Yeah, can't remember when was the last time I actually used one.
The reason partly, is because I was using a chemical exfoliator. It was called a skin brightener in a Japanese brand but essentially performs the function of removing dead skin cells without that whole scrubby feel. So when the Diorsnow White Reveal Wipe-Off Gel landed on my desk, I sat up a little. Now, this was interesting, coming from a Western brand too! From the comments on previous posts, I had a feeling that it was interesting to most of you too! 😀
The Wipe-Off Gel is part of the Diorsnow skincare range which is the whitening/brightening range. The new formula contains Icelandic Glacial Water which as we have learnt earlier, is higher in alkaline content which is better for our skin which is more acidic.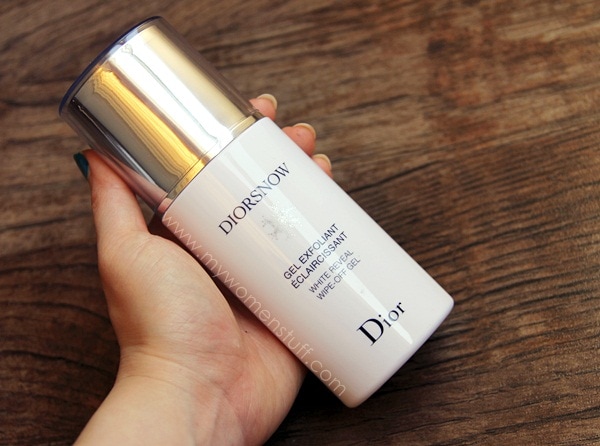 The purpose of the gel is to act as an exfoliant to remove surface dead skin cells and reveal brighter more radiant skin and more refined pores. The product is somewhere in between water and gel and comes in a pump bottle.
You are to pump about 2-3 pumps onto a piece of cotton pad and then wipe it over your face after cleansing. It wipes off any residue from your cleanser, removes dead skin cells and helps refine skin texture. I like to make sure the cotton pad is saturated and I lightly rub in circular motions instead of just straight wiping.
There is a scent but nothing overly strong and its generally just very easy and quick to use. I am not quite sure how to explain what this is and its purpose, because I have been using the Japanese brand ones for a while and am used to that. I am used to using it daily after cleansing and before any other skincare. What it does is prep my skin for the absorption of the rest of my skincare and personally, having used these exfoliating lotion things for a while, I do believe that it helps me.
This White Reveal Wipe-Off Gel performs the same function except that I was told that I was only supposed to use this about twice a week. For the Japanese one, I used it everyday so being a bit curious (and a bit stubborn) I decided to try the Diorsnow one nightly. Bit of a mistake there.
After about 2 weeks, I realised that it was just too drying to use daily. My skin felt taut and dry. So I decided for once, to listen to instructions and now use it about 2-3 times a week and its fine. I don't feel that its drying anymore.
What I find it does, is it makes my skin feel and look cleaner. Sometimes, you may notice on your cotton pad, that it is grey or brown which means there's still some residue leftover after cleansing. It doesn't happen often to me, but it sometimes does so this assures me everything is taken off.
I then follow up with a floral water mist, or a moisturizing toner, serum and moisturiser at night. I personally feel that my skin seems to absorb everything better. I suppose it would make sense because your skin is cleaned of debris. The product contains salicylic acid, which helps with the exfoliation.
I don't know if this product helps keep spots at bay, but I believe that it helps me because my pores don't get so clogged and so I don't get breakouts very much. This partly explains why I get upset when I DO get breakouts. Its just something that doesn't happen much anymore 🙂 If I do have spots or clogged pores, I rub at it a little and it seems to then respond better to the tea tree oil or gel or whatever that I might be putting on it thereafter.
This has been a bit rambly hasn't it? I do like this very much, and I am using it on alternate days or at least 2 times a week and I personally believe that it helps me. But unlike many other products, its something that works really only with long term use. So if its something you think you might like to try, I think it is most definitely worth it. However, if you prefer not to use a chemical exfoliant (although I find this relatively mild) then perhaps this isn't for you 🙂
In a nutshell

The Diorsnow White Reveal Wipe-Off Gel is a light liquid gel that acts as a chemical exfoliator to exfoliate surface dead skin cells and reveal brighter more radiant skin and more refined pores. I recommend using it only 2-3 times a week max, as daily use can be quite drying for the skin. If you have sensitive skin then once a week would be sufficient too. As for the results, I use a similar product from a different brand and I personally feel that it helps me. My skincare gets absorbed more easily and I have less breakouts and less incidences of flaky skin. I would however recommend that you follow up with a hydrating lotion and moisturiser just in case you feel this may be too drying for you. Also results would be more obvious over long term use. You can't really see immediate effects with this one but you may be able to feel it with the absorption of skincare.

Pros: Makes my skin feel very clean after use, Helps my skincare absorb better and I have less breakouts and less flaky skin, Easy to use and will not scratch skin like a physical scrub

Cons: Can feel a bit drying for some so a hydrating lotion and moisturiser is ideal

Who will like this: Anyone who is familiar with the concept of chemical exfoliation without using a face scrub with bits in it, Anyone who wants their skin to look more refined and feel softer over time
Here is the ingredient list for those interested:-
I will reiterate that I do not think this is a product for everyone. If you have very sensitive skin, I will balk at suggesting that you try this. I am however using it and I like it but it is also because I am quite familiar with the concept after using similar products before this with results. Again, expect any results only after prolonged use, not overnight. You may notice I didn't consider this product pricey. I actually don't because 150ml used just once or twice a week means it will last you for ages!
Does the Diorsnow White Reveal Wipe-Off lotion interest you? Have you used anything similar that you would like to share your thoughts on? I do not use a physical scrub anymore because I feel its over exfoliation so this takes the place of a physical face scrub for me. I'm quite happy that way. The last scrub I used had bits that were too large and too harsh for skin and it sort of put me off it. So I'm happy with using this or similar products 🙂
Paris B
Diorsnow White Reveal Wipe Off Lotion Price: RM155/150ml Availability: Dior counters