Last year, I told you about the Diorsnow BB Creme, one of the much more pricey BB creams in the market. Like many brands that came out with BB Creams, Dior came out with just 1 shade which was supposed to suit everyone. Well, it didn't, if you were too fair, and it still doesn't if you are very tanned or very warm toned.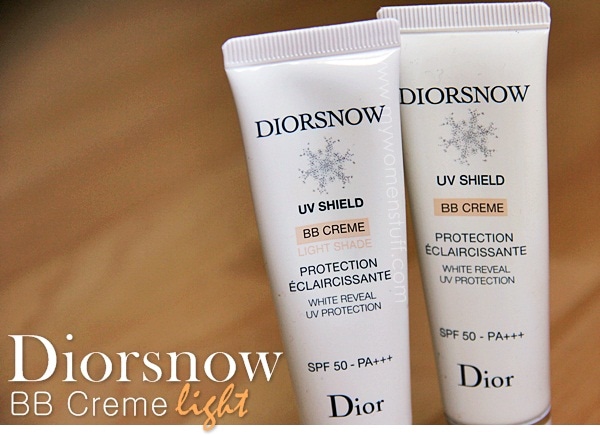 At that time, it worked for me. Just about. I used only very little (this is true of all BB creams application) and so once spread out on my face, it looked alright. It is actually one of the very few BB creams I actually quite like using. I use it as a light foundation and its great for taking on holiday or for weekends when all I want is a light coverage.
Then, Dior decided to come out with a BB Cream that was lighter in colour to cater for everyone who was complaining that the original one was too dark for them. That's quite good news actually, because if the first one was a fair match for me, this new one is a GOOD match and gives a skin brightening effect too, which I prefer. I'll show you the comparison swatches below.
The products are packaged the same way – a tube with a pump and it is quite effective. It also boasts an SPF factor of 50 which is pretty impressive. If I'm not wrong, Dior actually places this together with their sunscreen – UV Shield. So, its like a tinted version of the Diorsnow UV Shield sunscreen.
What I particularly like is that BB cream is, hand on heart, light in texture not oily at all and does not turn oily. It gives me a my skin but better look, I can wear it in lieu of foundation and it is great for taking on holiday because I'm always too lazy to put on makeup while on holiday, and this is great because its sunscreen and foundation in one. (Ok, I wear a separate sunscreen but those who don't want to, need not)
All in all, nothing has changed in this new BB cream except the tint. In the previous Diorsnow BB Cream, the tint was markedly pink toned. Great for me, not so great for many warm toned girls.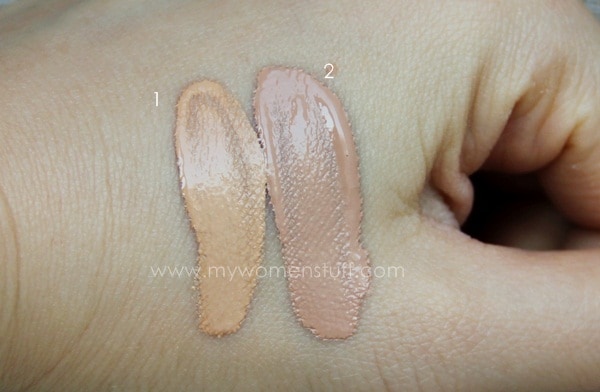 Diorsnow BB Cream swatches comparison Left: Diorsnow BB Creme Light Right: Diorsnow BB Creme (Original)
This time though, its peach toned. I honestly do not know if that will work better for warmer toned girls. In terms of tone, I think its a bit lighter, but what's more marked is how both Diorsnow BB Creams are actually quite different in colour family.
I do find however, that the new BB Cream Light gives my skin a slight brightening effect. I didn't notice it till I actually used it, but it does look brighter, so that is great. By comparison, the original version whilst blending into my skintone, didn't have that brightening effect.
Here is the ubiquitious unretouched before and after photos for comparison.
Coverage is light,as you can see from the visibility of skin imperfections even after application. It does however, cover up redness and smooths the skin tone which is good for when you just want something light and fuss free. I've included also the photo from my previous review of the Diorsnow original BB cream to show you that yes, the original product blends with my skintone too.
Photo of the original Dior BB Creme (review here) The lighting and camera is different so this is not for colour comparison, just to show that both work for me in terms of colour. I prefer the light one for its skin brightening effect.
In a nutshell

The Diorsnow BB Creme Light is a lighter tint version of the Dior BB Cream. I find that the shade is not lighter per se, but of a slightly different tone altogether, being peach toned while the original version was pink toned. I do find however, that upon using the BB Cream Light, my skin looks brighter. Colour match wise, both versions blend into my skintone which being fairly light, was quite surprising, considering the depth of colour in the swatches. I like also that it is not oily, not thick, does not turn oily, and makes my skin look natural but better overall.

Pros: Light coverage, Skin looks brighter after application, Compact packaging is travel friendly, Light texture

Cons: Pricey, not sure if this tint will suit everyone
Here is the ingredient list for those who are interested. I will point out that this product, like its predecessor contains Oxybenzone which gets some flack in the industry. Unlike the sunscreen, this product uses Titanium Dioxide as its physical blocker which explains why I break out from the sunscreen (zinc oxide) and not this cream.
Have you used the Diorsnow BB Cream before this? I don't know if this is truly a "bb cream" in the true sense but I use this as I do all BB Creams – as a foundation. I just don't believe in all that all-in-one cream thing till now and I'm not into BB creams either. Interestingly, the 2 or 3 BB creams (or what are known as BB Creams) that I like and use most often are by Western brands. I'm going to share that thought with you some time soon 😀
Paris B
Diorsnow BB Creme comes in 2 tints – Light and normal Price: RM175/30ml Availability: All Dior counters