One of the more interesting items from the Dior Croisette Summer 2012 collection is the 1 Couleur Eye Gloss which comes in 4 shades. Eye Gloss! Turns out that what it is is a liquid cream eyeshadow in a lip gloss type packaging. To be perfectly honest, it didn't grab my attention very much. I have used cream shadows of a similar texture and packaging before, and I have always been less than impressed.
The key however, is to expect the unexpected when it comes to high end brands like these. I wasn't expecting much but I was suitably impressed on two points – sparklies and texture. But do you really need this eye gloss? I'm going to stick my neck out and say no. You do not. Its nice to have, but its not a must have. I'll tell you why 😉
The packaging is compact, in a short squat tube. Its small, you know. See how well it fits in my hand?
Dior 1 Couleur Eye Gloss Left: Tan 560 Right: Seashell 020
You could easily slip one of these into your pocket and none would be the wiser so in that sense, I give them props for packaging. I like the compactness of this. The doe foot applicator however puts a right spin on a cream eyeshadow.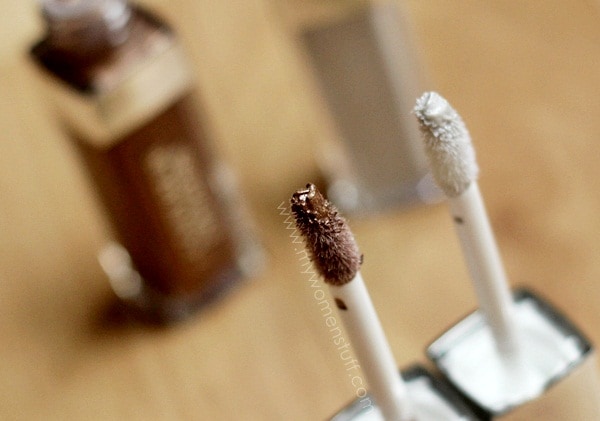 It looks just like a doe foot sponge applicator for a lipgloss. If you are groping around in the dark, it might be easy to mistake one of these tubes for your lipgloss, swipe it on and then wonder why you are going around with blue lipgloss hehe… (one of the colours is blue)
I find that the applicator does not pick up too much product, so you don't end up with too much on your skin. The trick to using cream shadows like this, and the same applies to this one, is to apply just a thin layer on your skin for best effect. If you apply too much, it will crease.
So what I do is dab it on. Open the tube, brush off excess on side, and dab 3 dots on my eyelid. Then, I use my ring finger to blend it out and it will blend out smoothly. The interesting thing about this Eye Gloss is that it leaves a lovely cool feel on the skin that is nice. It is just for a little while as it settles into your skin.
The texture of the cream is impressively smooth and it literally just glides over your skin as you blend. It does not dry very quickly too so you can blend it out quite easily, and when it does dry, it dries to a powder finish that I find nice because it is lightweight.
Dior Eye Gloss: Left: Tan (560) Straight from tube, Sheered out Right: Seashell (020) Straight from tube, Sheered out
Of the 2 colours I have, the Tan (560) is quite pigmented, so you can easily use it on its own as a single colour eyeshadow. The colour is a nice bronzed brown with golden shimmer that isn't chunky or over done. Just very fine and very highly shimmery. You can layer the colour on or just apply a thin layer so you just get a hint of colour and shimmer. I really like this one for lazy days, paired with dark liner 😀
Seashell (020) is a shimmer white. Not a colour I'd use on its own, because it doesn't show up very much and I found the shimmer chunkier and shows up more. So I'd use it more as a highlight shade. Dab a tiny bit on the inner portion of your eyelid and blend it out, and you get a very pretty shimmer. I also sometimes dab a bit over Tan and the resulting colour is a cool toned brown that is very pretty. On its own however, I would say that its one of the harder colours to wear.
Here's how both Tan and Seashell look on my eyelids, applied on their own and with eyeliner.
You can see that Tan is pretty pigmented and you can deepen the colour further by layering on more product. I prefer a lighter layer, because the colour is a bit warm for me. Seashell doesn't look like much on my lid, just a light shimmer. If you look closely at both photos, you will see the shimmer that is fine and not too over the top.
It is quite long lasting on me although its quite hard to tell since its so sheer. The shimmer sticks on the skin well, so by the end of the day, I do still have a hint of sparklies which is nice. I like how it turns into a powder finish and for me, it does not crease at all. That said, I generally don't have a problem with products creasing so if you have oily lids, I'm not sure how they will fare.
However, as I said at the top, do you need this? My answer is going to be no, you do not. It is nice to have. If you go for Tan or Azur (light blue) or Aurora Sunset (coral pink) (thanks Vonvon!) then it would be nice to wear on its own as a light wash of colour. Perfect if you are headed to the beach or pool and don't want to wear eyeshadow, yet want a touch of colour. I could imagine wearing this on holiday just because its so easy to tote around and use. But no, its not a must have.
In a nutshell

The Dior 1 Couleur Eye Gloss is limited edition in the Dior Summer 2012 collection. There are 4 shades available Tan (bronzed brown with golden shimmer), Azur (pale blue), Sunset (coral pink) and Seashell (shimmer white). The cream has a lovely smooth texture and the shimmer is fine and adheres well to the skin. I find that it dries to a powder finish which is nice and it lasts very long on my skin, and when you first apply it, there's a lovely cool feel on the skin. It is a nice concept and nice to have if you are travelling and don't want to have a lot of makeup on. But I don't think otherwise that it is a must have.

Pros: Nice cooling feel on skin, Smooth texture, Only very little is needed, Lovely fine shimmer, Longlasting on my lids with no creasing, portable

Cons: Pricey

Who will like this: Those who like light shimmery shades for eyes, and ease of use, Those who like the sparkles and colour
The interesting thing is that you can also use these cream shadows over normal eyeshadow to add sparkles and iridescence. Its like lipgloss in this aspect – usable on its own, but also nice to layer over something else. The texture of the cream is light and it will not mess up your powder eyeshadow. This is where the white Seashell shade comes in particularly useful because the highlight is very lovely. But that is about as much use as I'd forsee from a colour like Seashell.
One of those fun makeup items that you can have some fun with, but ultimately could pretty much do without too 🙂
Does the Dior Eye Gloss interest you? Do you have other ideas on how both these shades could be used? Do you like using cream or liquid eyeshadow? I do, if it doesn't crease or fade too much. I usually find that they are quick and easy to use, and are perfect for when time (or laziness) is a factor 🙂
Paris B
Dior 1 Couleur Eye Gloss comes in 4 shades : Seashell, Azur, Sunset and Tan Price: RM96 Availability: Dior counters Limited Edition: Yes, Summer 2012