I tried some Clarins White Plus HP skincare once and you know what? I was not impressed. I didn't like the scent, I didn't like the texture and I found it too drying for my skin. So why do I have 2 bottles of the revamped Clarins Whitening Velvet Emulsion then? Because I like this one! 😀
In the process of reformulating the White Plus HP Whitening Velvet Emulsion, Clarins worked on the scent and texture too. This new emulsion (new in the Clarins White Plus HP stables I believe) is light but not drying and it comes in 2 versions. One has SPF and the texture is a bit thicker, while another has no SPF and has a lighter texture and you can use it day and night.
I've been using these as my day moisturizers for over 2 months now (been too lazy to switch them out, bad me!) and I like how quickly they absorb into my skin and although the scent is strong, I like it. Its fresh and reminds me strangely of apples.
I have combination-dry skin and this emulsion is quite perfect for the day. I find it less perfect for night use because it isn't moisturizing enough for me. If you have oily skin then perhaps, you might find that its good for night use too.
I have a note about the packaging. Unlike many brands that opt for a shorter squatter bottle, Clarins has opted for a tall glass bottle. It looks like it might be plastic, but its glass. Much as I love my glass bottles for skincare, you know what happens with tall glass bottles right? They have a tendency, if you aren't careful to be knocked over. Its happened to me, but I discovered that when I'm in a panic, I have superhuman reflexes, so I saved the bottle just before it hit the floor. Scared me half to death, it did. So I make sure I keep my bottles on the inside of the dresser, not on the outside, near the edge. I do like the heft though.
Otherwise, the packaging is rock solid and I like the pump included. It is sturdy. This is a strange description for it, but that's how I feel. It pumps out just enough product to be used for 1 use, and it has a sturdy feel to it. Also, the cap is very tight fitting (I like that very much! No more caps being accidentally knocked off) and the pump can be locked if you decide to travel with this. I don't know how advisable that is due to the glass bottle, but the option is there.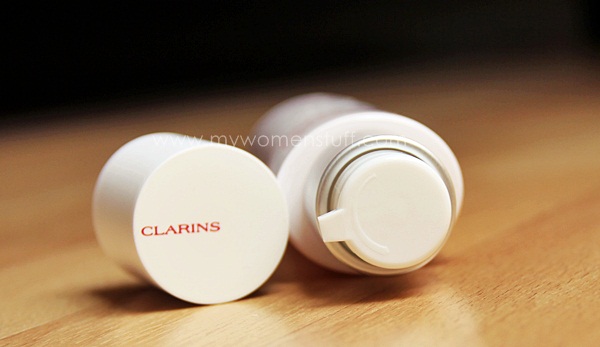 Can you see the arrow on the top of the pump? It tells you which direction to twist to open and if you twist it in the opposite direction, it locks.
The texture of this emulsion is that of a lotion. Its light, and the scent is strong but not cloying (to me). It smells to me, of green apples and flowers – a fresh, scent. In fact, the scent does last on the skin which usually bums me out, but because I don't quite mind it, its fine by me. If you are sensitive to scent, then you may not like this one at all. But take a sniff anyway, because you just never know. I didn't think I'd like it either!
Application of this emulsion needs you to use the Clarins method, of patting the product into your skin. If you just smear it on, chances are, it will not absorb very well. However, if you pat it in, it seems to absorb more quickly and better, and leaves my skin feeling velvety soft. I like that feeling. It claims to help hold your makeup on longer too, but as I always top up with a separate sunscreen, I did not notice that.
Swatches Left: Clarins White Plus HP Velvet Whitening Emulsion Right: Clarins White Plus HP Velvet Whitening Emulsion SPF20
You will notice from the product swatches above of both emulsions, that the non-SPF version has a lighter look to it. It also has a lighter feel and seems to absorb more quickly. The emulsion with SPF20 looks more opaque and has a slightly thicker consistency, but not so thick as to be a cream.
Personally, I don't think that SPF20 is suitable for our weather, but if you are the sort to dislike wearing sunscreen, then I guess SPF20 is better than none 🙂 I use them both interchangeably and I like both textures. I also find that the SPF 20 version has a stronger scent, while the non SPF version has a much lighter scent. One is only to be used in the day, while the other may be used day and night. Doesn't take a genius to figure out which 🙂
As for the whitening properties, I will say I did not notice any. Point to note: I use a range of whitening products daily, and if everything worked dramatically every time I use a new one, I'd be translucent, or bleached. It just does not happen. So, I believe I might have reached optimum as far as skin colour is concerned so I notice no difference in skin tone or colour, but it does not make me look darker nor does it break me out, and that to me, is most important now. If you are tanned, then this might show results, but as I said, I'm at optimum level right now.
In a nutshell

The Clarins White Plus HP Velvet Whitening Emulsion comes in 2 versions – with SPF 20 and without SPF. The textures are slightly different, with one a little lighter than the other. However, both absorbs well and quickly into the skin and leave no greasy or oily feel. Skin feels velvety soft. I did not find it drying my skin like previous versions of the product. There is a strong scent, which strangely does not bug me although it lingers. The scent in the non-SPF version is lighter than that in the SPF version. I would recommend using a higher SPF sunscreen over the moisturizer, but if you dislike that anyway, then the SPF20 is probably better than nothing. I did not notice any more whitening, but that is also because I am not tanned and I am using a range of whitening products so I can't get any whiter.

Pros: The emulsion is great for the day and works to moisturise my combination-dry skin well, Skin feels velvety soft after use, Absorbs quickly into the skin and does not leave a greasy film

Cons: Tall glass bottle can be dangerous, Scent could be lightened some more
Have you tried this new Clarins White Plus HP Velvet Whitening Emulsion? Have you had any luck using any other product in the Clarins White Plus HP line? I like the sunscreen too and am finishing it up as we speak. I think it layers well over this emulsion. However, I seem to think that the sunscreen just isn't enough for our blazing tropical sun so I've swapped out and use it only like a makeup base. My skin isn't dry, it makes a good makeup base, and I can say that I like this emulsion, scent and all 🙂
Paris B
Clarins White Plus HP Velvet Whitening Emulsion comes in 2 variants, with and without SPF20 Price: RM190/75ml Availability: All Clarins counters and beauty institutes