By now, many of you will be familiar with the patting technique advocated by Hada Labo for their Super Hyaluronic Acid Moisturizing Lotion. The lotion starts out runny and a little sticky but once you pat it on your skin, you will find it slowly start getting a bit tacky and then it disappears into your skin.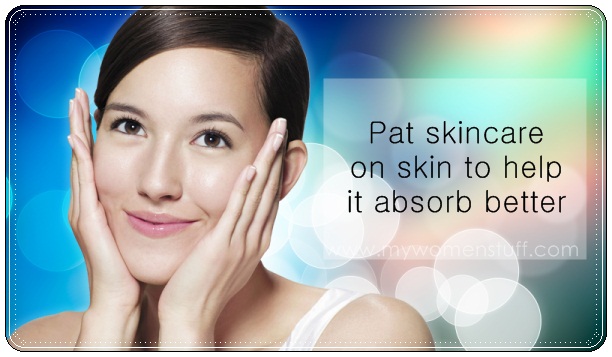 Guess what? Try doing the same thing with your normal skincare creams and lotions! 😀
I thought about this one day while I was applying my skincare and decided to try it out. You know what? I actually found that my creams and lotions were getting absorbed more easily and my skin did not feel sticky anymore. I've been using this technique for a couple of months now, so I thought I'd share my experience 🙂
I usually use this technique when I apply my serums and moisturizer. I start out the same way as my last tip on the proper way to apply moisturizer. I put a dollop of serum or moisturizer in the palm of my hand.
Then, I spread the serum or cream between the palms of my hands and instead of then smoothing it over my skin and massaging it in the way I usually do, I would smooth it on, then lightly press my palms on my skin instead, in a light patting/pressing motion. I do not employ the vigorous face slapping motion you might remember from the Hada Labo video. I really disliked that after a while and I don't think its all that good for your skin in the long run.
Instead, I just lightly but firmly press my palms against my face and neck a few times, and after a while, I will notice that the lotion, serum or cream will start feeling a bit tacky, and then, nothing. It just feels like its all absorbed into my skin! My skin does not have the sticky feel associated with when you first apply moisturizer, and I seem to think that creams, serums and lotions absorb more easily and better. For the day, my skincare absorbs better, and in the process, I think it helps my makeup stay on better too.
Summary

Scoop or pump a dollop of serum, cream or lotion into the palm of your hand.
Smooth serum, cream or lotion between your palms.
Smooth on face.
Lightly but firmly press or pat your palms against your face and neck until the sticky slippery feeling disappears and the skincare is absorbed into your skin
Granted, it also takes a little more time. Maybe a minute or so more but I've gotten so used to it now that I don't notice it anymore. Fans of Clarins skincare may notice also that this technique is employed and advocated by Clarins when using their skincare. Clarins skincare feels a little tacky on my skin and almost as if it does not absorb properly when I just smooth it on. But when I use this technique, it all disappears into my skin and that tacky feeling disappears! 😀
I've been trying it with various creams and lotions and I've been quite happy with the results thus far. It seems to work with most if not all skincare and I like how my skin no longer has a slightly tacky "I-just-put-on-moisturizer" feel.
Do you use this technique to apply your creams and lotions? Is this something new to you or am I late to the party? Do try it and see for yourself if it works for you 🙂
Paris B