Lancome has just launched their Hypnose Doll Eyes mascara locally and you might have already seen lots and lots of reviews online that rave about how perfectly dolly looking your eyes can look with this mascara on your lashes. The conical brush reaches for all the smallest, shortest lashes, and the formula gives length and curls your lashes, fanning them out so you look like you have… erm… doll eyes.
Interestingly, I believe the Hypnose Doll Eyes Mascara was available worldwide last year (2011) actually. I did wonder why we weren't seeing it locally. But I digress. You know, I read up and down the internet about how lovely and wonderful a product is, and when I don't experience that sort of skies lifting, angels singing, sunlight streaming, raise your arms in the air and say "Hallelujah!" moment, I feel a bit…. upset.
I guess you know how I feel about the mascara now.
I did not have that skies lifting, angels singing, sunlight streaming, raise your arms in the air and say "Hallelujah!" moment that everyone did.
During a little party with some other bloggers, I had a mini makeover with this mascara. I however, had already applied my trustworthy Shiseido Perfect Defining Volume Mascara before going and so when the Lancome one was layered over, the effect was quite impressive. Long, lush, curled lashes. Dolly eyes. Naturally, I was quite pleased.
This mascara is supposed to help your lashes spread out and open up your eyes so you get the effect of having dolly lashes. That wide open eyed look with volumized separated lashes. It sounded most ideal for this short, straight lashed gal.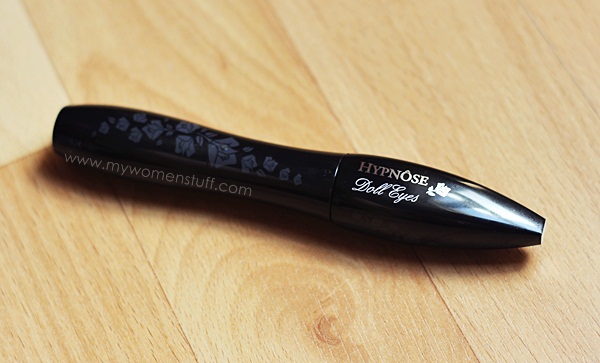 Erm… sorry to be a party pooper. I experienced none of the above except maybe the longer looking lashes.
I've been trying my utmost to replicate this look for 3 weeks. I've failed every single time. I don't know why. It is so frustrating to do your makeup in the morning thinking "Today is the day I'm walking out of there with dolly lashes!" and looking in the mirror and seeing… nothing out of the ordinary.
The brush is nice though. It took Lancome 7 years to come up with it. Gotta be nice. The cone tip tapers to allow you to reach for the inner and shorter lashes. The bristles are fine and grab the lashes well.
The formula isn't too thin and runny nor it is too goopy. I have your typical stick thin Asian lashes that point downwards. I always need to curl my lashes before using a mascara and I have to rely on my mascara to hold my lashes curled all day. It is something I've come to expect from all mascara I try and I must say here that thus far, the Asian formulas work best for me.
When I curl my lashes, and then apply the mascara on, my curl unravels. 1 layer is fine, but I don't see anything. 2 layers, and I lose my curled lashes but get some length. No volume sadly. Given a choice, I usually go for volume over length. Apply more, and my lashes straighten out.
I tried just applying some mascara at the root of the lashes, leaving it, then coming back to apply the rest. Applying it just at the root, allows the curl to remain, but I have no length or volume. Once I add the mascara on, I lose the curl. I even tried waving the wand around to dry out the mascara before applying. No cigar.
Yes, I'm frustated. Can you tell? 😛
Here are 2 collages of photos I took while trying on the Doll Eyes Mascara. This was my first attempt.
I wanted to see how well the mascara and brush worked on my non existent lower lashes. As you can see, it works. Just. There is length to my top lashes but its a bit spidery.
This was attempt #23498 (ok, more like attempt #6) and I seem to have gotten better control of the wand so its not clumpy on my lashes anymore, but there's that dreaded loss of curl which you can see in the lower set of photos.
Oh boo, there goes my curled lashes 🙁
In a nutshell

Lancome Hypnose Doll Eyes mascara is a lengthening mascara that is supposed to lengthen lashes, fan them out and give the effect of doll like lashes to frame the eyes. On my lashes, I find that the formula weighs down my curled lashes and does not give me the desired effect. This mascara is also rose scented which I don't quite understand. The brush is a saving grace, however. The shape works well to grab at short lashes and to angle it around shorter lashes. However, I think in the main, this mascara will work better on this with already long and curly lashes. I've seen the effect on those and they are stunning.

Pros: Conical brush is useful for getting at short inner lashes, Bristles are fine and grab at short lashes well

Cons: Rose scent, Pricey, Formula weighs down my lashes
I want to love this mascara. Heaven knows, I have not found a bad blog review on it which makes me wonder if there's something wrong with my technique, or my lashes. But sadly, I can't and just have to accept that its just not for me.
Oh and that rose scent? Does nothing for me, sorry. It does not bother me because it is light and does dissipate and thankfully so. My last experience with a rose scented mascara was Anna Sui. They make excellent mascara but I have never repurchased because the scent kills me. Scented mascara is such a no-no I don't know where to start 😛
I started out my mascara experience using the Lancome Flextencils mascara and I loved it. I have also used Virtuose and I think its curved brush, works better for my lashes. All in all though, I do think Lancome mascara tends to be made for those with already naturally long, curly lashes. Short, stick thin, straight lashed girls need not apply. The day that they make one that gives me dolly eyes, I'll lift my hands to the air, hear angels sing, see sunlight streaming through the clouds and I will cry "Hallelujah!"
Have you already tried this Hypnose Doll Eyes mascara and would like to share your experience? Do you have a Lancome mascara range that you personally like? They do quite a few ranges so I guess its only natural that one works better than another.
Paris B
Lancome Hypnose Doll Eyes Mascara Price: RM95 Availability: All Lancome counters nationwide