I haven't gone to look at Chanel stuff for a while and when I did recently, I suddenly found myself walking away with this eyeshadow palette. I'm not quite sure what happened. I might have been under a spell 🙂
"This" is the Chanel Ombres Matelassées eyeshadow palette in 51 Montaigne.
Maybe having some vouchers to offset the price helped with the spell somewhat 🙂 I picked this up from the Chanel counter at the new Isetan KLCC Beauty Hall during their opening day where I was told that it was sold only for that weekend. After that, it would be taken off the shelves until its launch in April. Well, that's all the info I have so if you are keen on this palette, I'd suggest you check with your Chanel counter to see when they get it in 🙂
Based on the promo image, I wasn't too thrilled with this palette. It looked like any other gold toned eyeshadow palette out there and I was concerned that the texture of the shadows would be that creamy texture similar to the Ombres Pearles which I don't mind but am not crazy about. Truth to tell, I have been very underwhelmed by Chanel eyeshadows and only the singles elicit any sort of interest in me. The rest, and the quads, I can do without. Owned them and got rid of them just as quickly. However, this palette was different. The minute I swatched it, I knew it had to go home with me 🙂
The Chanel Ombres Matelassées eyeshadow palette in 51 Montaigne is a limited edition palette released to celebrate Chanel's opening of their new store at… where else?… 51 Ave. Montaigne, Paris. I'm not sure why its something to be celebrated, but it is, and this eyeshadow palette is the product of that celebration.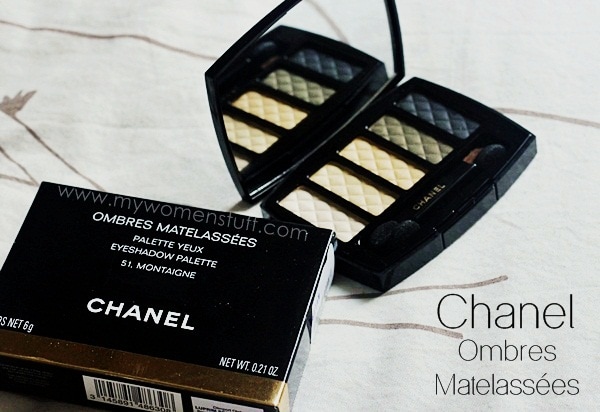 In case you are wondering, the eyeshadows are powder shadows and are pressed, not baked like those in the round pan quads. I happen to have a strong dislike for the quads. I never could get them to work and this is coming from someone who likes her sheer, shimmery shadows.
The texture of these shadows in the Ombres Matelassées palette are akin to those found in the singles. They are medium pigmented but sheer in texture, soft and satiny to the touch, pick up easily whether on the brush or with fingers, and blend easily. I really enjoyed using them!
Chanel Ombres Matelassées 51 Montaigne eyeshadow palette swatch L-R: Pear (light iridescent cream), Pale Gold (shimmer light gold), Gold (warm gold iridescence satin), Golden Khaki (satin olive khaki shot through with gold shimmer), Black Night (matte grey-navy-black)
The thing is, if you have a gold toned eyeshadow palette, you probably do not need this one. I thought I had a gold toned palette (Dior Couture Golds), but I still got it because at the back of my mind, I knew it was different. And what d'ya know? My instincts were right! 😀
Left: Dior Couture Golds palette Right: Chanel Ombres Matelassées 51 Montaigne eyeshadow palette
Contrary to popular belief, I don't keep an encyclopedia of beauty info in my head 😛 I often cannot remember what colours I own or what an exact colour looks like until I dig it out to look at it. Happily for me, the only other gold palette I own, which is Dior Couture Golds is substantially different enough for me to be very happy with my Chanel purchase 😀
I will tell you that if you aren't a fan of sheer shadows you won't like these because as you can tell from swatches, the texture is on the sheer side, albeit medium pigmented. What that means is that its great for layering.
In this picture, I've used almost all 5 colour on my eyes. Yes, seriously.
I did Golden Khaki at the outer corner and lower lash line, Black Night to line and define, Gold in the middle part of the lid, Pale Gold in the inner part of the eye and Pear lightly brushed over to blend and pull all the colours together. If I were less adventurous, I'd do just 3 – light, dark and line. But as you can see, 5 colours do not show up as 5 distinct colours, and it isn't dramatic although it is a little more intense in person than on screen.
Lasting power was excellent. Without a base, I took these nearly all day with them looking pretty good. I was naturally quite impressed. I used a brush to apply, so that sometimes helps with pigment and staying power too, I find. All in all, I think this is a pretty, versatile and importantly, wearable eyeshadow palette that I'm very glad to have picked up 🙂
In a nutshell

The Chanel Ombres Matelassées 51 Montaigne eyeshadow palette is a limited edition release worldwide. The texture of the powder shadows are lovely – soft, satiny and easily blendable. They are sheer but medium pigmented and blend easily. On my lids they stay all day, looking quite as fresh even towards the end of the day, which I found very impressive. The colours are quite easily duped, in my mind so I'd suggest this only if you have some money to splurge, want to try a Chanel eye product, and do not already have a gold toned palette. Otherwise, you could easily pass on this one, pretty as it is.

Pros: Lovely soft satiny texture of shadows are a delight to use, Colours are medium pigmented but a bit sheer, Easy to blend and layer for intensity and different looks, Neutral colours are easy to use

Con: Pricey, Colours are easily duped if you are minded to, Limited Edition
For the sake of completeness, here is how I wore the 51, Montaigne palette.
Also featuring: Chanel Rouge Coco Shine Antigone, Diorblush Vintage Pink #839
This is also pretty much how I wear my looks all the time, so there isn't anything out of the ordinary here LOL!
Anyway, I was told by the SA at the counter that you can expect this at the local Chanel counter in April 2012 so if you'd like to pick this up be sure to check in with them for exact release dates. When I was at the counter, the SA asked me if I was the one who had called up to reserve 10 palettes. 10!!??!! I was boggled. She also asked me wryly if it was really that nice.
I do think so because I like these sorts of colours and how versatile they are. But for those who prefer more colour, then I can see why they might find this uninteresting.
Does this palette catch your fancy? Do you like using gold eyeshadow? I've been looking for nice non-bling gold shadows for a while so these were right up my alley 🙂
Paris B
Chanel Ombres Matelassees Eyeshadow Palette in 51, Montaigne Price: RM210 Availability: Selected Chanel counters from April 2012 Limited Edition: Yes