Some of you who follow my Twitter timeline may remember this question that I threw out to you a couple of weeks back. I asked on Twitter if I was the only one who chooses not to travel with my favourite makeup pieces in case they get lost or damaged, especially limited edition pieces.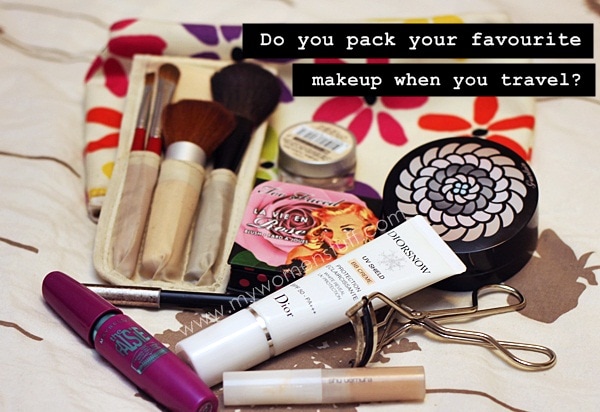 The primary response that I can remember was that most didn't mind because there was nothing truly irreplaceable while others were like me, preferring to travel with something that is easily replaceable in case anything goes wrong.
What say you? 🙂
I packed the bare minimum for my most recent trip and it comprised products that I know work but which I'm not too attached to. If anything happens, I know they can be easily replaced. I don't usually wear a lot of makeup when I'm on holiday anyway so this was truly the bare basics and on most days, all I ever had on was base, concealer and some powder… if I was feeling hardworking 🙂
For the first time, I replaced foundation with a BB Cream (Diorsnow BB Creme) which when paired with the dual tasking Shu Uemura Point Cealer and Guerlain Meteorites Pressed Illuminating Powder gave me a good enough base to last the day. The last item is actually discontinued so that was an exception to my rule. That and blush was all I wore most of the time.
For eyes, I opted to go with just a swipe of L'Oreal Infallible eyeshadow in Hourglass Beige, lined with my trusty Guerlain Kohl pencil and Maybelline The Falsies mascara. Fast and polished 🙂 I actually forgot my brow pencil but the benefits of a thick hair fringe is that I didn't actually need one! 😀
I'm pleased with my kit this time around. Everything works, its all compact and fits into a slim pouch, and if something happens to any of them, I won't be upset 🙂
Your Say: Do you travel with your favourite makeup? Or are you like me and prefer to stick to something accessible and easily replaceable, but that works even if it may not be your favourite?
Paris B