If you are anything like me, you will be what I call a shampoo hopper. I don't buy large sizes of hair care products anymore simply because even before I've gone through half the bottle, my hair either gets frizzy or heavy. The last large bottles I purchased were the Pantene Aqua Light shampoo and conditioner because I couldn't get it here. Otherwise, I buy the smallest bottles on the shelf. Oh, and naturally I get bored too 😛 So I guess my hair gets bored as well.
However, I recently discovered (quite belatedly) that if I used a clarifying shampoo or deep cleansing shampoo, I prolong my hair's interest in my regular haircare products. I'd heard of clarifying shampoo before but didn't know where to look. So when I was introduced to the Tsubaki Head Spa Extra Cleansing shampoo, I was quite interested.
I was told to only use it once a week (Seriously? This bottle will last me forever, used once a week!) and to massage it into my scalp, because what its supposed to do is to deep cleanse the scalp and hair to remove product build up. Reckon it worked for me?
Well yes. Sort of.
The Tsubaki Head Spa Extra Cleansing shampoo is a clear orange liquid that lathers up easily and when massaged into my scalp, leaves it with a cool tingling feel. I quite like that because it feels very refreshing after a long work day. After washing off, my head and hair feels squeaky clean. Literally. My hair feels so clean, it squeaks.
But that also makes it feel a little dry which means you have to follow up with something and that something in this case, is the Tsubaki Head Spa Massage Spa Mask (You can also use your regular conditioner)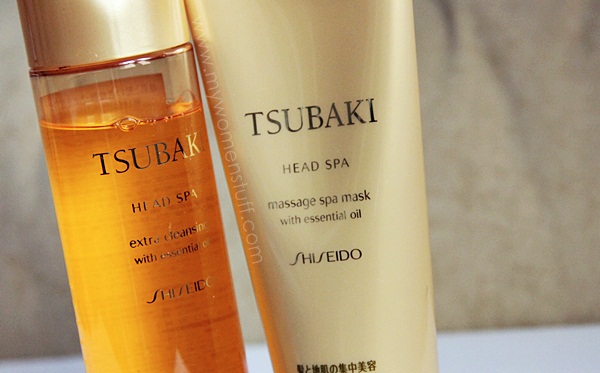 The Massage Spa Mask is a thick ochre coloured cream which does not feel slippery like conventional hair masks or conditioners. For my short hair, I usually use about an inch of it, spread between my palms and then massaged into my hair. I find that it turns into an oil like texture on my hair – not unpleasant and it washes out very easily to leave my hair feeling very soft.
I have rather thick dry slightly frizzy hair, so I take it all the way to the roots. Someone I know has oily hair and she concentrates this only on the tips of the hair because she finds it makes her scalp feel too oily.
After a few minutes, I wash off, and my dry frizzy hair is no more! No, I don't get bald 😛 Instead, I'm left with lovely soft, smooth tamed hair. The longer I leave it on, the softer my hair feels and the longer the effects last in the week. Its very impressive. And more impressively, the effects last at least 4 days. So if I keep to a weekly deep cleanse and treatment schedule, I have good hair for the week using my regular shampoo and conditioner. If I don't, I have a lion's mane until I do 😛
Nice as these hair care products are, I have 2 complaints though. One is the smell. These products contain essential oil and are supposed to be a blend of Marigold, Rose, Cinnamon, Geranium, Mango, Honey, Olibanum, Litchi, Patchouli, Tangerine, Orange flower, Muguet, Laurel leaf, Cognac oil, Vetiver, Musk, Cedar wood, Sandalwood, Jasmine, Bergamot, Vanilla, to provide a relaxing scent. You know what I smell? A sharp chemical smell like that in hair perm solutions. I don't know if you know what I mean, but if you have ever stepped into a hair salon or had a perm and you smell that sharp acrid smell in the air that prickles your nose and clears up a bunged nose, that's what it reminds me of. I looked around online to see if anyone else complained, but no one else has. People find it relaxing so maybe its just me and my picky nose 😛
The smell is sharper in the shampoo than in the mask which smells a lot better. The smell lingers a little too but it mellows after that so it does not smell as bad as when I first shampoo my hair, but its noticeable. The mask does not tingle on my scalp the way the shampoo does.
Second complaint is the tube that the Massage Spa Mask comes in. Its a screw top tube which is terribly fiddly in the shower when you are trying to juggle a squirt of hair mask in your palm and trying to screw the cover back on with the other, and your hands are wet. I hope Tsubaki comes out with a flip top cover – that makes more sense.
In a nutshell

An affordable weekly hair treatment treat for your hair by Shiseido Tsubaki. The Head Spa Extra Cleansing Shampoo removes product build up on hair and scalp and leaves hair feeling squeaky clean. It is advisable to follow up with a conditioner or the Head Spa Massage Spa Mask which is rich and leaves the clean hair feeling soft, light and tamed. I find that the effects last at least 4 days before I start looking like a lion again. For the price, I think its very affordable hair care because you only need a little and they come in quite large bottles so will last a while!

Pros: Extra Cleansing Shampoo removes product build up and leaves hair and scalp feeling fresh, cool and clean, Very little is needed to lather up on hair, Massage Spa Mask leaves my hair feeling soft and tamed and the effect lasts at least 4 days, Affordable

Cons: I find the smell of the shampoo too sharp and chemical, The shampoo can make hair feel too dry, Those with very oily scalps may find the Massage Spa Mask too heavy or oily for their hair, Packaging of the hair mask can be improved
Tsubaki is a pharmacy or drugstore hair care brand by Japanese cosmetics giant, Shiseido. This is my second time trying something from this brand. My first experience with the red bottle (Tsubaki Shining) was abysmal because it made my scalp itch. But this Head Spa treatment products have given me a little more faith in the brand. I'd been petrified of trying anything else from Tsubaki but now, just maybe I will 🙂
Have you tried this Tsubaki Head Spa Extra Cleansing Shampoo and Massage Spa Mask treatments? Or maybe you have tried the Tsubaki Head Spa or any other Tsubaki range of hair care products? I only just realised there is a whole range meant for the scalp. I had a bad experience my first time with this brand that put me off it, but now that I've actually had positive results with this combo, I will be possibly taking a peep at some of the others and your recs will be helpful! 🙂
Paris B
Shiseido Tsubaki Head Spa Extra Cleansing Shampoo Price: RM28.90/280ml Tsubaki Head Spa Massage Spa Mask Price: RM44.90/180g Availability: Watson's, AEON Jusco Wellness and most major pharmacies