Early this week when I told you about the L'Oreal Infallible Colour Eyeshadows (still no news about availability in Malaysia) a reader Jen mentioned in the comments about wanting to see how I would use Forever Pink. Well, I wanted to know too! So, after a bit of hmm-ing and haw-ing, I decided that it was a bit dangerous to use Forever Pink on its own for fear of the dreaded pink-eye syndrome. But I'd learnt a trick or two after the Dior Rose Porcelaine episode!
Instead, I decided a darker shade will help distract from the pink, and will also add dimension and depth. I was going to go with a black shadow (and I'm sure it would be stunning pairing pink with black) but I opted instead to try Forever Pink with a deep navy blue in All Night Blue 🙂
For swatches of both the shades used, you will have to go to the earlier L'Oreal Infallible eyeshadow review post. You will see there that the pink is a light shimmery pink that looks quite scary in the tub, but which in fact, isn't very scary on the skin.
If you choose to pair the pink with a deeper shade, you will quite easily avoid the pink-eye-oh-my-I've-been-crying-buckets look. The product has high shimmer with a slightly metallic edge which is less prevalent in the pink and less so in the blue featured here.
So this is how I wore it. Deep navy blue along the sides and to line, and the pink blended over. For some reason, Forever Pink on my lids pulls some golden tones, and sort of disappears into my skin colour. It isn't quite pink at all, which can be disappointing, or a relief, depending on how you feel about pink eyeshadow 🙂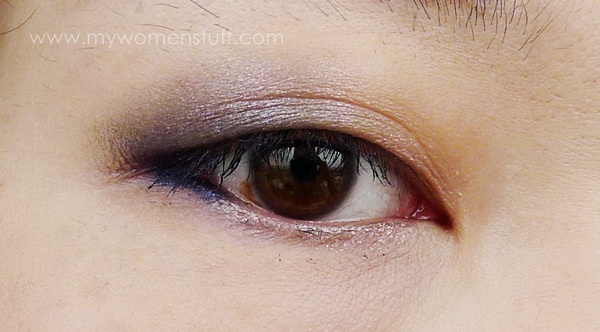 Where the pink meets the blue, you get an interesting purple tint so its really quite pretty and adds a nice dimension to the shadow. In real life, the blue I used to line the top lid is more prevalent and is very pretty when it flashes but I can't capture it on camera. Just take my word for it will ya? 😉
And this is pretty much how it looked once I pull back from that close up. The eyes are defined so cheeks are kept softly pink with Benefit Hervana blush and Guerlain Rouge G Grace which is a pale blush pink on lips.
I'm quite pleased with this actually. I think its wearable to work, but my perception of what's wearable to work is a little skewed since I can pretty much wear any sort of look to work if I like 🙂 But you have to agree that there is no dreaded pink eye, and its a nice defined look over all right? 😉
Dare you wear pink eyeshadow on the eyes yet? What other colour combinations would you pair with pink shadow? I've always been terrified of pink shadow and I still am, but am slowly also working around my fear and finding ways to make it work, because I love a challenge! 😀
Paris B
L'Oreal Infallible Colour Eyeshadows were previously reviewed in detail here. Regionally available in Singapore (limited selection) and Hong Kong. Unavailable in Malaysia until further notice