Alright, so "mess" is a bit of a wrong choice of words – "predicament" is more apt 🙂
For our first collaborative post of 2012, the merry band of Lipstick Bandits decided to take a look at either our first lipstick, or a good starter lipstick that might help win all of you over to our side. I originally had a different choice but wasn't feeling it somehow. Then I spotted Tracy's bit of advice on Twitter to feature instead the lipstick that made me want more. And suddenly, the ball dropped and I knew just which lipstick I wanted to feature.
Before I present you the culprit that got me into this predicament, I am compelled to tell you that this range has been discontinued. Please don't pelt me with rotten tomatoes…. they don't flatter my complexion much 😛 I will however tell you some alternatives to try 🙂
I do remember my very first lipstick – it was a Maybelline Jewel Shine in Jewel Berry and thereafter a Maybelline lipstick in something Berry. I used up at least 3 tubes before I moved on and discovered that I could own and use different lipsticks at the same time 😛
I still wasn't all that into lipsticks, until one day, I picked up a Kanebo T'estimo lipstick. From the moment I slicked it on, I knew I was in love.
The colours, as are usual in Japanese mainstream cosmetics, are light with shimmer. It isn't chunky, and you don't notice it. Its lightweight on the lips, not drying, have no scent, makes my lips look like plumped up pillows and are subtle yet eye catching. For example, this colour is RD-151 (RD = Red) and it is anything but red in the conventional sense.
I still have a few of these babies from their later collections just before they were discontinued as a brand. I hold all lipsticks to this measure now – they must be lightweight, preferably with no or little scent, not drying, be subtle when I want it to be, must have shine and gloss factor and above all, must make my lips look like plump pillows.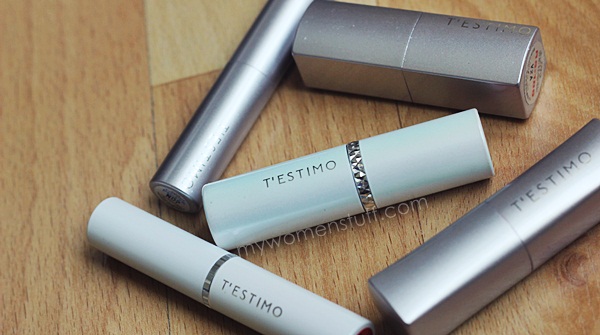 Few live up to this measure which might explain why I tend to shy away from some popular brands of lipsticks and prefer others with a similar texture. I do like the lipsticks by Japanese brands but they tend to be pricey. It may not come off very obviously, but I have a very soft spot for Japanese makeup and in my view, they do lipsticks the best of all brands and genres.
For anyone still balking at wearing lipstick, I beg you head to a Japanese brand makeup counter and try one of theirs. Locally, try Kanebo (Lunasol and Kate both do very good lipsticks from different price spectrums) and Shiseido (The Makeup line is good but more mainstream so I'd prefer Maquillage for the more Japanese vibe).
So, if I am picky about the lipsticks I wear, this is why. I cut my teeth on what I felt to be one of the best lipsticks I'd ever known. And I just can't go back down now 🙂
If Japanese lipsticks don't do it for you, do check out what the other Lipstick Bandits have to recommend. Knowing them, they'll probably make me want whatever they're having 😉
Do you remember your first lipstick? Which was the lipstick that had you at hello? 🙂 I know not everyone here likes wearing lipstick but as I've said, try one from a Japanese brand and see if that changes your mind 🙂
Paris B