I learnt something very interesting last week. Lancome's new Roseraie des Delices collection for Spring 2012 has 3 different palettes available worldwide bearing the same name – Vert Tendresse. Can I just say I'm gobsmacked? The question it now begs is – which palette was the model wearing in the promotional shot, because all the promos use the same model and look!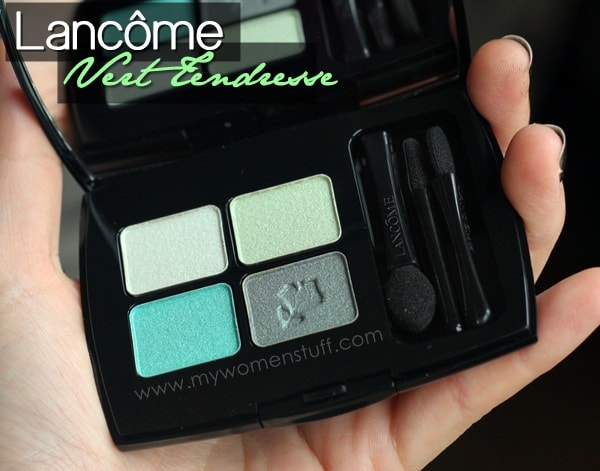 This is the Lancome Les Yeux Doux C60 Vert Tendresse eyeshadow palette available here in Malaysia and quite possibly in Asia. It is a 4 pan palette of gradational green shades. Karen MBB has the USA version which has 5 shades and Haru has the European version which is also a 4 pan palette, but with a blue shade in there.
And get this. They are ALL called Vert Tendresse! I don't know why they do this to us. But this is my review on the Vert Tendresse palette found here in Malaysia. I love green shadow so it'll be interesting to see how these fare 😉
I will admit that the first time I saw this palette, I had a blah moment. Really, it looks so light and sheer and whilst I may love my light and sheer eyeshadow palettes, I just wasn't drawn to this one. However, during the makeup session I requested that this palette be used on me so I could see how it looked on the skin. Before I show you that, let me show you how it swatches.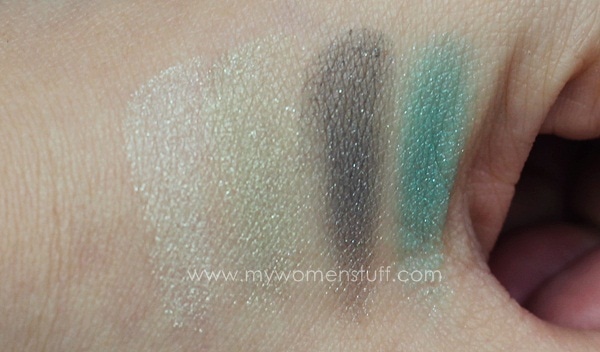 Can you say blah!? Honestly, every swipe with my finger produces nothing on my hand. I was ready to be disappointed even though I was pleasantly surprised at the shimmer in there. You don't quite notice the shimmer in the pan, but when you swipe it on your skin, it shows up with shimmer in every colour which is love or hate as you will 🙂 I love it 😀
The most pigmented colour is that teal/turquoise green. Its probably the most pigmented shade of the 4 and is a very gorgeous main eye colour that brightens up your eyes very prettily.
And here it is applied on the eyes – I use a brush and it picks up the colour and deposits it very well on the skin. In fact, you could just as easily use your fingers to apply the colours in this palette, because although it doesn't sit well on the back of my hand, it sits well on my eye lids. Also, if you use a primer (or just pat some concealer around your eye) it helps the colour stand out better too.
I did like how it looks on the eyes and so I'd consider this Vert Tendresse palette a bit of a sleeper hit. You really have to try it on your eyes to see how it looks, and not the back of your hand. Quite fitting, because we don't apply eyeshadows on the back of our hands do we? 😉
The dark green shade makes a fair crease colour if you layer it on although if you'd prefer something deeper, then you will have to dig out a black from your own stash. In the alternative, use a black liner to deepen the colour more. The light green is surprisingly pretty on the eyes. You can use just the light green and the darkest green for an unexpected light green look with gold shimmer. Its very pretty and fresh looking. The teal/turquoise makes things more interesting. The lightest highlight shade is also a nice shade for pulling together all the colour and blending them in nicely. As I have pointed out, there's shimmer in this palette – fine shimmer but in Japanese makeup style, shimmer nonetheless. It makes me happy though 🙂
In a nutshell

An unexpectedly pretty green palette in the Lancome Spring 2012 collection. This version of C50 Vert Tendresse is the one available here in Asia. There are apparently different versions of the same palette, bearing the same name, in Europe and the USA. Its mind boggling. The shadows are sheer and soft with shimmer. It is very reminiscent of Japanese style shadows which may not suit everyone. Used on the eye lid, I find its more pigmented than when trying to swatch on the back of your hand. Its a pretty, fresh spring palette and I like it – but only because I like green eyeshadow and Japanese style makeup 🙂

Pros: Lovely soft spring colours, Fine shimmer, Colours look pigmented enough on the eye area and blend very easily

Cons: A slightly deeper shade of dark green may be better, Different palette colour combinations in different parts of the world bearing the same name, Shimmer and texture may not suit everyone, Limited Edition
Here's a look I wore with this palette – I really like greens for the eyes and I think it suits many Asian skintones very well and brings out the colour of brown eyes 🙂
Also featuring: Lancome Blush Subtil Rose in 20 Rose Corail, Lancome L'Absolu Creme de Brilliance on lips
Have you taken a look at the Lancome Vert Tendresse palette yet? Or have you checked out the Lancome Roseraie collection to see if anything catches your eye? Do you like green for your eyes too? I love it and I have another green palette knocking around somewhere that I'd like to share with you – its permanent so that's a relief! 😉
Paris B
Lancome Les Yeux Doux C60 Vert Tendresse eyeshadow palette Price: RM140 Availability: Lancome counters that have the Spring 2012 collection Limited Edition: Yes