PB Says: Dior released 2 unique scented nail polishes for Spring 2012. I sent one to nail contributor Peach_ for her review and here it is. The review on Forget-Me-Not.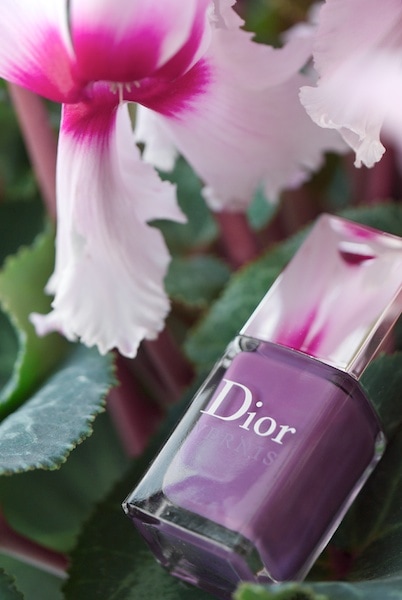 Forget-Me-Not.
What a strange name for a flower. In fact, I found it so strange that I just had to look up the story behind Forget-Me-Not.
There are a few, but here's my favorite:
According to Wikipedia, legend has it that during the medieval times, a knight and his lady were taking a stroll alongside a river. Being the sweetheart he is, the knight picked a posy of flowers for her, but fell into the river due to the weight of his armor. As he was drowning, he tossed the flowers to his lover and shouted, "Forget-me-not." It became a symbol of faithfulness and unwavering love.
Bittersweet, no?
Fitting to its namesake, Dior Forget-Me-Not is a passionate, sophisticated purple with a touch of melancholy. It was released together with the green Waterlily Vernis (read the review on Waterlily here), both rose scented and limited edition, for Spring 2012 Garden Party collection. Let's have a look at Dior's updated take on a pastel purple.
Dior Vernis Forget-Me-Not in indirect sunlight
Forget-Me-Not is a slightly "dusty" cool-toned violet; it's a hazy mid-tone purple with a bluish pink undertone. It's not the pale, pastel purple that I first imagined it'd be from Dior's description of "flowery lilac." It means that, although a cool-tone shade, its muted, medium tone flatters even those with warm-toned skin. To my surprise, I don't have anything like it.
Brushes from L to R: Dior, OPI, CHANEL, Essie
It's no secret that I absolutely adore Dior polishes and their brushes are one of the reasons why! Their shape is distinctive to Dior; they're wide like OPI ProWide brushes, but taper to the thinness of Chanel and Essie ones. Their width is useful for covering a large area at once and the pointed tip is great for careful and precise application near the cuticles.
The brush shape really came in handy since I found Forget-Me-Not sheerer and patchier than the standard Dior formula. It's smooth to apply, but requires at least 2 coats to achieve full opacity. I still found unevenness with 2, perhaps due to user error, and applied 3 here. However, Dior polishes are quick-drying and this one was no exception. The 3 coats took no time at all and I didn't need to wait to apply a 2nd and 3rd coat other than the time it took to paint the other fingers.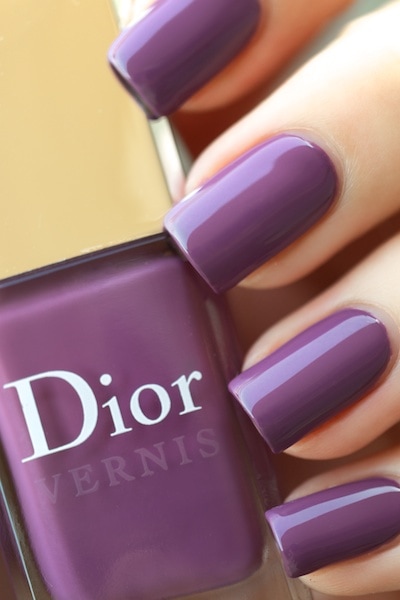 Dior Vernis Forget-Me-Not outdoors
In bright sunlight, the pink undertone comes alive and the finish transforms into a lighter lilac. You might be able to detect what I call Dior's signature "hidden shimmer," or sparse, teeny-tiny silver shimmer that is only visible when held up close. It doesn't dramatically change the look of the polish, but it does add a bit of dimension to an otherwise flat, solid color. I get a small satisfaction knowing they're there. Details count, right? 😀
As for the rose scent? Paris was right that it only appears as the polish dries. Don't shoot me, but in my sheer excitement to wear the color, I had conveniently "forgotten" about the scent's existence and had a moment of "Hey, what's that smell…? Oh, right." It's that faint.
It's a powdery, old-fashioned sort of rose, but not strong enough to be obnoxious. Besides, if you're really not keen on the rose, you'll be glad to know I was able to completely mask it by applying a top coat. (In this case, I used Seche Vite.)
Bottom line, Dior Forget-Me-Not is a muted, elegant purple that a variety of skin tones will find wearable and on trend for Spring.
What's your say?
Peach_
Dior Waterlily and Forget Me Not scented nail lacquer are part of the Garden Party collection. Price: RM72 Availability: Dior counters Limited Edition: Yes
Peach_ is a lovely young lady based in Japan, whose blog I discovered one day from a comment she left. I was intrigued enough to hop over to her blog which is all about nails, nails, nails! I'm not into nails but something about her blog, her beautiful pictures and her posts resonated with me. Peach_ will be contributing nail polish reviews and we might even catch a glimpse of something Japanese in her posts! 🙂 Peach_ blogs at alapeach.com