When I was spring cleaning at the end of last year, I had a bit of a scare when I checked on a couple of my leather bags. I spotted bits of mould starting to take hold, and it absolutely freaked me out! After I had gotten rid of the mould on the bags the best I could, I realised that it could be due to the high humidity where I live (the tropics) and the room where the bags were stored.
So I looked around for ways to control the humidity and barring buying a dehumidifier and storing bags in a specially built cabinet, one recommended method was to use silica gel.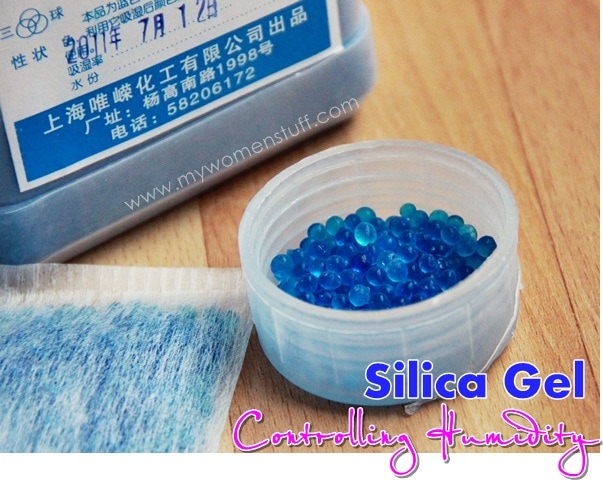 Most of us will be familiar with silica gel – it is those white little sachets you sometimes see in food packaging or new bags or wallets that clearly say "Do Not Eat". The purpose of these sachets is as a desiccant where the silica gel within absorbs the humidity in the air and keeps the products fresh for longer. When humidity decreases, the incidence of mould similarly decreases. There are a myriad of uses of silica gel but what I'm primarily telling you about today is about the use of this silica gel to reduce the incidence of mould on your leather bags.
After doing quite a bit of research, I found out that there are some silica gel that will change colour when they have absorbed the moisture from the air, so you can then change the beads when necessary. I also found out that one of the easiest places to find these silica gel beads is at a photo shop!
Many photography enthusiasts use silica gel to protect their cameras and lenses from the humidity, because mould can damage their expensive equipment. This is particularly so if you don't use them very often, pretty much the same with leather bags. If you own just one and use it everyday, then the odds of it growing mould is quite miniscule to be non existent. However, if you own a few bags and do not rotate them often enough, and keep them in a humid or damp environment, then mould can grow and that can damage your bags.
I got a 500g bottle of silica gel from a random photo shop for about RM18 which I thought very affordable. I'm not sure how much cheaper it could retail for, but I was quite pleased at the price, because these silica gel beads are actually reusable!
What I do is pour about 1-2 capfuls of the silica gel beads into a plastic container, cover it and perforate some holes in the cover so the beads can do their job. I then placed a container on every alternate shelf of my cupboard to protect my leather goods.
What surprised me, was how very quickly the beads changed colour from deep blue to pink. The more pink they get, the more moisture has been absorbed, and I noticed my tubs of silica gel beads starting to turn pink by the evening! Within about 3-4 days, all the beads were bright pink! With that sort of humidity in the air, its no wonder mould was growing!
Sorta looks like fish eggs, don't they? 😛
I keep a separate container where I store all the used beads, and I change the silica beads about once a week. When the weather is rainy and cool, and humidity in the air is high, I go through the beads more quickly. But when the air is drier or it is very hot, I do notice a slowing down in the absorption of moisture because there is just less moisture in the air.
I also found that being in an air-conditioned room helps lower humidity so I've moved my stuff into my bedroom where the air-conditioner is on in the night. A few hours is better than none! I did a blind test where I placed the silica gel beads in 2 rooms – one in my bedroom where the air-conditioner is on a few hours a day, and another in a room with no air-conditioning. I noticed the beads in the other room turning pink more quickly than the ones in my bedroom so that supports the air-conditioning theory somewhat.
After the beads are all pink, you can reuse the silica gel beads by placing them in a hot oven for a few minutes so the beads dry out. I heated up my oven to about 250°C for about 15 minutes, poured the beads onto a baking tray and placed it inside. Within about 10 minutes, all the silica beads were back to being a deep blue and I could continue to use them again 🙂
I read that the beads do have a lifespan, but you can rejuvenate them quite a few times before having to replace them so that initial RM18 investment will go very far 🙂
I also poured some of the beads into filter bags to be placed inside some bags, and among my cosmetics. I used some soup filter bags I had previously purchased from Daiso to make some Japanese soup stock, but never got round to using them.
It works a treat! However, I also found that the beads were all bright pink by the next day! It got too much of a hassle to have to change them everyday so I didn't bother to replace those pouches. I'm relying on the tubs of silica gel to do their job instead.
Some other uses of silica gel desiccants would be to keep your cosmetics fresher, if you don't want the humidity to get at them. I however, didn't think much of that, because I do rotate my cosmetics often. You could also keep them amongst your clothing to discourage moisture and reduce the musty smell that sometimes accompanies clothes you do not wear often. Keeping silica gel amongst jewellery also helps reduce the humidity and thus reduce the incidence of tarnish. It can't eradicate it totally, but you could at least slow it down.
I'm primarily using it only to keep my leather bags in a reduced moisture environment. I'm not sure how well its helping, but I do check on my bags periodically now and am a bit more diligent about making sure I rotate my bags more often, and keep them clean and dry before storing away in their dustbags. That's also why I've placed myself on a bag ban this year.
No more… temporarily 🙂
Do you use silica gel in your day to day life? What other uses of silica gel as a desiccant can you think of? Do you know where else I can purchase silica gel beads in large quantities at a low price? 😀
Paris B
I purchased my Silica Gel beads from a photo shop for RM18/500g