I love the Arthurian legends. I grew up convinced I could pull a sword from a stone… provided I could find one, and that pale arms will appear from the middle of a lake if I threw a sword into it. I wanted a sword named Excalibur and I wanted to be a Knight of the Round Table, and have a wizard called Merlin.
It never once crossed my mind that they didn't exist. Why shouldn't it? 😀
Perhaps that's why I went to England – to see if King Arthur does exist and if there are any modern day Knights of the Round Table (Answer: No and No 😛 )
Anyway, a reader Yin Huei wrote me one day and told me to check out a-England nail polishes. They are a little outfit from the UK and the minute I hopped to the store, I knew I was sold. Every single polish in the store is named after an Arthurian character. Gah! I wanted every single one! Nevermind that I don't use polish – I'd learn goshdarnit!
I picked up a couple just for testing purposes (there are a couple of sets available for a limited period only), and today I bring you my New Year manicure in a blingy golden silver haze of Holy Grail and Merlin.
I made the mistake of not taking photos of the polish on their own so you can see how they look – please excuse this n00b. I'll get better, I promise 😛 I'll do another post another time with the shades. So today, its just what I did with 2 of the polishes.
The base is Holy Grail – a metallic warm gold shade that I wasn't terribly enchanted with on its own. For some reason, it looked a bit warm against my skin tone. All that changed with a touch of magic from Merlin – silver glitter.
I used just 1 coat of Merlin over Holy Grail. The glitter is fairly dense, so if I went with 2 layers, it'd cover the base. I did find that the glitter wasn't quite well distributed as I swiped the brush over the nail, so some parts have more glitter than others. If you are a perfectionist, it may bug, but since I'm not, it doesn't bug me. But it also means some nails are more silvery than others which I find absolutely fascinating.
Merlin is a gorgeous straight silver glitter that I believe works well enough on its own – I'll try it soon and let you know. Application is fairly easy even for this newbie, without being streaky.Longevity is fairly good but I do have a top coat on.
In a nutshell

A new brand of nail polishes from England, that will appeal to those who love Arthurian legends and myths. Texture and application is quite easy and the colours that I have are quite nice. Holy Grail is a warm metallic gold that isn't brassy nor bronzey. Merlin is dense silver glitter that is pretty when layered over another colour or I'm assured, worn on its own.

Pros: Nice interesting polish textures, Metallics and shimmer polishes are very nice, Application was easy without streaking

Cons: Only available online, A little pricey, Limited colours for now
A-England polishes are new and I think they are adding more colours to their stable soon, which I'd love of course. I'm just getting back into nail polishes again, and it is very opportune to discover these now, because I love the names, colour and texture and I plan to own them all one day. The formula is also Three-Free and for now, there's free shipping until further notice.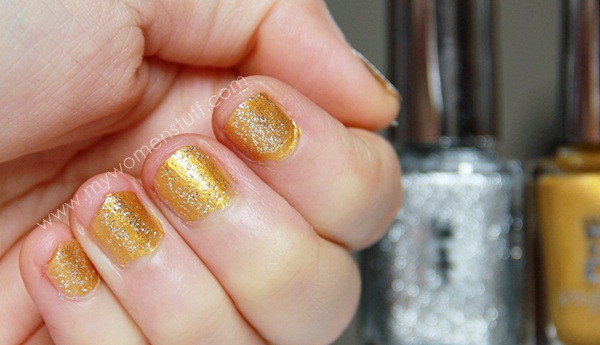 And you have to admit that this is a pretty decent manicure to greet the Lunar Year of the Dragon later this month too! 😀 In fact, this will be my Holy Grail of glittery polish looks for any occasion. Win!
Have you come across A-England nail polishes before? Do you enjoy the King Arthur legend and myths surrounding them? 😀
Paris B
A-England nail polish Price: £9 each Availability: a-england.co.uk Shipping: Free until further notice