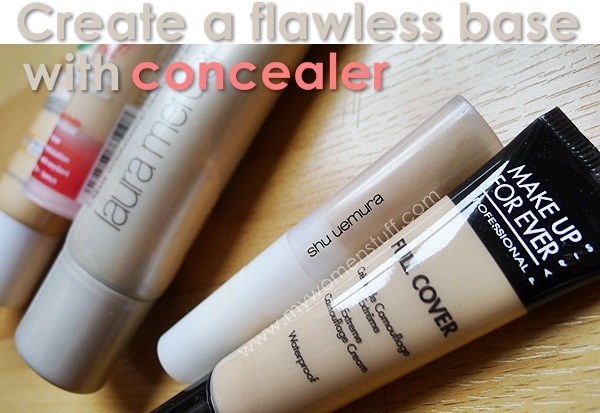 Few of us have perfectly smooth skin with no blemishes to cover. Don't we wish we did though? Thank goodness for makeup! 😉
But how many of us attempt to cover our blemishes or marks with a high coverage foundation or thicker foundation? I must confess I did. I had the impression that the job of the foundation was to mask all imperfections on my skin so the higher the coverage, the better. That was also why I didn't like liquid foundation. I was going for all the thick ones and my skin hated them. When I tried tinted moisturizers, I didn't like them either because nothing was covered.
And then I discovered concealer. Its been a bit of a learning curve, but I'll tell you now that if you have imperfections on your skin, you do not need a thick or high coverage foundation. What you may need is a good concealer instead 🙂
Over the years of experimentation, I've figured out that I can tolerate liquid foundation, provided that the texture is light and the coverage sheer to medium. I use foundation purely to even out skin tone. So if you have uneven skin tone (many of us do to varying degrees) then the foundation or tinted moisturizer will give you a more even tone without looking thick or masky. Just apply a thin layer – its enough even if you see flaws.
Then, what I do is use concealer where I need it, blending it in to cover up the imperfections like redness around the nose that isn't covered by foundation, pigmentation spots or freckles, pimple marks etc. What this does is only spot cover the areas that need concealing and you end up with a more natural looking visage, not a thick mask of foundation.
If you then apply a light blush, touch up your mascara and brows and apply some tinted lip balm or gloss, you get away with a very natural "no-makeup" look that is perfect for weekends 🙂
I actually picked up this tip relatively recently from talking to a few makeup artists. They use a surprisingly little amount of foundation all over the skin in a very thin layer, but they then follow up with concealer on spots that need it. Or sometimes, they don't and just use more foundation as concealer only where needed.
Then dust a light dusting of loose powder over the face to set (or in my case, dust some magical Meteorites powder) and you look impressively flawless. Don't believe me? Try it and see 😉
If you prefer using powder foundation, the steps are reversed – conceal first, then apply powder foundation thinly all over your face. The effect is the same. A flawless looking complexion 🙂
Do you use this tip when doing your base makeup? Do you have a favourite concealer? After I picked this up, my liquid foundation collection has multiplied many times over 😛 But I am also very picky about the concealers I use. For now, its just Make Up For Ever Full Cover and Shu Uemura Point Cealer that stand up to scrutiny. Few others do for me.
Paris B