When I first got wind of Dior's upcoming scented nail polishes for Spring 2012, I pulled a face like you wouldn't believe. It's rose scented to boot! Urgh! In my mind I kept thinking of Anna Sui polishes and how the rose scent is so strong you can smell it even when you stick your hands as far from your face as possible … and we know that's not possible in day to day life. So I was thinking yuk!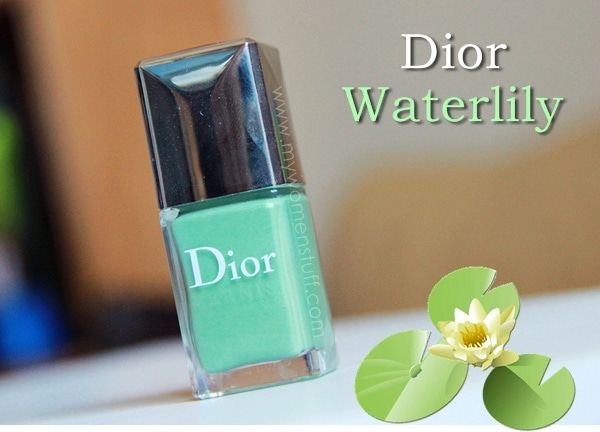 And there's the colour too, that I saw in the press releases – a pastel green (Waterlily) and a pastel purple (Forget Me Not) that I just thought would look odd. I tried to get it as true to colour as possible but this shot isn't. Its a little lighter and less blue in the bottle but there's another shot below that's slightly truer to colour. The texture is a milky creamy light green that I will say had me going "Uh… that's going to clash with my skin tone, I just know it!"
In a manner of speaking, it does.
(Caveat: I am no nail polish expert and I suck at painting nails. Swatches are for info only and if the application bugs you, c'est la vie!)
Despite looking rather flat in the bottle, when you look at it properly you will notice very very fine golden shimmer. It is super fine but its what gives the colour lift and dimension.
This shot shows the colour truer to life, for the polish in the bottle. Squint. See the golden shimmer in the bottle? That's what makes this polish look a little more special and it adds warmth into an otherwise flat pastel mint green I would never ever wear on my nails. In the shade, the colour looks duller and more flat but in the light it takes on a much more interesting colour. Ever since applying it, I've been peering at my nails, if only to see the golden shimmer in it because for me, that's what's makes this colour special.
What about that rose scent I was complaining about eh? Ah happily, the rose scent is only discernible when you hold your nails up to your nose. The polish itself isn't scented. The rose scent only starts to appear when the polish dries on your nails. I can't smell it other than when I hold my nails up to my nose and unless you are in the habit of picking your nose, you won't smell it either 😛 I don't see the point of the rose scent – if I wanted a rose scented polish, I'd get Anna Sui. Its stronger than any perfume. Half a bottle was spilt on my floor recently and my house smelt of roses for days!
In a nutshell

A limited edition pastel green with very fine golden shimmer that adds warmth to an otherwise flat colour. Pastel shades are hard to wear so the gold shimmer keeps things interesting and lifts and adds dimension to the polish. In the shade, the colour is rather flat while in the sun or in the light, it reflects better. I find the colour clashes with my skintone but under warm light, it looks better. I got it looking opaque in 2 coats and topped with a top coat. The rose scent as touted is only discernible up close to the nose, and only when the polish dries on your nails, not otherwise.

Pros: Golden shimmer makes the colour look more interesting, Flat brush makes it easier to apply polish, Polish texture is creamy and easy to apply

Cons: Pricey
One more note, on my skintone, Waterlily looks much better under warm light than in natural daylight.
Under warm light, it takes on a golden sheen which goes better with my skintone, and this colour just looks better on me then. In daylight, I am reminded of this wall paint swatch called Mint Green, like the green of peppermint chocolate chip ice cream – just not quite me 🙂 Oh and if you are really worried about that rose scent, its now Day 3 and the scent is all but gone. Perfect by me!
On a happy note, since being introduced to Seche Vite Dry Fast Top Coat, painting nails has been a breeze! So maybe I'll do this more often 🙂
Is the Dior Waterlily a colour you would wear on your nails? How do you feel about scented nail polish?
Paris B
Dior Waterlily and Forget Me Not scented nail lacquer are part of the Garden Party collection. Price: RM70 Availability: Dior counters from mid Jan 2012 Limited Edition: Yes