The Smashbox Limitless Lip Stain & Color Seal Balm or what I like to call the Smashbox Lip Markers or Lip Stains are quite interesting. What they are is a long lasting lip colour in the form of a marker pen. It comes in a few colours but you know what? I'm going to tell you to just not bother with the rest (I swatched them and they were blah to me but then, you may like them) and just head straight for Sangria.
This is Sangria on me – a deep red. It is described as "deep red wine" but on me, I just get it as mostly deep red. Very flattering and neutral in tone and a very fascinating product. I've never been one for lip stains. I know they can help you keep your lips looking coloured in all day, but I tend to prefer wiping off and starting again. So, the Smashbox Limitless Lip Stain is my first real foray into lip stains.
The product comes in a marker pen form which is intriguing so long as you don't let your child get hold of it because she might think its a marker pen and draw on the walls, or she might later confuse her own marker pens with this and draw her marker pens on her face 😛
You can see its dual ended. The other end is a tinted lip balm in a matching colour. This balm helps you to seal in the colour and to keep your lips moist and it is also good for touch ups as the lip stain fades. It will, you know. Its not a tattoo.
Sangria swatches on my hand a little cooler and a little more wine/berry than it does on my lips. It might be something to do with my original lip colour. But here's how it looks on the back of my hand.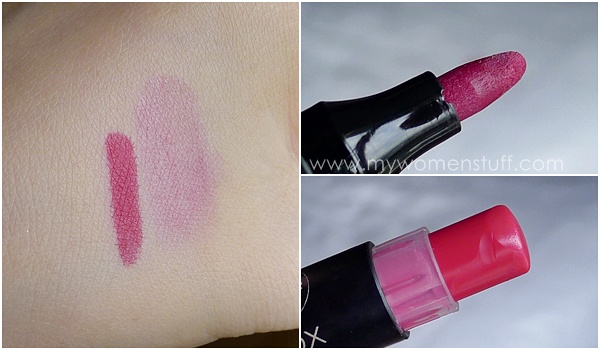 You can see that the marker pen side tends to bleed into the lines on the skin. On the lips if you have a lot of fine lines, you may notice that happening too. Using the balm over it helps to seal it and stop it from migrating too much. Using the balm also boosts the colour and stops it from looking flat.
Another thing you will have to note when using this product is that your lips have to relatively flake free. So if you are prone to dry lips, you will not like this. If you have plump flake free lips then I do think this is quite good for those days when you don't want to have to keep touching up your lipstick.
For me, it lasts through lunch most of the time. I can quite easily wear it for about 6-7 hours without too much fading. If I want it to last till evening, I do have to touch it up. The other nice thing is that it doesn't stain. So coffee mugs are quite lipstick free despite such a bright colour on the lips 🙂
The marker pen does make it easy to draw a nice lip shape which is what I do first, then colour it in. Then I apply a layer of the balm over and I end up with something like this.
Didn't I tell you it looks different from being swatched on the back of my hand? This is also pretty much how it continues to look so long as I touch up the lip balm from time to time. I don't find that the product dries out my lips unduly, but using the lip balm does help. Oh and removal is easy with any makeup remover. Easy peasy lemon squeezy!
In a nutshell
A useful lip stain that comes in a convenient marker pen form with a built in lip balm so lips remain moisturized all day. Staying power is quite long for me taking me to at least 7 hours if I'm a little more careful and a little less if I'm not. The marker applicator makes it easy to apply the lip colour and shape the lips but does taste a little strange. Many colours available tend to be a little pale. I prefer the darker shades because I think it makes more sense to stain lips a darker/brighter shade.
Pros: Longlasting lip stain that does not dry out my lips, The balm included is useful for keeping lips moist and helping the colour stay on better and longer, Convenient design makes it easy to tote around and touch up
Cons: It can fade quite unevenly, tending to fade first from the inside of the lip outwards so if you aren't careful you can end up with a strange ring around your lips, Best used on flake free lips
Although its a lipstain, I do recommend you check after a couple of hours how it looks on your lips. I find that on my lips, the colour tends to fade from inside out and sometimes patchily. That's a bit of a bother but if you just take a peek into the mirror every now and again and touch it up when necessary, it is alright. Also, if you are prone to flaky and dry lips, I won't recommend you get this because when your lips flake, you will end up with very strange patchy lips that aren't very flattering.
Oh and speaking of Sangria, I make quite a mean sangria! 😉 This was made by me a while ago during one of my more adventurous moods.
Have been a while, but I think I'll make up a batch soon – who's up for Sangria? Ole! 😀
Have you tried the Smashbox Limitless Lip Stains? Have a colour to recommend? Or have you tried something similar and have any tips to share? 🙂
Paris B
Smashbox Limitless Lip Stain and Color Seal Balm comes in 5 shades locally and retail for RM79 each. Smashbox Cosmetics can be found at Smashbox counters at Parkson Pavilion KL and 1 Utama and Sephora KLCC and Starhill