PB Says: Early this month, I despatched guest writer Juan to the exclusive media launch of the L'Oreal Youth Code Pre-Essence in Malaysia. Youth Code is a range of skincare I have been watching and waiting to enter our local market and now they are here! Well, starting with Pre-Essence anyway, and I'm told the rest of the range will follow. Its got huge raves overseas and I'm curious to see how it will fare. Let's see what Juan's report says.
Few things that first caught my eye when L'oreal Paris launched the Youth Code Pre-Essence recently:
1. Their tagline – Have You Cracked The Code of Youth
2. The word, "Prodigious" on the box. Like, whoa…
The tagline is something they would have to creatively come up with, with the many many products in the market that promise youthful appearance of the skin, bla bla bla. So, how does one know which one they should get? Could it be the pricing? This one's priced at RM109 per bottle. Pretty steep for a drugstore brand, don't you think? What will make you buy it? Does the tagline appeal strong enough to you to warrant a purchase or do you need more testimony to its efficacy?
Well, at first glance, it just looks like any other anti-aging product.
At second glance, you might just take the droplet and apply the serum onto your hand.
Now, this product is branded as a pre-essence, which means that it needs to be applied before your usual serum. Apparently, it claims that from its 10-year gene research, the product helps your skin absorb the nutrients and benefits of your usual serum.
Sounds like many other serum-ey products in the market, right? But the 'gene research' sounded just like its more high-end sister, Lancome Genifique. But let's not go there because unlike its sister, this one's much less painful to the wallet 😉
Would you get a "pre-essence", though?
I for one hate piling up products on my skin. I don't think piling up skincare products will make the skin look any better. I guess my super oily skin would make even the usage of serum + moisturiser feels heavy enough. And to have one before the serum is something that I wouldn't have even considered… that is, until I was told that it helps calm down even stressed skin and make open pores less visible.
The Youth Code claims outstanding results. You'll apparently see amazing results from the first drop. In one week of twice-daily use, your skin will look younger with the texture appearing more refined and elastic, making your skin look radiant. And in 1 month, you've almost turned back the time!
The testimonial from famous names with beautiful skin sounded almost superficial during the launch but yes, one drop of the liquid form onto my hand felt smooth, absorbed quickly and the scent was calming.
At third glance, I realised that the pre-essence comes in a hardy glass bottle! It has been awhile since I've seen drugstore formula in glass bottles (heck, even luxury brands are hardly packaged in glass bottles anymore) and this one felt really good.
But prodigious? I guess it may have come from the word, prodigy? Like whoa… it made me feel that users of this product have a prodigious vocabulary – beauty with brains? Marvellous 😉
I couldn't wait to try the product when I reached home. Used on my skin before I went to bed and walah… I immediately saw how smooth my skin looked and my large open pores appeared more refined, exactly as it had claimed. I was so impressed with the result the morning after, just from 1 application – my skin felt hydrated but not oily, I thought I looked radiant and the skin felt plumped up. I was very very happy.
Applying liquid foundation is even better, glides on so smoothly on my very soft skin and I couldn't have been happier with this find.
Have I enticed you to give it a try? I've already gotten some positive comments from how I look at work, only after 3 days of usage…
To sum it up:
Stuff comes in an excellent packaging – minimalist slender glass bottle – the bottle feels sturdy, I perceive the product as better as it is contained in glass and it feels more expensive than its retail price.
The dropper works excellently and feels solid, dispensing just the right amount.
The pre-essence is so fluidy, fragrance not too empowering and gets absorbed into the skin really quickly.
Skin looks excellent only from the first usage.
However, I do remember that a product's efficacy cannot be measured by just one application and I shall update again in another post until I've used it for a month. Here is the ingredient list for now.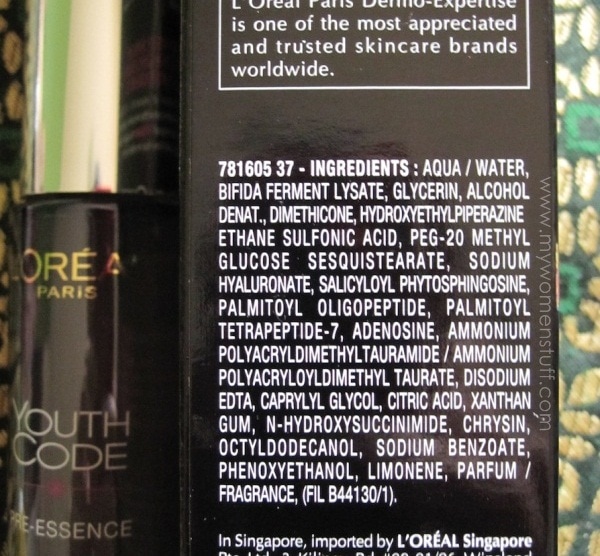 PB Says: Doesn't that sound simply amazing? I for one can't wait to give it a go! Juan will update us after she has used it for a month so expect a report to come up in a week or so.
L'Oreal Youth Code Pre-Essence retails at RM109/30ml but is now available at Watsons for a promotional price of just RM88.80. A good a time as any to give it a go!