In the Northern Hemisphere, the temperature has cooled and we're starting to hear the jingle jingle of sleigh bells and carols in the air and perhaps, just perhaps, you are looking for a lip colour for the Fall/Winter/Holiday season. Well, you've come to the right place! Let the Lipstick Bandits help you in your quest! 😀
My contribution is the Guerlain Rouge Automatique No. 170 Nuit d'Amour. I love this one because this is a gorgeous lip colour that is at once surprisingly wearable and beautiful on the lips. Plus its perfect for the party season, dinners, low light situations… where it really comes into its own, and heck, I wear it in the daytime here – in the bright sunshine 😀 Quick review, more photos and other Lipstick Bandit recommendations below!
The Rouge Automatique No. 170 Nuit d'Amour is actually Guerlain's Christmas offering. When I was first tasked to showcase a Fall lip colour, I panicked. You see, when you live in a warm sunny country its hard to imagine what sorts of colours people will use when it gets cooler and darker. I just want to whip out corals and pinks all the time. So I actually prepared 3 posts before this, with what I thought was a suitable Fall lip colour, until I came onto the Guerlain counter last week and Nuit d'Amour sang its siren's song.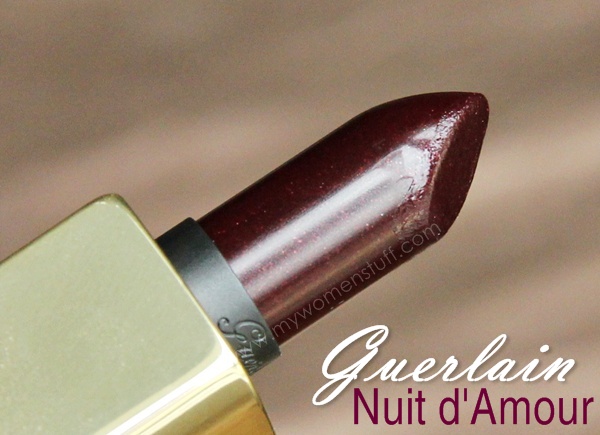 Here is a picture of Nuit d'Amour taken in bright sunlight. You can see that its actually a plum berry and not black as I originally thought. Here's the picture I showed you last week that had reader Emma El wondering if I'd gone all goth 😉
In the shade, its a deep deep plum, almost black. In the sun, you can see its got these pretty gold flecks in it but it does not apply shimmery nor glittery. The texture is similar to Chamade and you can read my review on the Rouge Automatique lipsticks here including my take on the packaging. I swipe it on directly without a brush, although a brush will offer better control.
And on my lips, here's how it looks.
Its a deep berry-plum with red tones that isn't as dark as it looks in the tube. If you prefer something darker you will be disappointed. I was hoping for something more wearable so this suits me perfectly. Its a colour I don't have in my stash and I love the surprised looks when I whip it out for touch ups, because everyone will STARE at that black lipstick in your hand! 😀 Oh and at the mechanism too of course 😉
This deep colour will accentuate flaky lips though, so be sure to ensure a smooth flake free lip before applying this. It is a little sheer on first application, and the colour can be built up if you apply more layers. This picture shows about 2 layers.
And here's how I did the rest of my look to go with this lipstick.
Other items featured:
Famous last words
If you don't already have a lip colour in this shade, I think its a good investment. Its surprisingly wearable, its a good formula and it will get you your deserved attention, one way or another 🙂 That of course, if you can still find it, and are willing to pay for it 🙂
Wondering what the other Lipstick Bandits are loving? Check out these posts for all our fall favourites:
Tracy, at Beauty Reflections,
Danielle, at Bloomin' Beauty Blog,
Dani, at Call It Beauty.,
Larie, at Eye Heart It,
Arianne, at Glitter Geek,
Xiao, at Messy Wands,
Jen, at My Funny Valentine,
Paris, at My Women Stuff,
Rocaille, at Rocaille Writes, and finally,
Rae, at theNotice: a beauty blog.
What say you – does a colour like Nuit d'Amour catch your fancy? Or are you perhaps a little intimidated by it? What is your favourite lip colour for Fall/ Winter (or your interpretation of a Fall/Winter lip)?
Paris B
Guerlain Rouge Automatique No. 170 Nuit d'Amour is I believe limited edition and retails for RM114 at Guerlain counters as part of the Belle de Nuit Christmas 2011 collection.