I'm very sure there's some "rule" somewhere about matching (or not) your nail colour to your lip colour. There are always "rules" like this and the thing about rules is that they come and go, usually quite quickly. But I dislike rules that tell me how I should look or dress, so I live a little "dangerously" 😛
I have been wanting to show you the new Rouge Dior in Nocturne for a while because its such a beautiful colour, but I couldn't seem to get the right sort of photo for it. It was all very poseur-y and really, the last time I want to come across as is a poseur! It wasn't until a chance comment by Peach_ on the matching Or Etoile lipstick post, that something went ding! in my head.
It was at that precise moment that I wondered if I could not match my lips to my nails! Rouge Dior in Nocturne on lips and Dior Vernis Apparat on nails.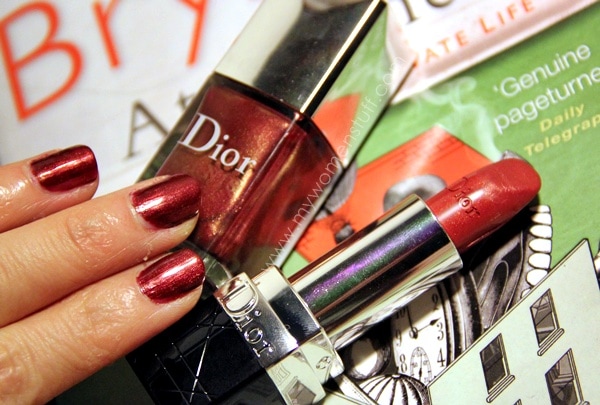 Out came Dior Vernis Apparat applied very inexpertly, and Rouge Dior Nocturne. Do they match? I'll tell you they don't. Not in a conventional matchy matchy sense, as I'll show you below, but the two colours do go quite well together. Dior Vernis Apparat is a bronzed deep red shot through with gold in the bottle. On nails, they are a deep, almost burgundy red. Under the light you'll see flecks of gold that transforms your nails into something elegantly beautiful. In the shade, it is a deeper burgandy. The photo above is taken under warm direct lighting.
Rouge Dior Nocturne is a deep toned red also shot through with gold. Dior's theme for the holidays is gold so every piece is infused with gold that isn't glittery nor chunky, but very subtle. When it catches the light, you get a warm inner lit golden glow on nails and lips. Very beautifully done.
Here's how Rouge Dior Nocturne looks on the lips – a deep red with a golden glow. Like all Rouge Dior, the texture is beautiful – smooth as butter – and the colour is beautifully pigmented. I only ever need 1 layer to get colour as intense as this.
Also featuring : Dior Forever foundation 010, Bobbi Brown Pink Coral shimmer blush, Armani Eyes to Kill Intense #6 Khaki Pulse, Guerlain Perles de Nuit
This is a perfect holiday lip colour. It isn't flash nor overly bright nor too red. It looks beautiful under warm lighting, adds a beautiful sort of glow to the face and invites kisses under the mistletoe 😉 Do you see how it shines just at the center of the lip when the light hits? It plumps your lips up and draws attention just where it should go.
Dior got it so right with Nocturne. I could wear it every day and not be bored, because it isn't too intense for the day either. See?
With this, you can see that the two colours in Nocturne and Apparat aren't exactly matching. This is taken in natural daylight. The lip colour is a bit washed out (It looks more like the one above) but it sometimes looks that way – a very softened red. The nail colour however, is about right. You can see how the nail colour differs from that in the first picture but that's how it is – different under different lighting.
Both Rouge Dior in Nocturne (961) and Vernis in Apparat are limited edition colours for Christmas 2011.
In a nutshell
Rouge Dior in Nocturne continues the Rouge Dior tradition of lipsticks with a smooth texture and well pigmented without drying out the lips. It is very lightweight and glides on very easily to deliver enough colour with just 1 layer of lipstick. Nocturne has minute gold sparkles but isn't gritty at all nor drying, and does not look glittery on the lips – just a warm glow. Dior Vernis in Apparat is a deep burgundy red colour for the nails that looks dark in the shade but under direct warm light, glows with a golden shine. The flat brush makes application easier and the formula is not too thick. I am not very good with applying nail polish so I managed to streak it, and I experienced tip wear after 2 days but then I'm careless with my nails and I do not use a top nor base coat.
Pros: Rouge Dior – Lovely smooth lightweight texture, pigmented colour, beautiful golden glow to a deep red lip that adds character; Dior Vernis – flat brush makes application easier, golden sparkles adds a warm glow to the colour, color takes on different dimensions in shade and in the light
Cons: Rouge Dior – Pricey; Vernis – Pricey, I experienced tip wear after 2 days without a top or base coat
And for the first (and quite possibly the last) time on my blog, here's a pouty picture – let's do the duck face everyone! 😛
Oops, I did it again… *mwaks!*
Ooh lala! 😀
Paris B
Rouge Dior in 961 Nocturne retails at RM95 and Dior Vernis in Apparat retails at RM69. Both colours are limited edition and part of the Dior Rouge Or Christmas collection 2011