I got a little confused when doing my research on this product. The one I have is called Lioele Waterdrop Sleeping Pack. Online, and in my press kit, a similar product appears to be known as Lioele V-Line Waterdrop Sleeping Pack. I'm going to assume they are the same thing unless shown otherwise, because pictures don't lie! 😛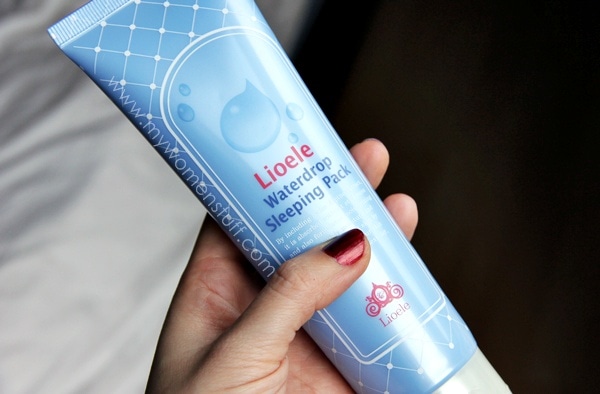 Lioele is a brand from Korea. I'm not too familiar with Korean brands so for me, I find it slightly lesser known, but no less affordable. I think its great how skincare and cosmetics coming out of Korea area pretty decent to use and affordable for the most part 🙂
The Waterdrop Sleeping Pack or V-Line Waterdrop Sleeping Pack is as the name implies, a sleeping mask – a product popular in Korean skincare. Its a thick gel that you apply on your skin but do not wash off and usually has hydrating properties to hydrate skin while you sleep. There is a slight difference to this one though that bears paying attention to.
The application of the Lioele Waterdrop Sleeping Pack requires you to apply a thick layer of the gel-cream all over your skin, and lightly massage it until water droplets form, then pat it into your skin and go to bed. Now, the first few times I used this I decided I didn't like it.
That's because I was using it the way I use most sleeping packs (like the Laneige Sleeping Pack) i.e. I apply a layer on my skin and go to bed and let it absorb by itself. When I use the Lioele this way, it feels thick and heavy on my skin and does not seem to absorb at all. My skin feels sticky and it was icky.
The directions on the box are of no help. They just say to apply it and go to sleep. Bah humbug! So I turned to the almighty Google and learnt the proper methods for applying this online, and voila! It suddenly felt so much better! When you rub it against your skin, it takes on a slightly watery texture and then, it sinks into your skin very quickly and easily. Really, this should be stated in the directions on the box! However if I apply too much, it is prone to feeling a bit oily. Its fine by morning but the after feel on using it is a bit uncomfortable.
I like the packaging, which is a nice slim pretty blue tube. It beats digging into a tub for your mask, and it makes it easier to travel with. There is a light scent which is fine. It smells very "light blue" if the colour had a smell 😛
I use this one about two or three times a week as I would a sleeping pack, and I tend to use it over moisturizer after cleansing and toning because that's just how I like it. You can also use it on its own in place of moisturizer if you have oilier skin. The texture isn't heavy and I experienced no problems with this one except for that slightly oily feel.
In a nutshell
An affordable sleeping mask by Korean brand Lioele. The name of this product is a little confusing as there apepar to be 2 names for the same product. The function is to hydrate your skin while you sleep and it also helps soothe your skin. I find that it does a fair enough job with skin hydration provided you use it the proper way as detailed above. If you just slap it on as you would any other sleeping pack, it doesn't do a very good job at all.
Pros: Affordable, When used correctly skin feels hydrated and smooth
Cons: Instructions for proper use should be stated on the box
Here is the ingredient list which contains amongst others dimethicone and parabens, for those of you who might not like these on your skin.
For the price you pay (RM44.90/120ml) I think this is a pretty decent product that does what it says on the box provided you do it right. If you were to ask me to compare it to the Laneige Sleeping Pack EX which is also Korean and which I happen to like, I will still pick the Laneige one simply because it takes less work and my skin seems to like it without that oily feel. But for a budget option, I say get this one, because it does a decent job and has a small price tag 🙂
Have you tried this Lioele Waterdrop Sleeping Pack? Its supposed to be their bestselling product. Or have you tried anything from Lioele you think I should take a look at? 🙂
Paris B
Lioele Waterdrop Sleeping Pack retails at RM44.90/120ml at Lioele counters in Parkson department stores (Sg. Wang Plaza, The Mall, Festival City Setapak, Gurney Plaza, The Spring Kuching, Sibu, Bintang Megamall Miri and One Borneo Kota Kinabalu)