You may not recognize the name Francis Kurkdjian (or maybe you do). I didn't. But then I'm not a perfume afficionado. Francis Kurkdjian the man, is the nose behind some of the best selling perfumes created for many brands, amongst them Elizabeth Arden Green Tea, Elie Saab Le Parfum, Giorgio Armani Armani Mania, Narciso Rodriguez For Her to name just some of the more famous ones. I will tell you more about Francis Kurkdjian in an upcoming post – there's too much to squeeze into this one.
In a nutshell, aside from creating perfumes for others, Monsieur Francis Kurkdjian set up his own perfume house in 2009 – Maison Francis Kurkdjian. In this part of the world (South East Asia) the first counter is open right here in Kuala Lumpur, Malaysia and exclusively at Metrojaya MidValley and The Curve.
Bear in mind firstly, that this is a luxury fragrance house. Ingredients are specially selected or created and the scents are quite unique. Prices reflect this so it isn't your regular run of the mill counter brand – think Annick Goutal and perhaps Guerlain and you'll be in the right territory. But I'm not going into that today, I wanted to show you something very unique that's available from Maison Francis Kurkdjian – Incense Paper.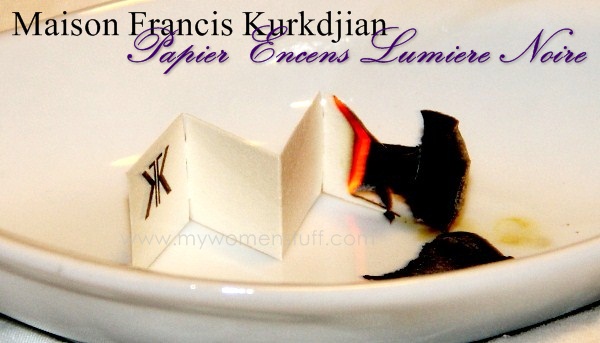 What on earth? I can almost hear you think.
This incense paper together with the perfumed bubbles (Bulles de Agathe) are my favourite items from Maison Francis Kurkdjian. It might be because they are a little quirky and unique. I mean his fragrances have their own allure – they are different. But fragrances are "normal" things to find in a perfume house – incense paper isn't!