I have a condition known as "Wandering Liquid Foundations Eye" – my eye wanders whenever I come across a liquid foundation and my hands itch to get hold of it. I find faves, yes. But at the end of the day, when alls said and done, I always return to my tried and true first foundation love, which is powder foundation. I honestly don't know why I bother wandering at all to be honest 😛
One of the powder foundations I'd been using for quite while in the past few months is this Diorsnow Light Veil White Reveal Silky Veil Makeup with SPF20 PA+++ powder foundation. Its part of the Diorsnow line, and as the name implies, has skin brightening effects. But I don't wear it because of the skin brightening effects (although its quite nice) I wear it a lot because I like how it feels and looks when worn.
I don't have very oily skin, but when you live in a hot and humid tropical climate, you can't help but get a little oily throughout the day. The trick is in getting to look "dewy and glowy" as opposed to "so oily I can fry an egg in this" and here's where I find this Dior powder foundation ticks the right boxes. In fact, its pretty much the same with the other Dior powder foundation I've used.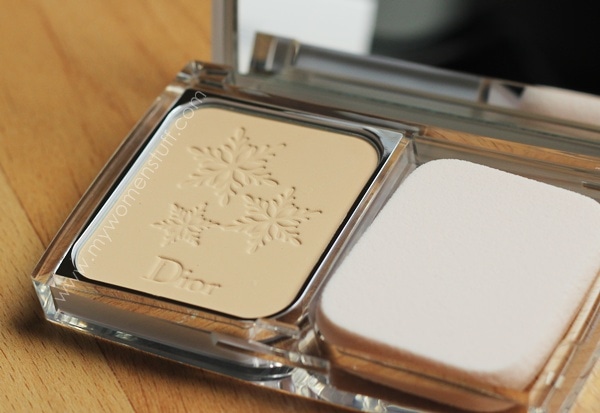 I wear this in 010 Ivory, which is pretty much my consistent shade in all Dior foundations. Its a light, neutral toned colour without too much pink and on my skin, blends in perfectly. The powder is very finely milled, and on my skin, feels like nothing on. Yet, it offers some minimal coverage, which you can build up if you prefer, but I like it light.
The best part is that it doesn't look cakey going on, and once on, doesn't ball up or streak or disappear throughout the day. My skin looks and feels dewy and lovely and I like to take this when I head out of town, because its easy and quick to use, and lasts me all day.
The compact comes with a flocked sponge and a brush slotted into the velvet pouch that stays shut with an elastic band. I prefer using the brush to apply, because it gives a lighter coverage. The sponge offers higher coverage but I find that it can then feel a bit heavy for my liking.
As to whether it brightens or whitens the skin, I think it does to be honest. It is formulated with transparent Diamond Prism pearl makeup but it isn't shiny which was my initial thought. It does however, make skin look noticeably fairer. If that is an effect you'd like to go for, then you may like this. If you don't like that sort of effect on the skin, you won't. In 010 Ivory, the effect isn't so pronounced but I did notice that the rest of the colours aren't as dark as their liquid foundation counterparts.
In a nutshell
A finely milled powder foundation that glides on the skin and offers skin brightening effects. I like how it keeps my skin looking fresh all day, and does not slip or slide off in the hot humid weather. The inclusion of the broad flat brush makes application very easy and it is very light on the skin. The flocked sponge applies with heavier coverage.
Pros: Feels light on my skin and helps a little with oil control, Texture is light on the skin and does not look cakey or feel heavy, The brush applies the powder very evenly and with a sheer layer while the sponge applies with heavier coverage, Compact and easy to tote around in the velvet pouch
Cons: Pricey, The skin brightening effect may not suit everyone
One point to note. SPF20 and PA+++ is a good sunscreen rating. However, I do not believe that any powder containing sunscreen properties can be very helpful so I do prefer using a separate sunscreen first, then use this as I would normal powder foundation. Of course, if you don't like to use sunscreen then I guess, wearing this is better than not wearing any sun protection at all 😛
How does this compare to other Dior foundations I've used? I've only really used the Diorskin Nude Sculpting Powder Foundation before this. For one, the Diorsnow has a slight skin brightening effect. Secondly, its just one shade all through so there is no sculpting effect. But both powder foundations are great at oil control (for me) and really keep me looking fresh. So, if you were looking for something that gives a more pearlescent glow to the skin, go with the Diorsnow. I tend to prefer this one for that glow. The Diorskin Nude Sculpting powder tends to make my skin look a little flatter than I like.
Have you tried the Diorsnow powder foundation? There is also a Diorsnow liquid foundation in the market. I tested that, but the whitening effects are more pronounced in that one, so it didn't quite agree with me.
Paris B
The Diorsnow Light Veil powder foundation retails at RM195 (I think) at all Dior counters and comes in a few shades.