Roses brings out the Shakespeare in me, and quite aptly too because a blush by any other name would be as sweet to me 😀
Ever since I saw the images for the new Lancome Blush Subtil Rose blushes, I'd been checking around online, trying to get more information on them. Strangely though, I can't find any. The only place I can find this is on the Lancome Japan website. I wonder if this means that it is made for the Asian market?
Anyway, here we are then. The new Blush Subtil Rose blushes from Lancome.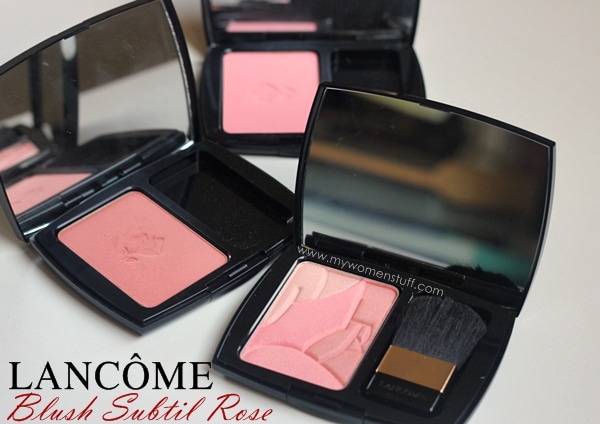 Actually, the new one is the blush you see right in the front. The 2 at the back are the old version of the Blush Subtil blushes, which I am told are being discontinued and replaced with the Blush Subtil Rose. I never got round to even telling you about the Blush Subtil blushes! 😛
The new Blush Subtil Rose is a pretty multi-coloured powder blush. Each palette comes with 3 shades – a highlighter, a lighter shade and a deeper shade. The shape isn't random if you can imagine. It forms the Lancome Rose if you look at it carefully. Might have to squint a little 😉
The shades I have for you is 20 Rose Corail a pink-peach blush that is as pretty to look at as it is to wear, I must say 🙂
Here is a close up of Rose Corail. Depending on your computer monitor, you might see this lighter than it really is. It doesn't look as washed out in real life.
You can see that the blush is predominantly pink. Any peach is really very subtle. I found the texture a little different from the regular Blush Subtil blushes. These new ones are more shimmery and sheerer in texture and colour. The previous versions are more pigmented and impart more colour.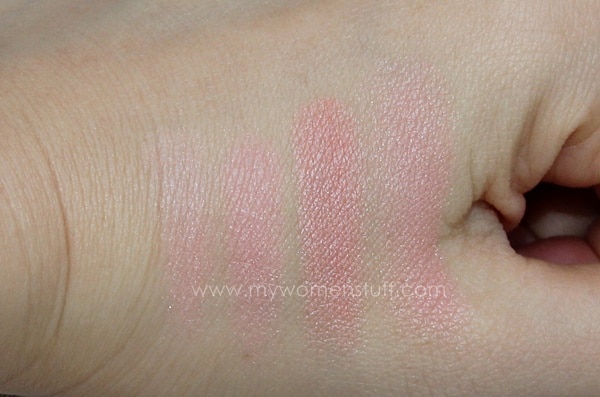 Lancome Blush Subtil Rose 20 Rose Corail swatches L-R: Highlighter (top left corner), Pink (middle colour), Peach (right colour), Blended
I swatched each shade twice to get it to show up for the camera. Swatched once, it actually shows up already albeit sheerer. You can also see the shimmer in this which is present in all 3 colours. It isn't chunky or overly shiny but it is there. The previous version, although I have one that is shimmery, isn't as shiny, in my view. This one actually reminds me a lot of Asian style blushes and when I saw that it is Made in Korea, and available on the Lancome Japan website, it sort of made sense. I wonder if this means its only sold in Asia?
You can pick up more pink or more peach as you desire as both these colours are large enough for a brush to get to them. If you mix in more peach, its warmer. If you go with more pink, its a little cooler. However, I do think that 20 Rose Corail is a warm toned blush but one that will suit most.
In fact, despite my earlier concerns about pigment, it does apply quite well on the skin.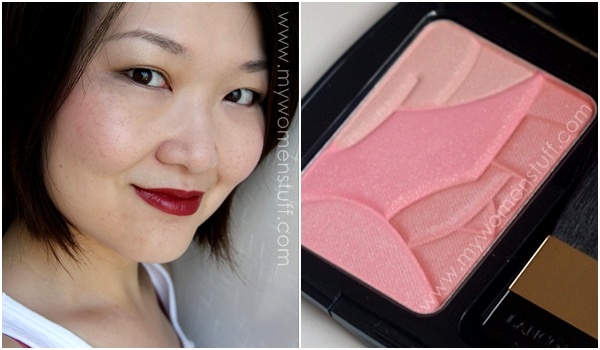 Also featuring: Dior Forever liquid foundation 010, Estee Lauder Pure Color lipstick in Fig, Urban Decay 15th Anniversary Palette on eyes
I usually only need about 2 layers to get the colour to show up nicely for everyday. However, it is a very light there-but-not sort of colour. So if you prefer something less subtle, I don't think you'd like this one. I am used to how Japanese makeup applies – sheer, shimmery – so I was comfortable working with this one. But if you prefer something less shimmery, and more pigmented I'm going to tell you to pick up the old Blush Subtil blushes (with just the embossed rose) before they take them off the shelves. Those were definitely more pigmented and less shimmery and come in a matte version too. The quality is awesome.
I think this new Blush Subtil Rose blush is going to take some getting used to for some. As I've said, if you are familiar with Asian (read Japanese or Korean) style of makeup you'd probably find this one familiar. If you prefer something like what MAC or NARS offers, I don't think you'd like this much.
In a nutshell
A very pretty powder blush that has multi-colour powder – highlight, colour and contour. The easiest way to use is to just swirl your brush over the colour and apply. The colours can be made warmer or cooler, lighter or darker depending on the parts of the blush you touch your brush to. The colours are pigmented, but sheer and shimmery but not shiny. These are permanent and will replace the Blush Subtil blushes at counters. I like these, but I also like the previous version, as that is less shimmery and has a nicer texture.
Pros: Pretty powder blush, Gives a pretty glow to the skin if not over done, Fine milled powder, Easy to use, Sheer colour is less prone to mistakes, Buildable colour but careful with the shimmer
Cons: Some may find it too shimmery, Comes in 4 shades but only one may be suitable for darker skins
The case too has evolved with the times, boasting a single Lancome rose in a corner instead of the gold square before.
And here is a collage of the 4 shades available in the Blush Subtil Rose collection
10 Rose Rose – Cool pink
20 Rose Corail – Warm Pink Peach
30 Rose Melba – Coral Orange
40 Rose Rouge – Bronzed Pink Red
I played around with these in store a few weeks ago. Just based on memory, Rose Rose is a very light cool pink and Rose Melba was quite orange on my skin. Its quite a nice colour, if you use a light hand, and because it is sheer I think it can give a very healthy sort of glow to the skin. Rose Rouge is the darkest and most pigmented of all, and is a bronzer and blush in one. It applies a bit like a sunburn on me 😛
Oh and did I mention they are permanent? So you can take your time and play around with them before you decide if you should pick one up 🙂
Have you perhaps tried any one of the new Lancome Blush Subtil Rose blushes? Has anyone outside of Asia spotted these at their counters? I'm curious to know if the replacement of Blush Subtil will be a worldwide thing or just Asia 🙂
Paris B
Lancome Blush Subtil Rose comes in 4 shades and retails at RM120. It is permanent and will replace the present Blush Subtil blushes at counters.