I have a thing for masks especially hydrating masks and the few masks I've tried coming out of Taiwan have all been sheet masks. They're practical and easy to use and don't cost very much. Usually, when I slather a cream mask on my face, its a purifying mask. So, when I was recently offered a chance to try a gel type hydrating mask out of Taiwan, I was quite intrigued.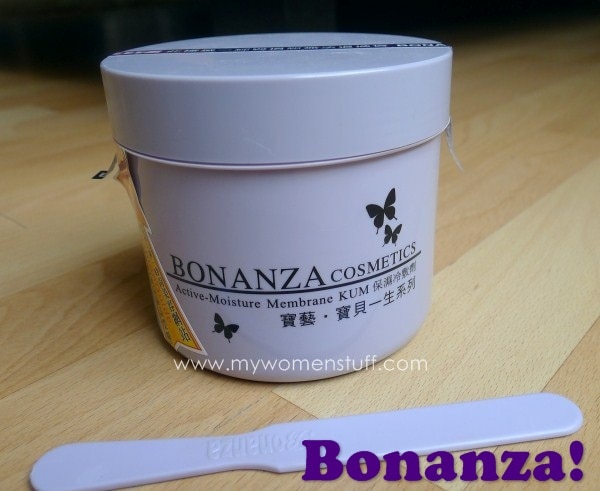 The brand was Bonanza and the mask was the Active-Moisture Membrane KUM which to be honest with you, meant nothing to me. It probably tells you a lot more if you read the Chinese words and somehow, knowing the translation services employed, perhaps it doesn't quite mean what the English words say either 😛 Bonanza is a brand out of Taiwan and I'm told, one of the hottest, fastest selling hydrating masks in the market, endorsed by their local celebrities and bloggers. Ooh! Good thing to try yes?
It came in a serviceable industrial looking purple tub as you see in the picture, with a spatula. Instructions came in a leaflet written in Mandarin. Not being able to read it, I looked around online, asked the distributor, and then took a stab at it.
What this product is is a thick clear gel in a sealed tub.
It feels a little like konnyaku jelly, if you know the texture I mean. Its bouncy and thick and clear and the spatula supplied (a thick solid plastic piece) is the perfect tool to pick up the gel from the tub. It also comes sealed, as you see in the picture. There is no scent.
This gel is supposed to help hydrate your skin, help your skin retain moisture and elasticity and whiten. I've been using this quite often in the past 2 months and I'll say skip the whitening. I don't quite get the Asian obsession with whitening and I'm Asian living in Asia so I can talk 😛 You see, when the skin is soothed and cooled, and cleaned, it will naturally look brighter. But as your dead cells pile up, it can then get dull again and can sometimes look "dark" so it doesn't "whiten" but it does help skin look immediately "brighter". Now I've gotten that out of the way, let's talk instead about hydrating 🙂
Because this gel mask does a pretty good job at hydration!
You do have to use quite a lot of it. Instructions given to me was to slather on a thick layer of the gel, at least 0.5cm thick. You know how thick that is? That's thicker than an iPad! Don't believe me? Measure and see 😛 I don't measure it though. I just make sure I apply a thick layer.
I've shown you above just how I do it. I use the spatula to scoop out the gel and then apply it to my face rather like applying cement screed 😛 Splat on a large dollop of gel and then use the spatula to smoothen. Repeat until whole face is covered. I was also told I can use this after all my skincare as it helps to hold in all the goodness of your skincare and help it penetrate into your skin better.
I usually apply this after cleansing, toning and a serum.
Then leave it on for at least 40 minutes. Yep! You look a bit like an unfinished clay figurine for about 40 minutes. In this time, the gel will dry out a little on your skin but you aren't supposed to wait till it fully dries. I forgot once and it was torture to remove.
When it comes to removal, employ the spatula once again. Use the side of the spatula to scrape the gel off your skin. Do not think you can easily rinse it off. No siree! I tried, and it took much longer than I liked. So use the spatula, scrape away all the gel as best you can and then rinse your face until you don't feel anymore gel on it. Then, follow up with your moisturizer.
I found that when going on your skin, the gel cools down your skin and it feels very comfortable. If you apply it from the fridge, its very refreshing. Immediately from the first use, you will notice that your skin looks brighter and more hydrated and feels cool and smooth to the touch. But as I have noted, this has a lot to do with your skin being clean and hydrated and your dead cells sloughed off. The cooling effects of the mask help to cool down your skin and makes pores look smaller.
I've used this for about 2 months, about 3 times a week, and it is nice. But I cannot say if the effects will be there for the long term, if you don't take care of your skin at the same time. I do think its a nice mask to use and it does make skin look better almost immediately and the effects last 2-3 days for me so all in all, I do think it worth a repurchase (and I will!)
In a nutshell
Bonanza Active Moisture Membrane KUM is a popular gel mask from Taiwan. You have to use a thick layer on your skin and leave it on for about 40 minutes. Immediate results that can be expected are cool skin that looks brighter with smaller pores. For me, results last about 2-3 days and it is quite fuss free. Slather it on and read a book or watch telly and then wash it off and follow up with your skincare.
Pros: Gel cools skin down almost immediately, Skin feels hydrated and looks brighter with smaller pores after use
Cons: Initial purchase is a little pricey, A bit messy
I quite like using this after a touch of sun. I had a few long car rides in the past 2 months and coming home to this cooling mask is very comforting.
I'm told that each original Bonanza Cosmetics product comes with a serial number, a lot number and an expiry date. So if a customer buys a product from a shop and has doubts about its authenticity, they can go to an authorized Bonanza Cosmetics distributor and they can check if the number is valid. There are counterfeits out there (already!) so it would be wise to buy from an authorized source.
In Malaysia you can purchase it from IYoungDream, an online store which also has a retail outlet at Sungei Wang Plaza.
This gel mask doesn't have the convenience of a sheet mask but I do think it delivers better results than a normal sheet mask. The results last longer for me anyway 🙂 I have the 550g tub and after 2 months with regular use, I'm about halfway through. Can't say its that pricey but the initial cost can hurt your wallet some.
Have you tried this Bonanza gel moisture mask? Or have you come across it in any Taiwanese blogs or magazines? I wasn't aware of it until now but I'm quite happy with it. Would you try it? 🙂
Paris B
Bonanza Active Moisture Membrane KUM gel mask retails at RM109.90/250g and RM179.90/550g and is available online at IYoungDream or their retail store Comian at Sungei Wang Plaza, Kuala Lumpur.