You may not recognize the name Francis Kurkdjian (or maybe you do). I didn't. But then I'm not a perfume afficionado. Francis Kurkdjian the man, is the nose behind some of the best selling perfumes created for many brands, amongst them Elizabeth Arden Green Tea, Elie Saab Le Parfum, Giorgio Armani Armani Mania, Narciso Rodriguez For Her to name just some of the more famous ones. I will tell you more about Francis Kurkdjian in an upcoming post – there's too much to squeeze into this one.
In a nutshell, aside from creating perfumes for others, Monsieur Francis Kurkdjian set up his own perfume house in 2009 – Maison Francis Kurkdjian. In this part of the world (South East Asia) the first counter is open right here in Kuala Lumpur, Malaysia and exclusively at Metrojaya MidValley and The Curve.
Bear in mind firstly, that this is a luxury fragrance house. Ingredients are specially selected or created and the scents are quite unique. Prices reflect this so it isn't your regular run of the mill counter brand – think Annick Goutal and perhaps Guerlain and you'll be in the right territory. But I'm not going into that today, I wanted to show you something very unique that's available from Maison Francis Kurkdjian – Incense Paper.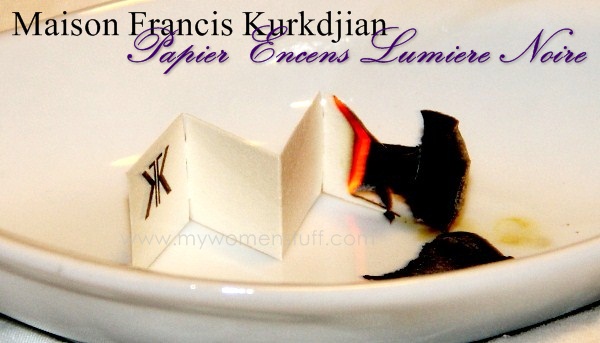 What on earth? I can almost hear you think.
This incense paper together with the perfumed bubbles (Bulles de Agathe) are my favourite items from Maison Francis Kurkdjian. It might be because they are a little quirky and unique. I mean his fragrances have their own allure – they are different. But fragrances are "normal" things to find in a perfume house – incense paper isn't!
Incense paper are strips of paper soaked with the perfume oils from the Maison Francis Kurkdjian collection, dried and then cut and packed into slim boxes.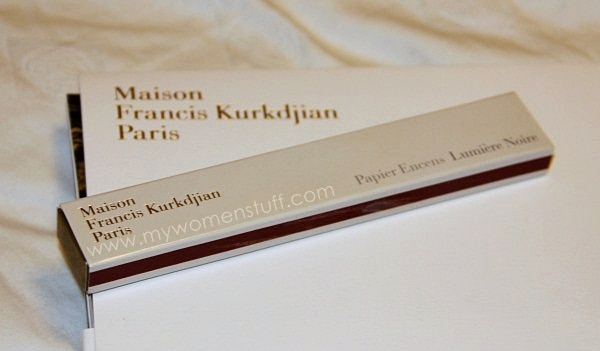 Each slim box holds 20 perfumed strips of paper and matches. This is so you don't have to run around looking for matches when you want to use these perfumed paper strips. I liked the idea. I don't think I even have matches at home!
Lumiere Noire is the name of one of the perfumes under Maison Francis Kurkdjian. It is a strong, heavy sensual scent of roses, patchouli and narcissus. I did not expect to like it based on description alone. But I did and of the 5 scents presently available, Lumiere Noire is my personal favourite.
I don't have the fragrance yet – I plan to – but in the meantime, the Papier Encens Lumiere Noire will have to suffice. The heavy paper strips are infused with the scent of Lumiere Noire. You can use the strips to scent your luggage or drawers but really, its to burn.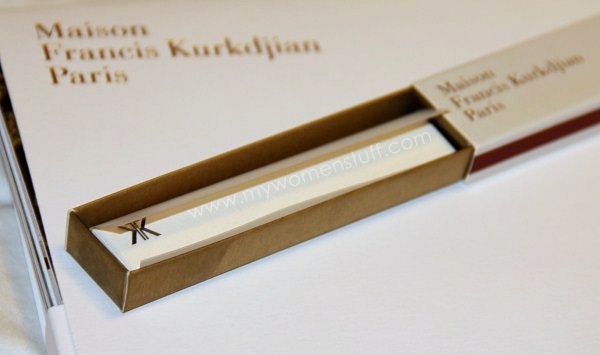 Each strip of paper has cuts in it so you can fold it as you see in the 1st picture right at the top. Set a match to one end and when it catches fire, blow out the flame. It should continue a slow burn through the whole strip of paper, which discharges some smoke into the air.
If you think you might choke from all that smoke, you won't. If you think it will smell of burning paper, surprise! surprise! It doesn't! What it does smell of is Lumiere Noire – a little burnt but still a warm smell of spicy roses. It evokes a very warm feeling and makes me think of warm fireplaces, soft music and a gathering of family and friends. Works even better in an air-conditioned environment (or a chilly environment). You can also use this to neutralize smells in your room.
This isn't meant to take the place of a candle nor is it a room fragrance. The smell doesn't cover a wide area and isn't terribly long lasting so I only use this in my bedroom when I want to bed down with a touch of luxury.
This is a bit of a novelty item and something very different from the room sprays and candles I've come to expect of perfume houses. It perhaps isn't for everyone, but if you are an avid traveller and bed down in a different hotel room often, this will give you a touch of continuity and perhaps a feeling of home. Place a strip in your luggage or burn a strip before bed and perhaps a strange room won't feel as strange anymore 🙂 Oh and it doesn't set off smoke alarms either 😉
Paris B
Maison Francis Kurkdjian is available at Metrojaya MidValley Megamall and The Curve. The Incense Paper retails at RM95 per box of 20 strips and is available in Lumiere Noire, Aqua Universalis and APOM (A Piece of Me). This was a gift.