I don't know how this happened, but I may have found a BB Cream that I have worn for more than 2 weeks straight without experiencing too much discomfort or hassle or just overall boredom. The BB Cream in question is the Tsuya Tsuya BB Cream which isn't a brand nor a product I'm terribly familiar with.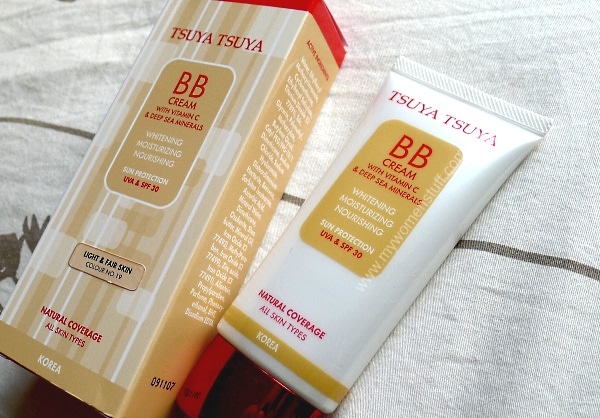 Ths Tsuya Tsuya BB Cream, like many BB Creams have a host of promises. This one claims to contain Vitamin C and Deep Sea Minerals and has whitening, moisturizing and nourising properties and SPA30 with UVA protection for all skin types. Not too bad, but the Korean formulation threw me for a moment. You see, while I've had a fair experience with BB Creams from Japan and the Western brands, I've never really had a good experience with Korean formulations. They are what put me off BB Creams to start.
So naturally, its interesting to see how this one fares and why I might say that I quite like it 🙂
The Tsuya Tsuya BB Cream comes in 2 shades – No. 19 Light and Fair Skin and No. 23 Medium skin. The one I have is for Light and Fair Skin and if you have a pink undertone, and share my foundation shades (see list at top here) this might suit you too. However, I will tell you that No. 19 is very light so I think it will not suit many as many might find it too light/fair for their liking. Works for me though.
The texture is a lightweight cream with a silicone feel. Not surprising really, because it does contain silicones. It spreads easily and does not cause skin problems for me. The shade is sheer and pink based as you see in the swatch below.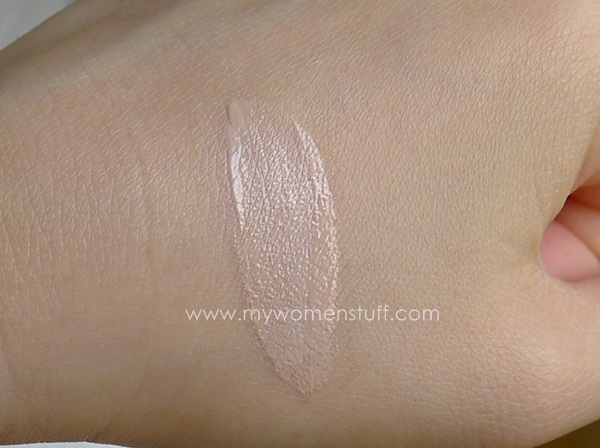 It applies on the skin quite noticeably pink toned, so if you have a warmer undertone, I'm not sure if this one will fit you or if it might look a little ashy on you. On the one hand, the beige-pink tones help brighten the skintone and give a brighter more luminous look. On the other hand, on a very warm skintone, it can make your skin look dull and grey.
For me, it works. However, I do have to give it about 5 minutes for the colour to adjust. Its very strange, all this colour adjusting, but it happens. I find this applies very very sheerly. It barely covers any blemishes or pigmentation at all. I usually use a separate concealer for serious bits, because even layering it makes no difference. However, it brightens up my complexion and after that whole colour adjustment, it gives my skin a smooth glowy complexion that positively surprised me. I did not quite notice it until a friend commented on how glowy I looked (and this only after recovering from my breakouts) so I was surprised.
Another thing I rather liked is how this BB Cream does not turn oily throughout the day. If I layer on a light dusting of loose powder, it is fairly matte all day long. If I don't, I don't turn into an oil slick although a little shine comes through by the end of the day. Again, I attribute it to the silicones, so if you are allergic to silicones, this may not be the best thing for you to use. If you use this one as a primer, and layer powder foundation over, you end up with seriously flawless complexion.
So this is how I like to use this BB Cream – as a primer. I apply this BB Cream and then if I want seriously good coverage, I apply powder foundation over it and it lasts all day looking awesome. Otherwise, I dab on some loose powder (I used my Lavshuca loose powder) and again, I get a sheerly flawless foundation that is quite surprisingly even looking.
Here are some comparisons with other BB Creams for colour matching purposes:-
BB Cream Swatch Comparison: (1) Sunplay Skin Aqua Silky BB Cream (2) Garnier Light BB Cream (3) Tsuya Tsuya BB Cream Fair-Light (4) Hada Labo BB Moist Cream
As you will notice, the Tsuya Tsuya one is noticeably pink. It is also noticeably sheer, compared to the Sunplay and Garnier BB Creams. The pink tones, as I've noted, helps brighten the skintone so I like it for this. I don't experience the sallowness that I get otherwise, but this will not be something that everyone may like.
Oh and the natural coverage they promise? I don't really get any coverage. Just a very slight improvement but unlike the other BB Creams I've used, this does nothing to cover blemishes or pigmentation, not even when layered. This sort of detracts from it being a multi-purpose tool. I don't mind it, but you might 🙂
In a nutshell
A very sheer pink toned BB Cream that brightens up the skintone and gives minimal coverage. It makes a very good brightening base for powder foundation and gives skin a nice glow. It does not turn oily on my skin and if set with loose powder, stays quite matte all day. It does have a silicone feel which might explain a lot of how it makes skin feel matte and the base element. The light/fair one is very very light and may not suit many.
Pros: Lightweight, Matte and dry feel for most of the day, Pink tones brighten the skintone, Makes a good makeup base
Cons: Very sheer coverage and pink tones may not suit everyone, Scented
There is a fly in the ointment. It is fragranced, and I honestly do not see why. The scent does dissipate but I do not like it when applied on my skin. So whilst I have been using this particular BB Cream quite often (I love how flawless it makes my cheeks look and how lovely my blushes look going on my skin) I do not like the scent one bit. I wish they'd remove it.
The ingredients are printed on the box and on the back of the tube, which is practical. I also noticed that under the Application, it suggested that this BB Cream be used after basic skincare. Many BB Creams claim to replace moisturizer. Oh and the pink tones do help with dark circles – it tones them down a little but does not erase them and don't bother trying to cover up freckles and pigmentation or age spots. It does nothing as far as I'm concerned.
Might you have tried this one before? Or perhaps seen it around Watson's where its sold, apparently. I do like this one, maybe because of the brightening properties and the light texture but I'm not liking the scent 🙁
Paris B
Tsuya Tsuya BB Cream comes in 2 shades and retails at RM79 each at selected Watson's stores nationwide