So, earlier today, I told you that whilst the L'Occitane Angelica Hydration Cream was a pretty decent moisturizer, it didn't quite tick all my boxes. I'm not quite sure why myself. I'm usually a lot more forgiving 😛
But there is one product in the Angelica range that did tick all the right boxes – the L'Occitane Angelica Face Toner.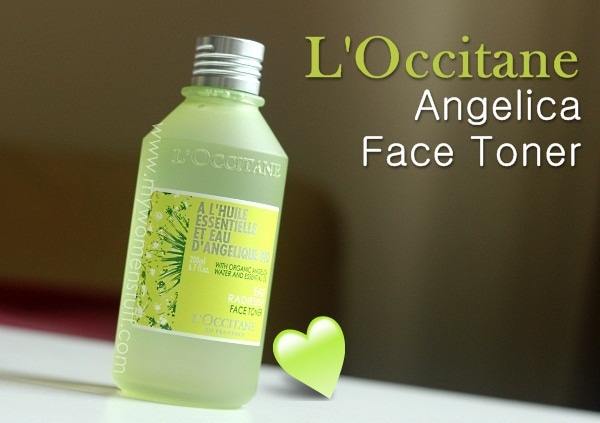 This is an alcohol free face toner infused with the Angelica water and Angelica essential oil which as we learnt earlier this morning, has hydrating and skin repairing qualities. Like the Hydration Cream, this toner smells green. I swear its like a cucumber-parsley mix which isn't unpleasant but is very green. To me, the scent isn't as strong as that in the cream and does not linger on the skin.
Part of the reason I like this toner after trying the tester size that was provided to me, is because it does not dry the skin. I wet a cotton pad and wipe it over my skin and it feels refreshed, and clean and not drying at all. The other reason I like this is because I can also use it as a mask! 😀
The latter reason is why I used up the sample bottle so quickly and had to go get myself the full sized bottle. On top of using it as a toner after cleansing and before moisturizing, I was also using this as a face mask. I was told at the press launch that I could do that, so naturally, I had to try it.
You can use those compressed paper mask pellets that you get in beauty supply stores. But I just used regular cotton pads. What I do is moisten the cotton pad with this Angelica face toner, then apply it to my skin focusing on the cheeks, forehead, nose and chin. You do get better coverage if you use those paper masks but I was too lazy to go out and buy them. Cotton pads do the job just as well and these make perfect travel partners because you can use them anywhere! For better coverage (and to save money 😛 ), I do split up the cotton pads so I can cover more skin surface.
Leave it on for about 10-15 minutes then remove the cotton pads. I like how my skin feels cool and fresh after that. I kept the sample sized bottle as you can see above. Its a 50ml bottle and the perfect size for me to travel with, so I can decant the toner from the big bottle and have a hydrating mask and toner with me when I travel 🙂
In a nutshell
A face toner that can also be used as a face mask to cool down skin and infuse some hydration. The scent is light and fresh and after use, skin feels cool, clean and refreshed. It isn't drying on my skin and I like using it as a face mask too.
Pros: Multiple uses as face toner and mask, Skin feels clean and fresh after use
Cons: Some may consider it pricey but it does last quite a long while
The ingredient list is below for anyone interested. Like the Hydration Cream, the Angelica water and Angelica Essential Oils are from organic sources but this does not make this product an organic product per se.
Like the boxes, there is braille dots on the back of the bottle, which you can see above. I just noticed that there is peppermint oil in the list of ingredients which might be irritating for some people if you intend to leave it on your skin. I experienced no irritation using this, but I guess this is what ingredient lists are for – so you know if there's something you should avoid 🙂
Paris B
L'Occitane Angelica Face Toner retails at RM80/200ml at all L'Occitane stores