A couple of weeks back, I showed you the Canmake Cheek & Cheek Blush Duos and told you that they reminded me of the blushes from a certain high end brand. No one attempted to guess it, strangely enough 😉
Clockwise from left: Diorblush Pink in Love, Diorblush Lucky Pink, Canmake Pink Tiara and Canmake Love Blossom
Well, the brand I was thinking of is Dior. The Diorblush to be exact.
Here are some similar looking palettes put side by side. Don't you think they look remarkably similar? Similar enough for me to come up with yet another edition of Save and Splurge! 😀

Save: Canmake Cheek & Cheek Powder Blush Duos – RM43.90
At an affordable RM43.90 a compact, the Canmake Cheek & Cheek Blush Duos most certainly weigh in on the cheaper end of the price spectrum. There are only 4 shades in total though and the texture, although silky and sheer and blendable, does tend to apply a little more stark and streaky on the skin compared to the Diorblushes. Read the full review here.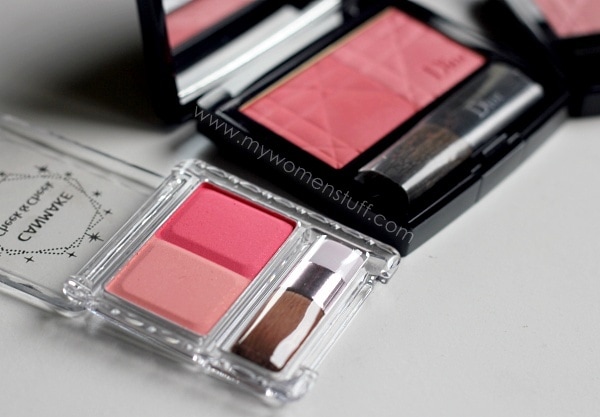 Save and Splurge: Left – Canmake Cheek & Cheek Blush Duo in Love Blossom Right – Diorblush Glowing Powder blush in Pink in Love
Splurge: Diorblush Glowing Blush Duo – RM190
At RM190 a compact, the Diorblush is most definitely a splurge item. But one I am happy to splurge on, because I love their silky, powder smooth, blendable textures that are very easy to apply without that dreaded clown cheek look, and I've never once had one streak on my skin. Check out my review on Pink in Love as an example. I have a couple more but I never got round to reviewing them.
Similar but not the same
So these two blushes do look somewhat similar, don't they? If you compare Diorblush Pink in Love to the Canmake Cheek & Cheek 04 Love Blossom, you get what is commonly called a "dupe". I would hesitate to call it a "dupe" in the true sense because to me they are quite different in terms of texture and colour.
Left: Love Blossom swatches Right Diorblush Pink in Love swatches
I had to swatch the Canmake blush 2 times to get the intensity I get with the Dior blush. The texture is harder and its harder to pick up colour too. The texture of the Dior blushes are softer and there's no problem picking up the colour at all.
However, at a glance and if you're on a budget but yet want the pop of pink that Pink in Love gives you, give the Canmake 04 blush a try.
Another possible "dupe" is Diorblush Lucky Pink and Canmake 02 Pink Tiara. The Diorblush one applies more muted and less pink, whereas the Canmake one is more of a cool pink. Again, differences arise in terms of texture and pigment and overall composition but if you're on a budget, the Canmake one does the trick 🙂
I hope this will help those of you who have been hankering after a Diorblush Pink in Love but are hesitant to shell out for the cost of the blush. You won't get the same thing, but you will get an approximate that might just satiate your cravings … until you're ready to splurge on the Dior because I know that's the one you really want 😉
Paris B
Canmake Cheek & Cheek Blush duos come in 4 shades and retail at RM43.90 each at Sasa stores. Diorblush retails at RM190 each and come in various shades at all Dior counters.
Save and Splurge is where I show you similar items by different brands that I have tried. They may not work quite the same way, but it'll offer you options for your wallet for a similar effect/product. Do note however, that it is based on products I have tried, so whilst there are many save and splurge options out there, these are my views and choices. You can find more under the category of Challenges.