Alright ladies (and gents), the nominations are closed and I'm going to get down to the task of sorting out the shortlist for the Top 5 in each category, so you can all get down to voting. Sit tight now. Its coming soon 😛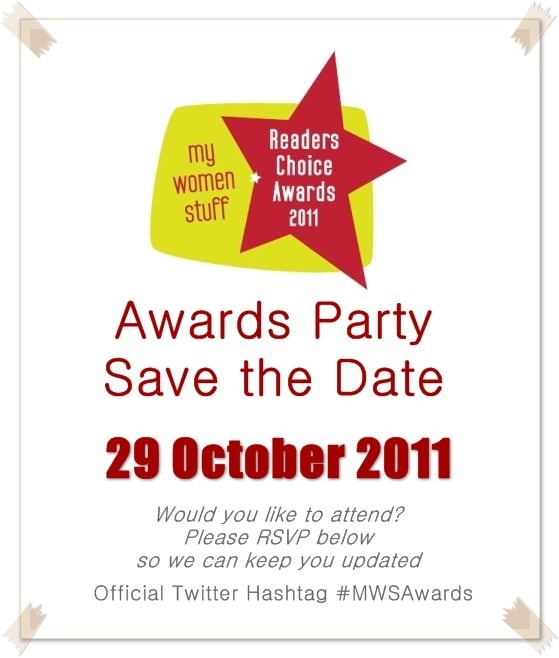 And now, for the Awards Party! A few of you have expressed interest so I thought it might be a good thing to give you some details so you can block off the date and hopefully be able to make it because its going to be fun. Oh boy! Will it be fun! 😀 So, the date is, as you see in the flyer above 29 October 2011 (Saturday).
I have allocated space for readers who would like to attend, so please fill up the form below to indicate your interest and we can take it from there so I don't clutter up the blog with inane announcements that interest no one else 🙂 I have space for about 25 of you so lets see the sort of numbers there are before further decisions are made.
Also, there's a quick Celebrate October! announcement so hop along now.
Blog regulars will realize that for the past 2 years, I've run a massive giveaway in October that spans weeks. This year, due to the excitement over the MWS Awards, I have to confess I almost forgot about it. But its not too late! This year's Celebrate October giveaway will be run in conjunction with the MWS Awards! 😀
Every one who votes (open worldwide) will have a chance to enter the drawing for the giveaway. You just have to tick the right boxes and supply your details. Nice eh? 🙂 Here's what this year's Celebrate October gifts will be – I've picked out some personal favourites too.
If you'd like to enter the Celebrate October draw, be sure to indicate your interest after casting your votes. There will be no reminders so best pay attention now and come back for the voting session on Oct 3-21. Multiple entries are possible this time 😉
And finally, if you'd like to attend the MWS Awards Party on 29 October 2011 please fill up the form below. I'll be in contact with details when I have them. I'll leave the form up for a few days, or until we get the numbers, so you have time to make sure if you're available on the day 🙂
The form has been taken down. If you'd like to go on the waiting list please drop me an email at parisb[at]mywomenstuff[dot]com
Thank you for your patience! Regular programs continue very soon after this 🙂
Paris B