DKNY has launched a new scent… and a Million Dollar Apple fragrance bottle. A. Million. Dollars. That's like… a lot of money 😛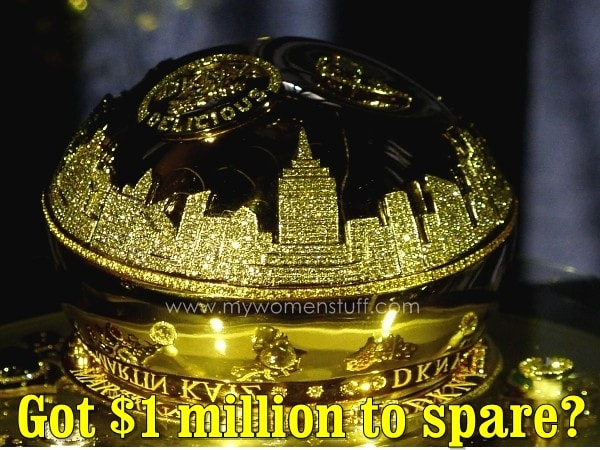 The iconic DKNY Delicious apple shaped bottle has the outline of the New York skyline on it, and is encrusted with over 2000 precious stones including diamonds, emeralds, rubies and sapphires on a rock crystal base and covered with 18k yellow gold. This one of a kind bottle, designed by celebrity jeweler Martin Katz is touring the world and will at the end, be sold with net proceeds going to Action Against Hunger – a global humanitarian organization committed to ending world hunger. The precious stones may be removed and set into a jewellery piece which does make a little bit more sense than just leaving it on the apple.
Mmm… feasted your eyes on this one of a kind golden apple? Let me show you another one of a kind art piece that isn't for sale 😉
Let me give you the Golden Paris Apple!
LOL! An artistically challenged creation by yours truly, made with innumerable plastic sparkly beads and secured with twice as many pins 😀
DKNY Golden Delicious is the newest incarnation of the bestselling DKNY Delicious fragrance. I sniff this and I think of gold, honey, warmth and elegance. I think of Christmas, with the cold winter outside, warm fire inside with gold tinsel and a warm spiced wine in your hand. Ahh… I can't believe I'm thinking of Christmas already. And we don't even get winter here 😛
DKNY Golden Delicious is a warm sensual, slightly heavy scent. A scent I'd wear for the evenings or in cool weather because it does feel heavy in the day or in the heat. A sweet, musky floral scent that needs just a spritz or two to waft casually through the air as you regally glide past. A scent for a woman who loves being enveloped in luxury. The signature apple fragrance bottle is gold with the golden liquid in the see through glass below.
Its a beautiful scent. Smell it for yourself and see… and thankfully, it doesn't cost a million dollars to own 🙂
Paris B
DKNY Golden Delicious Eau de Parfum retails at RM150/30ml, RM225/50ml, RM300/100ml. Shimmering Body Lotion RM145/150ml and Shimmering Lip Gloss RM75.