The Sleek Makeup Oh So Special i-Divine eyeshadow palette is getting to be quite legendary online. So legendary in fact, that its being compared very favourably to that ubiquitious Urban Decay Naked palette. Personally, I don't agree. The Naked palette isn't quite comparable to Oh So Special, which is a very good neutralish sort of eyeshadow palette. But its not quite the same.
Close but no cigar. I should have probably taken a picture of the Oh So Special palette next to the Naked palette so you can form your own views, but since I've been tardy, you can do a side by side comparison instead 😛 You will however notice right off hand that the Oh So Special palette has these selection of pink-purple shadows, which aren't present in the Naked palette. Big difference right there already! But here are some swatches and photos and a quickie look below.
But before that, so you have a basis for comparison, here is a picture of the Urban Decay Naked palette (reviewed here).
Hmm… not quite the same right? I will concede that some of the colours on the right will match the dark shades of the Oh So Special palette, but that's about as close as it gets. I can justify owning both. I'm sure you can too 🙂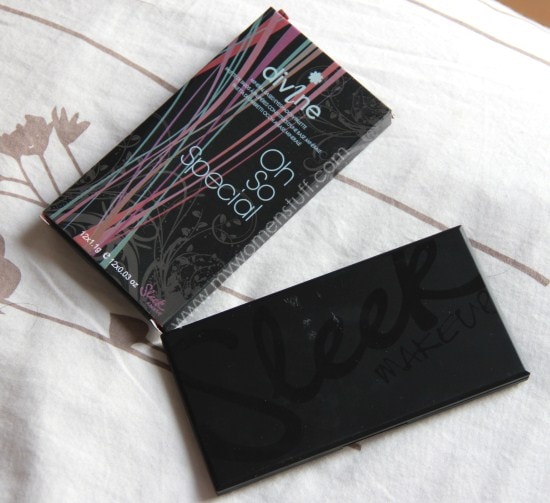 The case is the typical sleek (!) slim black plastic compact with the name embossed on it. Its the box that tells you the name but otherwise, one palette is pretty much like another. The palette name is stated on the back of the case though, so that's a plus if you own a couple of these palettes.
Like all Sleek Makeup i-Divine eyeshadow palettes, you get 12 eyeshadow colours in a palette in a mix of shimmer and matte colours. Like the Curacao palette I showed you before, I found the shimmer colours more pigmented and better overall than the matte shades.
Sleek Makeup Oh So Special palette swatches – Top L-R: Bow (matte cream), Organza (golden shimmer pink), Ribbon (matte dark pink), Gift Basket (shimmer reddish brown), Glitz (shimmer gunmetal gray), Celebrate (shimmer deep aubergine) Bottom L-R: Pamper (matte light pink), Gateau (shimmer light purple-pink), The Mail (matte camel brown), Boxed (Matte brown), Wrapped Up (matte purple), Noir (matte black)
All shimmer swatches were swatched once. All matte twice to get the colour intensity, so that tells you about pigment. Personally I was a little worried about this one. Its a lovely palette, but I may never have actually picked it up for myself if it wasn't sent to me, because the proliferation of pinks was a little worrying.
Happily however, I will report that the pinks aren't scary at all on the eyes, and are soft enough to actually give a lovely fresh look as opposed to a "I just cried buckets" look. Its not scary at all!
Also featuring: Diorsnow Light Veil Powder Foundation, Canmake cream cheek colour and Dior Rouge Eternal Pink lipstick, Shu Uemura Hard Pencil 9 Seal Brown on brows
Right so I realised you probably can't see the eye colours very well but oh well, c'est la vie! 😛 I used so many colours I can't remember which I used and where, but the colours I used were Celebrate, Organza, Bow and perhaps a touch of Ribbon. Blend them all in nicely with each other and you get a very wearable look. I received a compliment for looking a little different. Always a good thing 😀 Oh and I'm in love with a new cream blush. Gotta tell you about it soon 😀
I sported another look yesterday (no pictures – no time to edit but I'll show you another time) using Gateau all over with Glitz in the crease and blended together with Bow to tie it altogether. It was a surprisingly subtle but defined look.
In a nutshell
A surprisingly well put together eyeshadow palette that allows you to create light neutral looks or dark sultry looks to your preference. The shimmer colours are well pigmented and smooth. Matte colours are less pigmented and need layering to build up colour. It can tend to be a little powdery but one can't complain at the price.
Pros: Good mix of light and dark colours in one palette, Slim and compact packaging, Shimmer colours are good quality, All colours blend well and very easily together
Cons: For Malaysians, only available online, Matte colours are less pigmented
Is it worth getting? I say yes. It can give you a surprisingly large variety of looks from fresh to sultry because of the range of colours in this palette. Do you need it? Probably not. Do you want it? I'm sure you do 😛
Are you already heading over to the Sleek Makeup website ? 😛
Paris B
Sleek Makeup Oh So Special i-Divine eyeshadow palette retails at US$12.60 and is permanent. Available at www.sleekmakeup.com which ships internationally (except to Africa). In the UK Sleek Makeup is available at Superdrug stores.