I've never really been much of a cream blush fan to be honest. I may have really liked the Max Factor cream blush but I soon fell by the way side again because its finicky! To get the best application from it, I had to use a brush and I always take a deep breath, say a quick prayer it won't go wrong, and then dab it on my cheeks. On good days, its a lovely flush. On bad days, its "OMG Did someone slap you?"
So when I tell you that I have found my HG cream blush, just believe it because I've been around the block and back and I'm happy to stick with this one!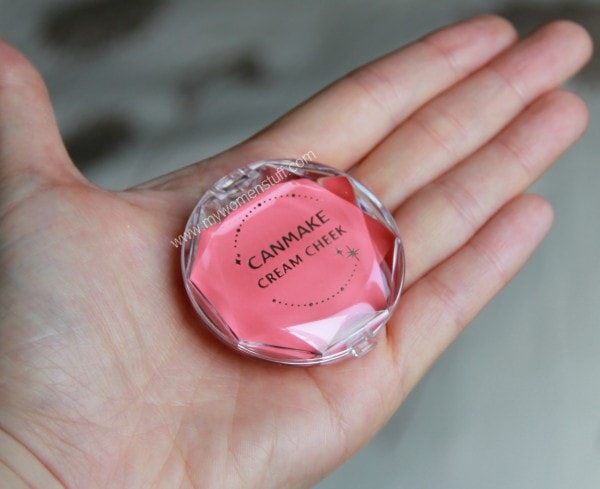 Its the Canmake Cream Cheek Blush. Tada! A small wonder that fits in the slimmest of jeans pockets and applies like a dream. Actually, I have no idea why you'd want to slip it into your jeans pocket, but you could if you wanted 😛 Its very slim and very compact. I picked this one up from Sasa at about RM39.90? I forget 😛 The colour is #7 Coral Orange.
They're kidding right? Where's the coral… or come to think of it, orange in that pink confection?! 😯
See what I mean? Where's the coral or the orange? I see pink… and lots of it.
The lovely thing about the Canmake Cream Cheek blushes is that I swiped nearly every one available at the counter and it all applied sheer, but fairly pigmented so you can layer them quite prettily. The colour shows up as just a hint of flush on the cheeks.
The cream texture is lovely and soft yet very emollient, and although you don't see it, it does contain shimmer once applied on the skin. Its not super glittery, but it is there so if you don't like shimmer in your blush, you may not like this one. Me? I'm all for shimmer! Yay! 😛
Canmake Cream Cheek blush #7 Coral Orange swatch – where's the coral and orange?! Left: Swatched heavily Right: Blended
The swatch on the back of my hand may look a little scary when swatched heavily. This is with just one swipe by the way, so it is fairly pigmented. It does have a silicone feel to it – you know that dry-gel sort of feel? It does not feel sticky nor runny nor does it turn oily. It does feel like silicone, so I do think it is chockfull of the stuff so if you are sensitive to silicone, you may have to beware.
However, it does blend very easily into a lovely flush and best of all, it applies very very easily with fingers! I usually just tap my 3rd and 4th fingers on the surface of the blush to pick up colour, and then smile and tap it on the apples of my cheeks and the gently blend. It does not adhere to the skin so mistakes are minimized and because it sheers out, you can easily layer on for more colour, or apply a powder blush to enhance the colour further.
Looking slightly demented and also featuring: Smashbox Softbox palette on eyes – Flirt, Truffle, Stone, Shu Uemura Hard Pencil 9 brow pencil Seal Brown, Bourjois Healthy Mix Gel Foundation #51 Light Vanilla and Shiseido Shimmering Rouge RD406 Desire
I also wore this blush when I showed you the Sleek Oh So Special palette. So here is the picture again with slightly different lighting so you get an idea.
I'm still not seeing the coral nor orange to be honest 😛
In both pictures I layered it on a little to get the colour to show for the camera but even then, in person, its not very bright at all. It gives a glow from under the skin which is very natural. I love how it looks because it gives a "I'm blushing… wait, I'm not… or maybe I am" look. Very adorable.
I read somewhere that #7 Coral Orange may be a limited edition colour, but I'm not sure about that. There are quite a few colors available though, and I might pick up one or two more the next time I see them go on sale. I'm thinking of trying an orange or perhaps a bright pink.
One more thing – I'm not sure how this performs on oily skin. I don't have oily skin and the longevity isn't exactly wonderful I will admit. It takes me to the evening, just. But if I wanted it to last longer, I'd apply a powder blush over it. Or seeing its so slim, you could just as easily tote it in your handbag and top it up by the end of the day. Its perfect that way 🙂
In a nutshell
A lovely cream blush that does not stain fingers, applies easily with fingers and isn't sticky. It blends into a powdery finish and has fair pigmentation. Once sheered out, it can be layered for more colour intensity. Colour is subtle but visible as a glow on the skin. There is shimmer and it possibly contains silicones based on the texture, but it is my favourite cream blush to date!
Pros: Affordable, Slim and compact packaging, Simple packaging allows you to see the colour immediately, Applies very smoothly and easily on the skin, Contains slight shimmer, Sheer but buildable colour makes it less prone to mistakes
Cons: Silicone texture may not be suitable for everyone, Shimmer may not be suitable for everyone, Strange name for the colour
Does any one own this product or this colour? Do you have a colour you love that you think I should try? I am seriously in love with this cream blush that I use it everyday and I swear I'm about to hit pan at some point! It does not feel like there's a lot of product, but there's enough.
Now, when's the sale at Sasa again? I'd brave the scary Sasa SAs to pick up more shades 😉 If you have tried this, share your thoughts on it yeah? 😉
Paris B
Canmake Cream Cheek blush retails at about RM39.90 each I think at Sasa stores, and comes in a variety of shades.