You know what? I don't recall seeing so much hate for one palette online before this. Perhaps "hate" is too harsh a word, so perhaps "dislike" might fit better. A bit upsetting, when its from a brand I adore, and a product I'd been keeping an eye out for a while.
Its the Dior Blue Tie Smoking Blue 001 palette that's the limited edition item in the Dior Blue Tie collection, along with a white shadow version Smoking White. I love navy blue colours on the eyes. Its a lovely alternative to black and more interesting IMO. So the Dior Blue Tie collection caught my eyes in many ways than one.
Having messed around with the Smoking Blue palette, I must admit though. Dior did sorta bomb with this one. Its not one of their best efforts in terms of product quality, although they still win hands down in terms of product packaging. Still, its not exactly a write off totally. If you like navy blue shadows, its still a very servicable makeup palette and perfect for a really excellent smokey eye look. Its a bit debatable however if I'd tell you to go out and get it due to the price but I'm not about to tell you to stay away either. It pretty much depends on you 🙂
What you get in a lovely metal case embossed with the signature Dior Cannage design, is 4 eyeshadows, a lipstick and 2 applicators. The shadows are quite dark in themselves, which does trouble most people.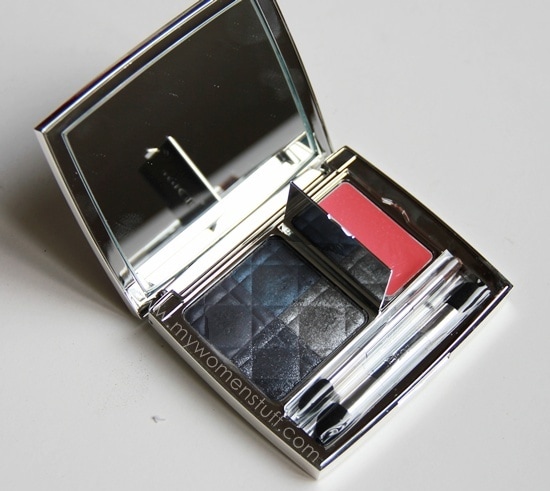 There isn't too much of a difference between the colours and that shimmer grey is also a tad too dark. It could have done with something a little lighter and perhaps a little more silver in the palette for contrast. The 2 eyeshadow textures are satin and shimmer and if I were to be honest about it (which I am of course 😛 ) the quality isn't up to par with their regular eyeshadow palettes. Pity!
Dior Blue Tie Smoking Blue palette eyeshadow swatches – blue-black (satin), dark navy blue (satin), medium silver-grey (shimmer), black (shimmer)
The products do not swatch well with fingers. Pigmentation is poor (except for the medium gray-silver). These swatches were done with about 3 layers of color, swatched on with my fingers. The 3rd colour, shimmer grey was only layered twice. But with a brush, I find the colours apply much better and are surprisingly dark on the lids and adhere very well. The dark blue shade is nice when applied on the skin and blended with the silver. The two dark black shades were pretty much a failure. They weren't dark enough and did not provide sufficient contrast.
The lip colour included in the palette is a pink-rose that applies sheerer than how it looks. I'm not too fussed about it, because with this palette, the eyes are really the focus of the look. The lips are kept light yet with a pink tint and that is quite perfect. The metal cover is of course, genius 🙂
And here's a quick look I did using this palette just to show you how it looks when applied.
Also featuring: Diorsnow powder foundation, Shu Uemura Hard Brow Pencil Seal brown, Dior Pink in Love blush (Fall 2011), Eyes and Lips Smoking Blue palette
As I wore this to work, I didn't make it overly dark or dramatic. The dark blue plays very well with the silver and if you blend it all out nicely, you get a nice defined look on the eyes. The key is to blend and blend, till you get a seamless shade of colour on the lids. As you can see, the lip shade, although light, offers sufficient colour to prevent you from looking washed out.
In a nutshell
The case is gorgeous as is the overall look of the palette. The eyeshadows are rather sheer if swatched with fingers but with a brush, they apply and adhere well to the skin and are very wearable colours. The color and texture may not be for everyone, but it isn't that awful a palette either. The lip colour is very pretty and wearable for most. Those who like navy blue shades on the eyes or like sporting a dark smokey eye look may like this. Those who dislike dark colours, blue shadows and texture of the shadows will not.
Pros: Cover for the gloss/lip colour is genius, Nice palette of navy blue shades that can be worn light or dark as preferred
Cons: Pricey, Texture and quality of eyeshadows are not as good as the regular Dior palettes, Colours swatch sheer and tend to be flyaway
Here are a few more items from the Dior Blue Tie collection for your viewing pleasure 🙂
I'm actually very pleased with the 889 Pink in Love Diorblush. It looks so bright in the pan, but it is a really lovely soft rose pink flush on the cheeks as you can see in the look above. The other items pictured are the Dior Rouge Serum Luminous Colour Lip Treatment 445 Tea Rose Crystal (sheerer versions of the Serum de Rouge lipsticks – new), Rouge Dior Haute Couleur Voluptous Care in 314 Beige Angelique (new shade) and Diorshow Waterproof Eyeliner in 058 Slate.
I might go and get that 3 colour smokey eye palette that is a new offering from Dior. I read that the pigmentation is better and so is the application.
So, which item are you interested to see next? 🙂
Paris B
Dior Blue Tie Fall 2011 collection goes on sale in August 2011. Retail prices are Blue Tie Palette (RM215), Rouge Serum (RM110), Rouge Dior (RM95), Diorshow Liner waterproof (RM75), Dior 3 colour smokey palette (RM149), Dior Tuxedo blue nail vernis (RM70), Dior Glowing Colour Powder Blush (RM130)